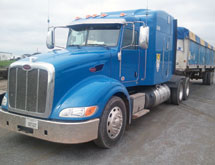 For Triad Transport Inc., location is everything. The McAlester, Okla.-headquartered hazardous waste transportation hauler's five largest facilities are spread across the United States, allowing it access to its major customers and disposal sites coast to coast.
The company's southern regional terminal in Houston places it near a high concentration of oil refineries and chemical plants, while its Columbus, Ohio, and Salt Lake City terminals are located near several waste disposal facilities. Triad Transport also operates a terminal in Phoenix and a yard near Fontana, Calif., giving it coverage in the southwest and along the West Coast. The company also operates smaller, regional yards in Benton, Ark., and Pendergrass, Ga.
"All of our different locations really set us apart in the industry," President and CEO John Titsworth says.
Each location has a full fleet of available trucking equipment including dry vans, roll-offs, end dumps, flat beds and tanks. "We're probably one of few company that can provide all of these different types of equipment," he adds. "Whatever our customers need, we have the equipment to serve them and can provide that equipment all across the United States."
The company works both with disposal companies and directly with chemical, oil and other waste-generating companies, but does not operate remediation or disposal facilities itself.
Safety and Quality First
Titsworth co-founded Triad Transport in 1985 with his wife, Gwen, her brother Davey Wilkett, Wilkett's wife, Mary, and another partner who subsequently sold their share back to the company. Gwen Titsworth and Mary Wilkett handled the company's finances during its early years. The company initially hauled rock, sand, gravel and bulk materials for the manufacturing industry when it was approached to haul hazardous waste, John Titsworth says.
Soon after receiving the permits needed to haul such material, the company quickly established relationships with customers that it maintains today. Its longtime customers include Safety Kleen, to which it hauls used oil and petroleum products that are then recycled and re-used for kiln fuel or as clean motor oil. Other customers include Veolia, Rineco, Clean Harbors, American Ecology, Stericycle, Heritage, Univar U.S.A. and The Environmental Quality Co.
All of Triad's customers can be assured of a high level of service from a staff that is well-versed in federal and state safety regulations regarding the proper handling and transportation of hazardous waste. It strives to stay on top of the newest federal regulations governing the company's work, and attends Hazardous Waste Advisory Council, Government Service Institute and other workshops.
The safety and efficiency of the company's drivers is another strong area of emphasis for the company. All drivers are required to go through federal HazMat training and must acquire Transportation Worker Identification Credential cards. All new drivers are required to have a minimum of two years' experience and a violation-free driving record.
All of Triad's trucks are equipped with on-board computers linked into the company's ERP system, which allows for efficient dispatching and ability to track trucks' locations and expected times of arrival, Titsworth says.
Triad's drivers' safety record and low occurrence of on-road accidents has earned it a number of awards including safety honors from state trucking associations in Arkansas, Oklahoma and Utah.
Titsworth says he takes great pride in his staff's ability to serve customers. Employees also regularly offer valuable input to management that helps guide Triad.
"A lot of the things we do today started as ideas from our employees," Titsworth says. "All of our employees, from our operations team to our drivers and clerical staff, work together to do a good job, and without them we're nowhere."