V&S Midwest Carriers Corp.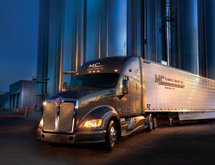 It is rare when people get excited about going to their jobs, but this enthusiasm is seen daily at V&S Midwest Carriers Corp., Vice President Eric Van Handel says. "We have an amazing office and driver staff that really comes to work hungry and eager to do the right thing," he says.
Based in Kaukauna, Wis., V&S Midwest provides truckload, dedicated and brokerage services to clients across the country. Eric Van Handel's parents, President Dave Van Handel and Marge Van Handel, founded the company in 1986 after a few years of operating a single truck.
To support their family, they started V&S Midwest with only one truck and two other employees. Today, the firm has a fleet of 140 company trucks, and another 20 owner operators with total staff of 180. "Most of our people have been here 15 or 20 years," Eric Van Handel says.
Dave Van Handel adds that the company's clients include refrigerated food manufacturers, retailers and firms in the paper industry. "It's very diverse," he asserts. "Seventy-five percent [of our business] is refrigerated, and the rest are on the dry side."
Success Story
As fuel costs have escalated, V&S Midwest has focused on finding ways to save diesel fuel. One of the most successful initiatives to accomplish this, Eric Van Handel notes, is the company's "fuel and safety bonus" program, where employees receive financial rewards for conserving fuel.
"That's probably been one of the biggest success stories in our company," he says, noting that the program started in 2008 and resulted in the conservation of 300,000 gallons last year. "Not only have we saved a tremendous amount of fuel, but our rate of department of transportation reportable accidents dropped over 200 percent within two years of the program's inception and has maintained the improved levels ever since.
"We've got guys that are able to make in a month's time over $800 if they commit to the program," he says. "[It has] changed our company. The problem isn't how to save fuel … those are very well documented, but how to get your drivers to buy in to the thought of saving fuel.
"We felt that if we simply cut speed on the trucks and gave them a raise, we would not see our guys committed to all the factors in which top fuel mileage is achieved and they would not be as committed to safety which is tied to the bonus," he continues.
As Efficient as Possible
V&S Midwest strives to stay current with its technology. "[We make] sure our equipment is efficient as possible," Eric Van Handel says, noting that it completes upgrades annually, while its average tractor age is only two and a half years.
The company continues to monitor and change tractor specs that will contribute to fuel mileage gains. V&S Midwest has been a big proponent of trailer skirts for aerodynamic improvement and is in the process of testing ATDynamic's Trailer Tails.
Additionally, the company has implemented transportation management software and a document imaging system that its employees are trained to use. V&S Midwest has been with TMW's Truckmate TMS for almost 20 years and uses its Command Center K.P.I. and Dawg Alerts modules for real time monitoring to stay on top of daily business.
Pushing Ahead
Dave and Eric Van Handel are proud of V&S Midwest's success and the culture that it has nurtured. "You don't do this by yourself," the elder Van Handel asserts.
Eric Van Handel adds that the firm has a strong reputation among its clients. "My father has treated people the right way," he says. "I think our clients see we'll do whatever it takes to please them."