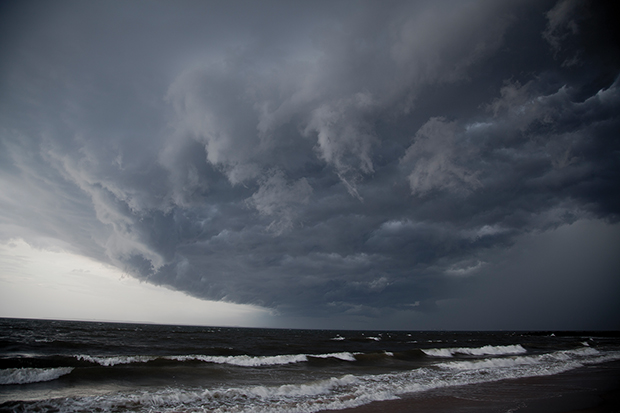 It's smart to get your fleet ready and your drivers prepared for hurricane season.
By Mark Wallin
Fleet industry veterans are hyper aware of the fact that June isn't just the start of the summer travel season, it is also the beginning of hurricane season. Last year, Hurricane Harvey caused $125 billion in damage and affected nearly 13 million people from numerous states, including Texas, Louisiana, Mississippi, Tennessee and Kentucky.
According to data from Black Book, one million vehicles were damaged beyond repair in the Gulf. Harvey was followed by Hurricane Irma, which also caused extensive damage. Last year's particularly severe and destructive hurricane season was evidence that it's crucial to prepare early for the peak of hurricane season in August and beyond. Let's take a look at what fleet management teams can do now to help ensure their fleets and drivers prepare in advance and remain protected and productive throughout this year's hurricane season.
Before the Hurricane
The devastation that can come with severe hurricanes can make the task of preparing for them seem almost impossible. But there are small steps that fleet managers can take today to help their fleets get ready for potential hurricanes.
Proper maintenance of equipment can make all the difference in a natural disaster. Work now to help ensure that equipment is operating properly and is in top condition. Drivers don't want to be in the middle of a hurricane to discover the windshield wipers are not functioning properly. If vehicles don't have tires and wiper blades that are properly installed and functioning, now is the time to upgrade.
Make sure everything on the back end is in good standing. "Rainy day" funds have never been more helpful than in the event of a natural disaster, so remain current on workflow and payables. Have a plan in place to make sure that vital supplies are in stock and that there's a course of action for getting vehicles to gas stations if cities face major fuel shortages during the hurricane.
It is also essential to educate drivers. According to the Federal Motor Carrier Safety Administration, speeding is a major factor in many trucking accidents, so remind drivers to slow down in inclement weather. They should also have knowledge of safety tactics like keeping fuel tanks full to help with traction and not stopping on the side of the road in low visibility situations.
During the Hurricane
When a hurricane is raging, fleet vehicles should head to safe ground to avoid damage. This means moving vehicles inland, taking advantage of parking structures or using parking garages to protect fleets.
In the instance fleets are driving toward a hurricane instead of away from it to provide assistance where it is needed, it's important to guide them safely around the hurricane. Whether it's away or toward the storm, make sure fleets have fleet technology to help guide them to their destination safely. Also, be sure that it is monitoring road conditions in affected areas and providing updates in real time.
Putting a solid plan in place before disaster strikes can help to guide fleets through the storm, but it's also important to be flexible since circumstances can change. Hurricanes are naturally unpredictable, in fact, they are the last major weather system that meteorologists can track for days and still not be able to predict with total precision. With that in mind, it's crucial to have a team in place that can make confident decisions in real-time since unexpected events can unfold during a hurricane.
After the Hurricane
Mobile resource management technology can also facilitate relief efforts when outside help arrives, such as utility companies sending vehicles and workers to Texas from surrounding states during Harvey and Irma in 2017. Implementing "mutual aid responses" so that outside service providers or agencies can share vehicle locations for a certain amount of time can also be helpful. By enabling first responders, transportation companies, utility companies, service providers – like tree-cutting services – and law enforcement to share their fleet vehicles and worker locations, they are able to jointly coordinate and respond to natural disasters.
During and after Hurricanes Harvey and Irma, transportation and logistics companies made vital contributions to relief efforts in the Gulf Coast. For example, Poolsure, a Houston-based provider of chlorine, water treatment chemicals and services used Verizon Connect's route optimization solution to calculate and send optimized route plans to drivers via a mobile app with turn-by-turn navigation.
Ultimately, as last year's hurricane season proved, hurricanes should never be taken lightly and safety should always be the top priority. Keeping drivers safe and vehicles running during a hurricane can only happen with careful advanced planning. When fleets are prepared for what may come, companies can help ensure people and equipment within the business remain safe and business is minimally disrupted during hurricane season.
Mark Wallin joined Verizon Telematics in 2012 and serves as the vice president of product management. His responsibilities include new product planning and development strategies for Verizon Telematics' platform and mobile applications, and leading product strategy for all OEM-specific solutions. Prior to joining the team at Verizon Telematics, Wallin was a principal consultant at Sanger Ventures. He holds a Bachelor of Science degree in computer systems engineering from Stanford University.