Alabama State Port Authority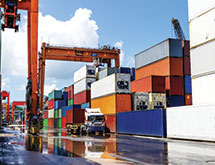 The Port of Mobile has been one of the Southeast's largest drivers of economic activity for more than 85 years, and the Alabama State Port Authority says it has every reason to believe it will continue to do so for a long time to come. The port has experienced significant growth over the past several years, and it continues to add new facilities such as intermodal capabilities that will come on line in 2015.
The port's investments in new facilities and new capabilities aren't a recent phenomenon, either. The last decade has seen the Alabama State Port Authority make more than $700 million in capital improvements to its public and federal channels. "Our capital programs have transformed this seaport's ability to handle post-Panamax-sized ships, diversify its cargo base, attract industrial investment statewide and generate jobs," Director and CEO James K. Lyons said in a statement. "With continued investment in intermodal and transportation infrastructure, I can see these figures only getting bigger."
Officially dedicated in 1928, Alabama's public seaport originally handled shipments of exported sugar, coal and forest products. Although the port still handles regular shipments of coal and forest products, today the Alabama State Port Authority manages a wider assortment of cargo, ranging from poultry to steel to automotive components. The port authority estimates that it supports more than 127,000 direct and related jobs in Alabama and throughout the Southeast, with a total economic impact of more than $18 billion.
Substantial Growth
The Port of Mobile handles more than 25 million tons of cargo annually, and its location and deepwater capabilities make it an ideal economic engine for the region, according to the port authority. In addition to nearly 15,000 miles of inland waterway connections, the Port of Mobile's container, general cargo and bulk facilities have access to two interstate highway systems and five Class 1 railroads.
These advantages have made it possible for the Port of Mobile to post significant growth over the last several years, even as the economy continues to recover slowly from the global recession. According to the port authority, the port's 2012 volumes of containerized freight were up more than 22 percent over 2011, while steel volumes were 8 percent higher and export coal volumes grew by 5 percent over the same time period.
The authority says the key to its sustained growth in recent years is the continual investment it has made into the Port of Mobile's facilities and the expansion of capacity and capabilities those investments have yielded. "We just keep plowing earnings back into our facilities, so that we not only attract more investment and jobs to the region, but provide infrastructure to keep American manufacturing globally competitive," Lyons said. "That's what our business is all about."
The port authority's strategy has been recognized as highly effective by Standard & Poor, which recently gave the port an "A-" rating for its outstanding dock facilities revenue bonds. According to the port authority, this rating affirms the port's success in diversifying its revenue stream and creating strong financial margins. "Our management team has been highly focused on securing new business streams and alternative forms of financing our capital programs short of entering the bond market," Lyons said in a statement. "This strategy has met our objectives to modernize terminals and expand our services, service our debt and maintain a strong cash position."
Intermodal Expansion
One of the most significant initiatives the Alabama State Port Authority has taken on in recent years at the Port of Mobile is the creation of a new facility, which will give shippers who use the port more options for getting their goods to market.
"Our lead project is the intermodal container transfer facility (ICTF) that will provide by 2015 an intermodal rail option to our shippers in north Alabama, Tennessee and the surrounding states," Lyons said in a statement.
Currently under construction, the ICTF project includes a new rail access bridge and is expected to offer substantial improvements for shippers. "The ICTF project is critical to servicing our regional market shippers, who have to rail their containerized freight longer distances at higher costs," Lyons said. "With this project, we can alleviate time and cost pressures on our customers, expand the container terminal's natural market reach and provide an intermodal ramp for domestic shipments."
Adding to the port's economic benefit to the region, the first phase of the ICTF project was anticipated to create more than 300 direct and indirect jobs and generate more than $7 million in state and local revenue and tax impacts, according to the port authority.