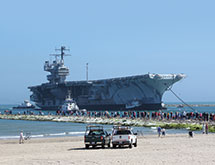 Not many can say that their profession allows them to work with important parts of history. But Nikhil Shah, the president of All Star Metals LLC, a subsidiary of Chicago based Scrap Metal Services, can, as his company often dismantles vessels for the U.S. government. "We trade about 120,000 tons of fair scrap yearly just from our All Star Metals location," he says.
Based in Brownsville, Texas, All Star specializes in licensed ship recycling, metal processing and environmental remediation contracting for clients that also include Chevron Corp. and Kirby Inland Marine. Shah founded All Star in 2003 and today it is one of the largest ship recyclers in North America.
The firm also is a division of Scrap Metal Services LLC, a Burnham, Ill.-based company that provides scrap management and brokerage services. "They understand the business and material very well," Shah says. "This is their first move into the ship recycling space."
A Super Project
Shah is proud of All Star's current project, which is the dismantling of the USS Forrestal, a supercarrier that originally launched in 1955. "Senator John McCain served on that vessel," he says, noting that the ship was involved in combat operations off the coast of North Vietnam that resulted in the death of 134 American soldiers.
"We've processed many naval vessels, but this is the first supercarrier ever to be awarded in the United States for dismantling," Shah says, noting that All Star needs to finish the project by October 2015.
But the scope of the Forrestal makes that challenging. With a length of 1,100 feet, "A ship is a floating city," he says. "You need the best of everything and the second best of everything so you don't have any problems at sea."
Shah asserts, however, that it is an honor for All Star to work on this piece of history. "If you told me when we first started in 2002 that I would get an aircraft carrier 10 years later, I wouldn't have bought into that theory," he says.
When the Forrestal arrived at All Star's location, many wanted to see the carrier, including more than 1,500 people, many of them being veterans. "We made an arrangement to where they can come to the facility and learn from other veterans how it was used," he says.
Being Safer
All Star has established itself as a leader in its market when it comes to safety, Shah says. But this requires more than just telling people they need to be safe. "[It] takes everyone's emphasis," he states.
So far, "We've come up with plans and strategies that help our guys be safer, including rewarding our safest person of the month," he explains. "In the same sense, our insurance providers stated they would issue a financial dividend on little or no losses."
All Star invests those refunds into programs, including new training "so that the guys have a direct advantage from it," he states. The company also recognizes employees with monthly awards when they have "done something no one else has done for safety for that month."
The company is so focused on safety, in fact, that it was the first ship recycling company in the United States to earn Voluntary Protection Programs (VPP) designation from OSHA. "We've developed a partnership and plans with them to train our guys," Shah adds.
"We can't mitigate all the accidents, but we can minimize them to the best of our ability," he says. "If we can minimize them to a paper cut in the office, I'll take that."
Sailing Forward
All Star coped with challenges in the raw material commodity market over the past few years, Shah says. But right now, "There seems to be some short-term stability in our marketplace," he reports. "With the automotive sector supporting the steel market, we will see this stability for a short term.
"We're in the business for the long run," he asserts. "As we process more and more vessels, we'll have more scrap to sell to the steel mills in the United States."
He looks forward to the future with All Star's staff, which takes a team attitude to its work. "Any challenge we come across, we'll handle it properly," he says. "We are all in the same boat, we need to sail it to the next port.
"As a team, we've got to sail forward," he says, noting that All Star looks forward to branching out. "We've cut everything from a shrimp boat to an aircraft carrier. Now, we look for more challenges."