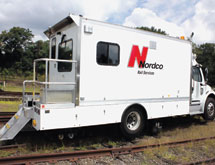 A single derailment can have a significant negative effect on a railroad's operations. Although there are several potential factors that could result in a train leaving the tracks, one of the most common is a flaw in the steel rail. For rail operators, broken or defective rails are significant safety and cost hazards.
To prevent problems from broken rails, rail operators in the United States usually contract companies to conduct non-destructive testing using ultrasonic flaw detection to determine the rails' structure and integrity. International rail operators, however, have typically chosen from a limited number of international contractors or expensive rail-bound vehicles, says Brad McCall, president of rail equipment distributor American Equipment Co. (AMECO). The company specializes in exporting a wide-range of railroad equipment and represents a number of U.S.-based manufacturers internationally.
"Companies in the international market have begun to look for alternatives to contract service or expensive rail-bound vehicles," McCall says. "With the equipment that we are offering now, international operators can purchase hy-rail defect detection vehicles, train employees and perform this work at a fraction of the price, at their own pace and at the degree to which they desire."
Equipment Options
AMECO partners with Nordco Rail Services & Inspection Technologies, a division of rail maintenance-of-way equipment manufacturer Nordco, to provide ultrasonic rail flaw testing equipment and services to the international market. The companies also partner to provide classroom and on-track training programs to technicians through "Nordco College," a rail flaw detection training program.
Ultrasonic rail testing can be performed in a few different ways, including hand testing by an operator using a test kit to move transducers over a rail; testing performed by trolleys pushed along rails at a walking pace one rail at a time; or vehicle testing performed by high-speed, high-capacity and long-range systems in hy-rail vehicles moving as rapidly as 35 mph, McCall notes.
Nordco manufacturers a variety of systems, including the NRS-260, a long-range vehicle testing system with a large water capacity. Water is a key component of the ultrasonic testing process, as it is placed on rails to serve as a medium for ultrasonic waves. "This truck can carry a significant volume of water, which allows operators to test for a full day without stopping for water and also allows for increased operator comfort," McCall adds.
The company also manufactures the "Flex," a small pickup truck-based system best suited for short-distance operation. "This is a relatively new product introduced a few years ago that is intended to be more maneuverable and attractive for smaller operators," McCall says.
Advancing Technology
All of Nordco's products feature the highest level of ultrasonic testing technology available. "There was a period about 10 years ago when the technology was not advancing significantly, but in the last five years, that's changed," McCall says. "We've now gone to fully digital signal processing as well as increased the number of channels and types of transducers used to inspect a rail."
The company's products were recently upgraded to a 48-channel, fully digital system that allows operators to closely examine rails from a variety of angles. All of Nordco's vehicles also feature wireless computer systems, allowing for regular software upgrades in the field.
Technology remains a high priority for the manufacturer. "Technological advancement in this field is pretty rapid, and Nordco, like all companies, is focused on advancing products and making new developments," McCall explains. "A significant gain will be made in the future regarding the ability to test at higher speeds, and that's what they're working on now."