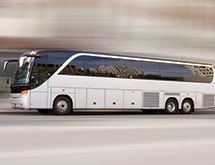 For nearly 80 years, Anderson Coach & Travel has succeeded thanks to a commitment to customer satisfaction, quality service and superior travel experiences. Through well-trained employees, top-notch equipment and a safety-first culture, Anderson Coach & Travel is able to deliver reliable and cost-effective transportation solutions.
Founded in 1937 by Orville DeWayne Anderson, Anderson Coach & Travel began its existence by transporting school children. Ever since, the company has been on a quest to be a national leader in the motorcoach industry. It has grown from transporting school children to and from a one-room schoolhouse to serving more than half-a-million customers each year. The company's operations are based at an office complex and maintenance facility in Greenville, Penn.
Anderson Coach & Travel has strong recognition in the industry. In 2011, it was named the International Motorcoach Group Operator of Year. Anderson Coach & Travel is also a member of several national trade associations including the American Bus Association, the International Motorcoach Group and Charter Bus Connect.
Service Diversity
Anderson Coach & Travel offers a variety of services. They include individual sightseeing tours to destinations throughout the United States and Canada, group sightseeing tours, event charter services, school bus contracting and convention shuttle services.
The company has invested in a state-of-the-art fleet of equipment that includes 44 deluxe coaches. These coaches seat 41 or 56 passengers, and three are wheelchair accessible.
Anderson Coach & Travel's coaches are deluxe, wide-bodied models with climate control and contoured, reclining seats with individual reading lights. Other amenities include TV/DVD units, restrooms and panoramic windows. Some of its newest coaches include wall-to-wall carpet and video monitors projecting live scenic views.
In addition to its deluxe coaches, the company has a mini-coach with seating for 29 passengers, 11- or 13-passenger vans and executive limo vans for up to 13 passengers. It also has 55 standard school buses that seat 44 adults or 72 children.
A major part of Anderson Coach & Travel's business is its tour offerings. The company's tour department helps customers find top-quality attractions and hotels, along with providing first-class transportation. In addition to offering motorcoach tours, the company can coordinate international travel. The tour department can assist with everything from multi-day tours, one-day tours, showcase vacations and express tours to cruise tours, fly tours, sports tours and group tours.
School bus service remains another key component of Anderson Coach & Travel. For example, the company has been serving the West Salem/Reynolds School District, Penn., since 1948. In 2008, Anderson Coach & Travel was awarded the school bus contract for the Conneaut School District – Linesville Attendance Area, Penn. Overall, the company has transported many school students over the years through daily school transportation, as well as for field trips and athletic events.
Safety Comes First
In all of its operations, safety is the top priority for the company. Anderson Coach & Travel holds the highest possible safety rating from the U.S. Department of Transportation, the U.S. military and the Transportation Safety Exchange. It is fully insured beyond the required certificate of insurance. Its fleet is also subject to random, on-the-road inspections annually.
In addition, the company regularly reinvests in its fleet and operates its own full-maintenance facility to keep equipment in the best possible condition. The company participates in a nationwide reciprocal maintenance agreement to ensure prompt servicing of its equipment anywhere in the United States. Anderson Coach & Travel has also invested in tracking software to ensure communication with the home office. Saucon software tracks motorcoaches out on the road, and a Drive Cam video feature automatically engages for safety purposes when required.
All coach operators complete an extensive interview process and training course before they are qualified to drive. All motorcoach operators must complete a 100-hour intensive training program that combines classroom instruction as well as hands-on experience. Drivers are taught about safety regulations and driving techniques.
By investing in state-of-the-art equipment, as well as qualified coach operators and safety technicians, Anderson Coach & Travel does its best to ensure that every passenger has an enjoyable experience on the road. By investing in other operations, such as its tour department and customer service, the company ensures that it is demonstrating excellence on and off the road.
Ultimately, Anderson Coach & Travel understands that it transports the most precious cargo. The company is committed to bringing satisfied customers to and from their travel destinations each and every time.