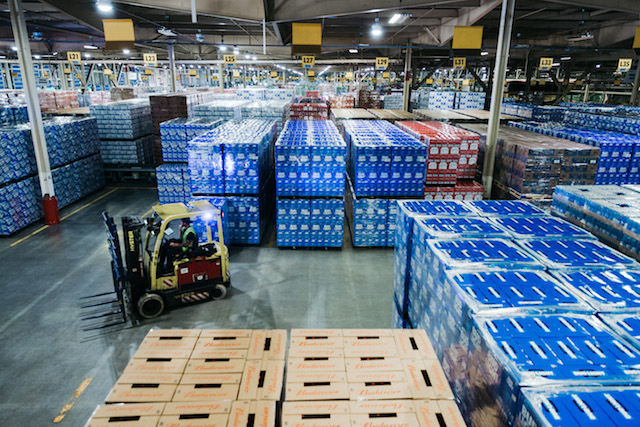 Anheuser-Busch's forward-thinking transportation and logistics functions help the company remain "The King of Beers."
By Jim Harris, Senior Editor at Knighthouse Media
Anheuser-Busch's operations are driven by its 10 principles organized around the ideas of "dream," "people" and "culture." One of these principles – "Our shared dream energizes everyone to work in the same direction of bringing people together for a better world" – has special significance for the brewer's supply chain operations.
"We dream big in everything we do and are never satisfied with our results, whether in the transportation market or our supply chain in general," says Chris Pickett, senior director of Tier 1 warehousing and transportation for the St. Louis-based company. "We have ideas on how to transform the supply chain and move it into the future, and we are always looking to do that."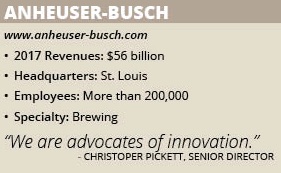 For the company, this includes seeking ways to better manage industry-wide challenges such as carrier availability. "We are trying to find ways to drive the market to be more stable," Pickett adds. "This starts with how we interact with our carriers, the partnerships and relationships we build and how we manage those relationships over multiple years."
Anheuser-Busch carries out the "people" and "culture" portions of its principles by focusing on talent recruitment and offering management and logistics training programs. "Our people are really the No. 1 thing we view as a competitive advantage," Pickett says. "We place a heavy emphasis on finding top talent to bring into our supply chain operations and develop that talent pipeline to help us be successful in the future."
Always Innovating
Anheuser-Busch shares information with all of its carriers and works with them to develop contracts and agreements that benefit all parties in the long term. "We follow the 'Triple-A' supply chain model, one key principle of which is alignment," Pickett says. "[Alignment] is something we've come to appreciate with our carriers and wholesalers, who are our primary customers."
The company works with third-party logistics providers to manage inbound and outbound freight from its 12 flagship breweries in the US. Most of the company's trucking activity is outbound from breweries to its network of more than 600 wholesale distributors.
Anheuser-Busch uses technology to forecast distributor demand and send an appropriate supply to meet that demand. "Our communication with wholesalers is automated and connected, and that permeates our mindset for our entire supply chain," Pickett says. "Also, business intelligence already has been, and will continue to be, huge for us.
"Our No. 1 priority is to have the right product in the right place at the right time, so our sales team can execute out in the field," he adds. "With a strong economy and tight transportation market this isn't always a simple task.
"Recently we have worked closely with companies like Convoy, UberFreight, Transfix and Loadsmart to help find ways to approach the market and challenge the status quo through data and technology. We are advocates of innovation," Pickett says. "We want to transform the supply chain from how it's worked in the past and find future opportunities. One good example of this is our Center of Routing Excellence (CORE), where we have centralized our Tier 2 truck routing to dynamically adjust routes to adapt to daily conditions."
Keeping it Crafty
In addition to its 12 flagship breweries, which produce the Budweiser and related beer brands, Anheuser-Busch's truck fleet serves 10 different craft breweries owned by the company. The company also owns the Spiked Seltzer alcoholic sparking seltzer brand and various non-alcoholic brands.
"The craft beer trend in the United States has been ongoing for two decades at this point and remains very strong," Pickett says. "We have adapted our supply chain to bring consumers all the different products they want."
Anheuser-Busch assists the craft breweries it owns with supply chain issues while giving them autonomy over their products. "We are trying to integrate craft breweries where it makes sense while making sure they remain crafty and independent in their beermaking," Pickett says. "We are finding the right ways to bring efficiencies into their operations without disrupting their creativity."
For example, Anheuser-Busch has integrated its craft breweries into its transportation payment and freight tending systems. "We make sure it is easy for wholesalers to order any of our products as well as to forecast them," he adds. "We are bringing the strengths of a large, coordinated brewer to what are generally small, craft operations. This exemplifies our mantra of combining businesses – we find the strengths in a business as it exists, but make sure we don't lose that when we bring it into the bigger business."
The company also ensures that the craft breweries under its auspices follow its guidelines regarding safety and quality. "We find ways to make such we influence and improve those two things, but in terms of [craft brewers'] creativity, their process and how they interact with customers, we are more hands off," Pickett says.
Sustainability Goals
Anheuser-Busch's transportation operations will play a large role in helping it achieve its corporate goal of a 25 percent reduction in its carbon emissions before 2025.
The carbon reduction target is part of of the company's four U.S. 2025 sustainability goals, announced in April 2018. The goals address renewable energy, water stewardship, smart agriculture and circular packaging. "[The goals] are a part of our broader culture and purpose," Pickett says. "We want people to know the world is a better place with Anheuser-Busch in it, and when they drink an A-B product, it is coming from a company that is doing everything it can to be sustainable."
The goals are the second round of sustainability initiatives for the company. The company in 2012 set goals that it achieved in 2017, including adding compressed natural gas (CNG) trucks to its dedicated brewery fleets in St. Louis and Houston. "That's been very successful for us," he adds. "We're focused on many other ways to reduce fuel usage through light-weighting our equipment, are we are making sure our carriers are using clean equipment as well."
Anheuser-Busch recently reserved 40 Tesla all-electric trucks and up to 800 hydrogen-electric trucks from Nicola Motor Company. "We are incredibly excited about adding these to our fleets," Pickett says.
Always Improving
Within the past few years, Anheuser-Busch has implemented a number of improvements to its operations geared toward making it more efficient. "We run a very efficient operation with very little disruption at this point; we couldn't say that a few years ago," Pickett says. "We precisely measure our warehouse operations using specific key performance indicators that help us understand where a bottleneck might be at any given time.
"At a high level, the theory of constraints is often used in a production environment, not a warehouse environment," he adds. "In our warehouses, we know a specific loading plan and know if we are not achieving it and what the cause is. We track the causes carefully in our data, which allows us to run with a great deal of success."
The company continues to seek ways to improve its transportation and overall operations. "We always look for gaps in our processes and are never too proud to admit we have opportunities to improve," Pickett says.