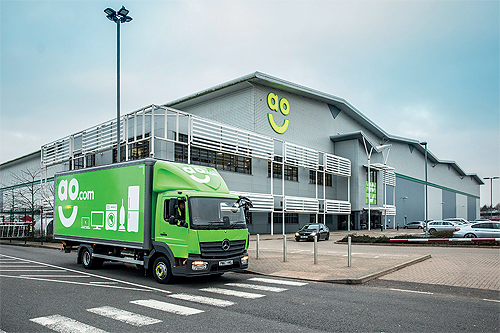 Let's go
Offering next-day delivery to almost every UK postcode, on products from both AO and selected third-party clients, AO Logistics sets itself apart through exemplary customer service
Today acting as the logistics arm for AO, the online electricals store, AO Logistics was born after the acquisition of the two-person delivery company, Expert Logistics, in 2009. As David Ashwell, MD of the firm explained, the business now provides next day delivery, allocated time slots and a service that covers 98 per cent of UK postcodes, seven days a week. "Our head office is in Crewe, alongside three distribution centres Alpha, Omega and Latchford," he added. "We now have over 1.3 million sq ft of warehousing space and a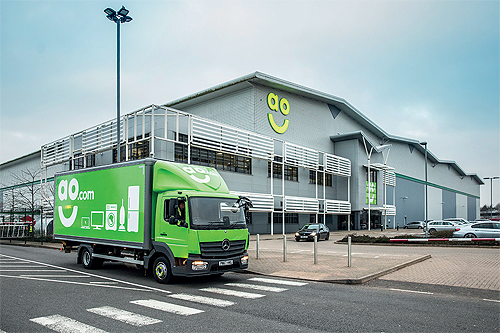 network of 23 outbases, with new warehouses recently opened in Stafford and Stoke-on-Trent. We have over 1100 vans in our fleet, spread across the country at our distribution centres and depots, and every year, they drive over 500,000 miles around the country, delivering everything from a dining table to a fridge freezer to over three million customers."
David continued with some more details about the services that AO Logistics provides. "We can take care of everything for customers on the day of delivery, whether that's disconnecting the old product, installing the new arrival or taking the appliance away to be disposed of responsibly at our recycling plant. Our drivers or engineers make sure that everything is up and running before they leave, and we believe that it's our fantastic customer service that really sets up apart. I'm really proud to say that our premier installation fleet recently hit the milestone of installing over 6000 appliances in one week."
Having mentioned customer service, Transportation & International Logistics took the opportunity to ask David about how AO Logistics maintain such high standards, and the answer was reassuringly down-to-earth. "We have the hard work of our people and sub-contractors to thank for our service levels. We approach customer service in a way that is recognisably 'AO' – most notably, we encourage everyone associated with AO to 'treat every customer like your gran and do something your mum would be proud of.' From a practical point of view, we offer popular functionality such as Track Your Order, and we've spent 30 years improving our operation so appliances can be delivered seamlessly into customers' homes."
By making sure that both its staff and its customers are treated with the same high regard, AO Logistics has built a solid foundation for success, but it does require dedication to training and improvement to sustain this type of company culture. "We believe everyone has a part to play in bringing this to life and the people we recruit are trusted to do everything they can to put the customer first," David highlighted. "Internal development is an essential part of the culture and we pride ourselves on moving our people up the ladder, especially at AO Logistics where all of our technical management team were once AO engineers installing and delivering cooking appliances for customers. To aid internal development, AO has an innovative in-house training programme called the STAR programme, which is now in its seventh year, and helps with the development of management skills and business acumen."
Prioritising customers and staff also requires continuous investment into the latest technology that will increase efficiency or simplify processes. "Voice-picking technology has recently been introduced across our warehouses and staff now wear headsets, improving speed and accuracy during the picking stage," David revealed. "For our third-party logistics business, we're now using the IRIS Client Portal, which enables our third-party clients to manage their own orders and deliveries in one place. We've also partnered with location service what3words so that our customers in the most rural locations can still benefit from our delivery proposition and I hope this new partnership means we can guarantee our customers the excellent AO experience, regardless of where they live."
The philosophy that AO Logistics has adopted is clearly working as the company continues to go from strength to strength. In recent months [at time of writing] it has opened over half a million sq ft of warehousing space due to increased demand from customers. "Expanding our logistics network is a crucial step in our growth strategy, so we can continue to serve customers when they need us the most," said David.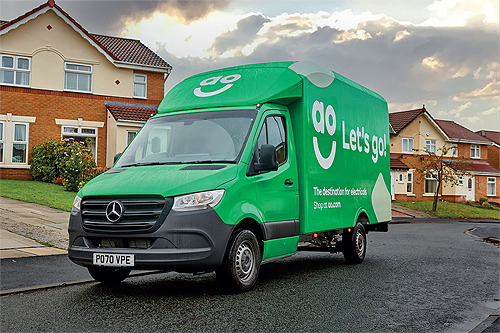 While Covid-19 has been such a challenge for so many businesses, what it brought to AO Logistics was an increase in people's online shopping expenditure and many more customers turning to the business to supply their goods. "We've had to act quickly to adapt – the extra space means we can manage this growing demand while also ensuring that our colleagues can safely socially distance," said David, before going on to talk more about how AO Logistics has been adjusting to the pandemic. "Being in control of our own logistics as a vertically integrated business has meant we haven't had to compromise our operation throughout Covid-19 – only pausing some services for a limited time to ensure both our people and our customers were as safe as possible.
"The acceleration towards shopping online and our role in helping customers adjust to life in lockdown has been significant throughout the pandemic. We saw customers turning to us for products that became even more essential now that our homes have become our offices and schools. We've worked hard behind the scenes to make sure that we didn't disappoint any customers and we're proud that our team have managed to maintain a consistent high level of service. Our biggest challenge has been making sure we could follow the Government guidance without disappointing customers and we had to make some massive changes to the services we offered early on. Some of our installation services were turned off, default delivery became a 'doorstop delivery' and these necessary measures reduced the length of time that contractors spent in customers' homes by over 95 per cent. Although no company could be fully prepared for the crisis and the demand that followed, our own logistics fleet enables us to have full control over the customer experience from beginning to end. I'm really proud of how the AO Logistics team has adapted to necessary changes and taken the swift expansion in their stride."
Having opened three new warehouses in the middle of 2020, AO Logistics also managed to add prospects to its local communities in the form of employment, and the ability to share its exceptional services with new customers. "The expansion has created many new jobs – 367 in Crewe – and we're proud to be able to offer exciting opportunities for people in the North West," agreed David. "As well as helping the team manage sales, the new warehouses also mean that we can continue to grow our third-party logistics business which has seen new clients such as Aldi, Simba and Keter. We've been able to share our AO service capability with these other retailers and, thanks to the AO team and our sub-contractors, their customers have been able to rely on them."
These new delivery contracts have seen AO Logistics' 3PL business grow 'exponentially' in David's words, and he was pleased to note that "there is no better stamp of approval for our logistics capability than other retailers, such as Aldi and Simba Sleep, wanting to partner with us to help them deliver fantastic service to their customers. Over the past few months, we've really been trying to get ahead of the game, and we plan to continue expanding our delivery network to be as close as possible to customers."
An important part of AO Logistics' service is the removal and disposal of its customers' old appliances, and this isn't just for people buying AO products. "To help people dispose of their appliances, we also have a Collect and Recycle service, where anybody can book a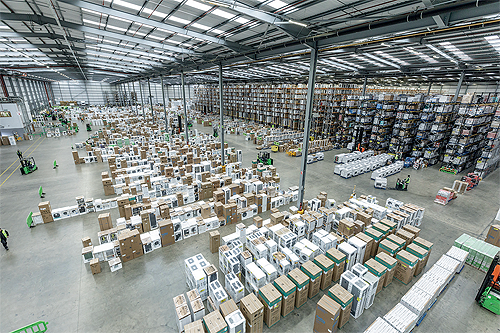 collection date to have their appliance taken away to be responsibly recycled," said David. He then went into further detail about the topic of social responsibility and the environmental side of AO Logistics' operations: "Sustainability is a real focus for the business in the coming years as we want to build on our solid foundations and continue to invest in operating as responsibly as possible," he stated. "One of our exciting business goals is to work with manufacturers to make the first full-cycle recycled appliance. AO's main recycling plant in Telford processes over 700,000 fridges per year, so the natural next step is finding a way to get the most out of these old appliances.
"AO is keen to invest in sustainable solutions that can lead to long-term savings and efficiencies. Customers are demanding socially conscious companies, and I feel like we have a duty to do all we can to ensure business practices are done as sustainably as possible. AO has already invested in operating sustainably and our goal is to constantly push the boundaries via innovation – our recycling plant is the first step. Based in Telford, AO Recycling is the only recycling plant in the UK capturing 100 per cent of harmful gasses from fridges, with the second plant transforming WEEE plastics into reusable materials.
"We're also making commitments to improve our impact on the environment, including the removal of single-use plastics from our facilities. We've recently swapped the plastic bubble wrap we use to protect appliances to one made from 30 per cent recycled plastic and we've also developed a reusable packaging solution, known as AO Armour, which can eliminate the need for bubble wrap altogether. It has recently been implemented in the Returns process, which has reduced approximately 10,000 rolls of bubble wrap per year and we hope to use this in all stages of the supply chain."
Furthermore, the warehouse technology we discussed earlier has reduced the amount of paper being printed in the warehouse – another step towards operating as sustainably as possible.
Judging by the rave reviews online and its exceptional ratings on platforms such as Trustpilot, AO Logistics has found the right strategy and approach to meet the needs of customers. It has achieved this at the same time as developing and appreciating its staff and increasing its own operations and going forward the future looks like it will continue on this successful trajectory. "We have tonnes of things planned for the next five years, just watch this space!" exclaimed David, before concluding with an exciting new development: "We recently announced our new VCP (Value Creation Plan) which is the 'AO way' of doing an incentive scheme. The majority of the value created will be shared by every employee, rewarding them for their exceptional performance – if the share price rises above £5.23 over the next five years, our people could earn enough to make a meaningful difference to their lives and their families."
AO Logistics
https://ao-delivery.com
Services: The logistics arm for AO – the online electricals store