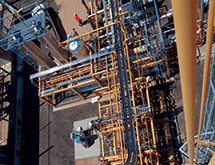 The nation's second-largest producer and marketer of liquefied natural gas (LNG) is increasing its footprint even further. Westlake Village, Calif.-based Applied LNG in June completed work on its second production train/liquefier in Topock, Ariz.
The new liquefier, located adjacent to an existing production facility, has a production capacity of 86,000 gallons a day, doubling the company's total capacity to 172,000 gallons. The facility allows the company to reach customers in Arizona, California, Utah, northern Mexico and portions of Nevada.
"We ran out of capacity on our first production train because of the growth of our market in the southwest region," says Shaunt Hartounian, the company's vice president of business development and strategic relations. "We're seeing organic growth of the existing customers in our portfolio plus new customers who are just now adopting an alternative fuel strategy."
The company in early 2014 announced its purchase of 31 acres of land in Midlothian, Texas, located 35 miles south of Dallas. The site is large enough to house five liquefiers, each with a capacity of 86,000 LNG gallons per day, as well as storage for up to 1.5 million gallons of LNG. The first liquefier broke ground in June 2014 and is anticipated to open in mid-2015. The Texas plant is only one of a few midscale LNG plants announced nationwide within the past six years, Hartounian notes.
The Midlothian site will allow the company to expand its service area to include customers in Texas, Louisiana, Arkansas, Oklahoma and New Mexico. The company anticipates building to its capacity of five liquefiers as demand for LNG increases in the region, Hartounian adds.
Meeting Demand
Applied LNG is also making an increased investment in its equipment fleet, which it uses to distribute fuel to customers. The company operates 34 LNG trailers and 10 mobile fueling units from a distribution and logistics hub in Fontana, Calif.
The company in November anticipates taking delivery of 15 new trailers manufactured by Alloy Custom Products, which produced 10 of Applied LNG's existing trailers.
The new trailers will allow the company to transport the additional LNG it is producing in Arizona as well as its future plant in Texas. The company attributes much of the initial demand for LNG in the California, Arizona and surrounding markets to the enactment of state and local clean air laws that mandate a reduction in vehicle emissions. "The recent growth in demand, however, is predicated on the significant cost advantage LNG has over diesel or gasoline," President Cem Hacioglu says.
A sizable portion of Applied LNG's sales is to municipal and other governmental agencies. The company also serves commercial customers in Southern California including United Parcel Service as well as waste disposal fleets including Waste Management and Burrtec Waste and Recycling. The company also sells to industrial customers.
In addition to processing and distributing fuel, Applied LNG also offers turnkey facility solutions to customers. "To use an analogy, we want to sell the razorblade – fuel – to customers, but to do that, we often need to sell the razor, which is the fueling station or other infrastructure needed for that fuel," Hartounian says. "We have the ability, both internally and through our strategic partners, to design, build and operate fueling stations."