Worcester Regional Transit Authority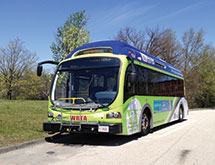 The Worcester Regional Transit Authority (WRTA) has seen steady ridership growth over the past six years. As the second-largest transit authority in its state, the central-Massachusetts operation serves a diverse population of 500,000 people. Its buses travel through urban cores of 180,000 and into more rural settings of 2,500, as well as everything in between. Executive Director Stephen O'Neill says WRTA's ridership is currently at 80 percent of its peak ridership of 2000 and currently serves 4 million riders a year. Because the authority continues to grow, O'Neill says it has made significant investments to keep up with its ridership base.
"We're regaining counts in our region," O'Neill says. "So the efforts we've made here are to streamline and reach out to the customer base with new technology and a new hub next to the region's rail station. All of those things also add to the reason of why our ridership has grown."
Welcome to the Hub
WRTA opened its transportation hub next to Worcester city's Union Station last May after more than a year of construction. The $14 million state-of-the-art facility replaces WRTA's old transportation hub and adds to a commuter nexus the city has built for itself.
"Back when the first President Bush created the safety route funding, it was a catalyst for union stations to be built around the country," O'Neill says. "We had an abandoned Union Station so that funding allowed the region to renovate the facility in 1999. Shortly after, plans were made to build a terminal for Peter Pan Bus Company and Greyhound, so it has served as a nexus for transit centers. It was a catalyst for us to move next to the Union Station and create our own hub."
Not only is the new hub in a better location, it also offers better amenities, O'Neill says, including: enclosed waiting area for riders, a customer service office, ticket vending machines, paratransit brokerage and eligibility services, administrative offices and conference room space, restroom facilities, eight bus slips and Wi-Fi access.
Another highlight of the new hub is the technology it employs to improve customer service.
"The hub has real-time destination signs so riders can look and see when their bus will arrive and plan accordingly," O'Neill says.
"Another way we use technology to reach out to customers is say someone is waiting at a stop, well, they can get a text message to see where the bus is or they can use their iPhone to get a QR code that tells them how long they have to wait," O'Neill continues. "They can wait inside and check where that bus is. There's just a new suite of technology that we've rolled out to the public that they get to benefit from."
Improved Decision-Making
In addition to helping riders plan their days, WRTA is investing in technology that helps it plan for its future. WRTA is building a new maintenance and operations facility that will open in early 2016. It will replace its 90-year-old facility and includes upgrades such as a new bus wash and water recycling system.
The new facility will also include new charging heads for the authority's electric buses.
WRTA also implemented an automated passenger-counting system that tracks all passengers getting on and off stops on all routes, every hour of every day. Based on those numbers, WRTA is able to determine the best utilization of its current assets and determine where future investments need to be made, allowing it to stay on track with its ridership base.
"It's making us smarter as to how we put service on the street," O'Neill says. "We're starting to see benefits from our new technology already and we can do many of these changes without any cost.
We can take a route off here, and put it over there, but we can do that with the budget we have. It's a tool that is earning its own money back, and it's one of the highlights of our new technology that has been really incredible for us."