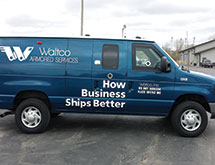 Waltco Inc. makes sure it provides its clients with the attention they deserve, Senior Vice President and COO Ryan Walters says. "The biggest reason we have been successful is we focus on service for the customers," he says. "We deliver on our promises."
Based in Green Bay, Wis., Waltco Inc. provides overnight shipping, parcel delivery and armored services to its customers, which range from banks and auto parts firms to utility companies. Walters' father, Bob Walters Jr., founded the company in 1983 as an armored car company.
The company later expanded its range of work when it purchased a small courier company. "That is what got us involved with moving some checks and interoffice mail for financial institutions," Ryan Walters says.
In the mid-1990s, it contracted with Airborne Express to provide services through parts of Wisconsin and upper Michigan. Waltco Inc. later added many financial customers throughout Wisconsin, which enabled it to expand its business to Minnesota and western Wisconsin.
Today, the company employs a staff of 200 and operates a fleet of 125 vehicles that cover Wisconsin, most of Minnesota and upper Michigan. Although the majority of its competitors use independent contractors, Waltco Inc. sets itself apart by using "company vehicles and company employees," Walters says.
The firm also customizes its services. "[We don't] put all the customers in a one-shaped box," he asserts. For instance, if a client requests an overnight parcel service and wants to use its own labels, Waltco Inc. can fulfill that. "[Or] if they want a fixed time of pickup and delivery, we can still do that and put that out for them," he states.
Tough Times
Although Waltco Inc. has seen some recovery, the company is coping with a tough market, Walters says. "The economy is still sputtering," he states. "The first quarter of 2014 was one of the slowest quarters we've had in a long time."
One of the reasons for the slowdown, Walters says, was that the market experienced one of the most expensive winters on record. Thanks to the snowfall and extreme temperatures, "We had pulled trucks off the road more than once," he recalls.
Many times. Waltco Inc. had to provide aid to its own employees who were stranded. Vendor emergency forces often "were bogged down," Walters recalls. "[They] told us to call back in 24 hours." The company could not wait and leave its workers outdoors, he asserts.
Instead, "We had to go rescue our employees on the side of the highway," he says. "We [also] idled more trucks than we normally would have just because of the extreme cold."
Keeping Track
Waltco Inc. moves 3,000 to 5,000 packages a day, which requires it to keep its operations updated with state-of-the-art technology, Walters says. "If it wasn't for technology, keeping track of all the packages would be difficult," Walters admits.
Recently, the company invested in bar code tracking and scanning systems that have had a significant impact. "Everything is visible [to us], from the drivers to the dispatchers," he says.
The systems also keep a long-term record of Waltco Inc.'s shipments, Walters says. "[We] can look back over two years of freight," he states. "[They] have made it [more] possible to manage something of our size."
Up to the Test
Despite the recent challenges, Walters remains confident about Waltco Inc.'s future. "We've stood the test of time," he states. "There are not a lot of companies that have been around 30-plus years. If it were easy, everybody would be doing it."
The company is focused on growing, but not focusing on expanding the size of its footprint. Instead, Waltco Inc. wants to increase the productivity in the region it already services and form partnerships with other firms, "whether they're friendly competitors or just someone else we know," he says. "We're contracting with other companies to reach out a little further for our customer base."
As the economy improves, "We're focusing on filling in the outside edges of our network," he says. "There are so many things that can change [in the economy and market]."