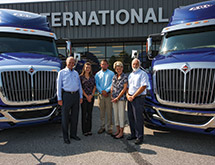 For Ard Trucking Co. Inc., the customer is No. 1, President and CEO Allen Ard says. "We just work to help solve all of their transportation needs and all of their cross-docking needs," he declares.
Darlington, S.C.-based Ard Trucking specializes in transportation management, including van, flatbed, intermodal, warehousing and yard services. Ard's father, J.W. Ard Sr., started the company in 1945 with a single used 1938 truck and trailer.
Although Ard Trucking endured challenges with shifts in the economy, "We're back on the rebound," Allen Ard asserts, noting that it employs a staff of more than 150 and operates terminals in Darlington, S.C., Florence, S.C., and Lebanon, Tenn. "We're [also] up to 110 trucks, 450 trailers, and growing."
The company operates as a dry freight carrier and hauls any types of goods classified as "general commodities," he explains, noting the company has hauled automotive parts, clothes, canned goods and other products.
Ard Trucking also operates a flatbed division that hauls steel products and building materials for the construction industry. "We try to target dedicated businesses," Ard says.
The company's longtime clients include Honda. "When Honda opened a plant in South Carolina here in 1997, we became their in-house carrier and we've been it ever since," he explains.
A key vendor for Ard Trucking is Carolina International Trucks Inc. "Ard Trucking is one of the biggest fleets in the Pee Dee [region of South Carolina] and we are grateful for the partnership we share with Allen Ard and his team," Vice President Kate Hanson says.
"Like us, they are a family owned and operated business and share many of the same values," she adds. "We are excited to see Ard Trucking Co. grow and are committed to supporting that growth in the coming years."
An Industry Veteran
Ard joined his family's business in 1969 and still loves the work. "I've told people over the years if it ever got to the point where I didn't like coming to work, I would sell it," he says. "I've never gotten to that point."
His son, Taylor Mac Ard, works in the business as a driver supervisor. "What I'm trying to do is teach all the aspects of the business, so one day, he'll know how to run it," the elder Ard says.
He went through the same process with his own father, who died in 2009. "I serviced the tires, I loaded the trucks, I did the billings and I did the hiring and the firing," Ard recalls. "I went through the whole corporation."
Ard also earned a reputation among customers as a problem-solver, Director of Safety and Human Resources Veronica Harden adds. "They know to come to Allen with a unique or special transportation need," she says. "He'll [create a solution] for them."
Longtime Relationships
Ard Trucking sets itself apart with its approach to customer relationships. Unlike some competitors, "Ard is not looking for the one-time opportunity with the customer," Ard says. "We intentionally select customers where we can build long-standing relationships."
When Ard Trucking quotes rates to a customer, it is in it for the long term. "We want to be in business with them for 10 to 20 years," he asserts. "It's been a benefit for Ard, because customers actually seek us out."
The close relationships also have led to the re-addition of more transportation related services. A manufacturing plant recently approached Allen Ard about getting back into the flatbed business. "They wanted to put in a dedicated fleet," Harden recalls.
"We are now back in the flatbed division," she continues. "We just purchased 10 flatbed spread-axle trailers and are planning to grow and double that over the next few years."
Developing Drivers
Ard Trucking's market is experiencing a shortage of qualified drivers. "It's creating stress on carriers and customers alike," Ard says.
The company has coped by getting more involved with social media outlets, including Facebook, Twitter and Instagram. "You wouldn't think social media and trucking go together, but they do," Harden says. "Social media is the biggest opportunity where we see to [recruit] qualified drivers."
The company also has increased its driver training initiatives. "We're working right now with a couple of local trucking schools to develop programs," she continues, noting that potential recruits go to the schools and then "come to Ard Trucking and get hands-on experience."
Learning Lessons
Ard Trucking has won several safety awards from the South Carolina Trucking Association. "In 2007, we were awarded the Grand Trophy Prize for being the safest carrier in South Carolina," Ard recalls. "We outshone every other company in South Carolina for that year."
The company has maintained driver safety through multiple initiatives, including a new pay program for its drivers. "We give them additional safety and performance pay per mile, as long as they don't have any safety violations or service issues," Harden says. "This is not a bonus, but straight pay they have earned by making safe decisions and taking care of our customers."
"It's been extremely successful," she continues. "We've seen a huge decrease in roadside inspection violations. Some of the drivers are learning the hard lessons, but it helps. This new pay program is making a difference in the fleet and their decision-making."
Making a Move
Ard Trucking plans to move into a new company headquarters in Florence, S.C. this August. Spanning 35,000 square feet on 20 acres, "It'll be right off of Interstate 95," Ard says.
The location also puts Ard Trucking four miles away from Honda. "It's a good strategic position," Harden says. "As this area changes, a lot of businesses will come to this area for the east coast ports."
The facility will feature driver training centers and state-of-the-art technology. "Our shop will be able to work on eight trucks and seven trailers at the same time," Ard says. "All of the drivers and customers are excited about it."
A Known Name
After seven decades, Ard is proud of the reputation his company has established. Although it is still relatively small, "I feel like people know us," he says. "They know it's a good company behind the name."
One of the keys to its status, he notes, is its family atmosphere. "We probably could have grown a lot faster and bigger if we had gotten away from keeping it family oriented," he admits.
"[But] I found, over the years, that the best way to succeed is treat people the way you want to be treated," he explains. "Building a strong reputation in your industry is going to mean a lot more than trying to make an extra dollar today."
The family approach also has nurtured longevity in the company, and an environment where "everyone is treated equally," he says. "We have an open-door policy."
For example, a mechanic can freely speak with Ard without any "fear that he'll get reprimanded from his immediate supervisor," he asserts. "I feel we're building a good team, and I call it 'the A-team.'"
The Next 70 Years
Ard Trucking will enjoy "a long, bright future," Ard predicts, noting that the company is staffing up. "I'm planning on retiring at age 80."
The company also expects to expand, but at a controlled rate, Harden says. "We want to grow with our existing customer base and stay close to our core business," she says.
It is also a good time for Ard Trucking to be in business, Harden says.
"Rates are going up, and you can pretty much name your own rate to an extent, which is not how it was six years ago," she says. "But we don't want to over-extend ourselves. We want to be here for another 70 years."
The company is considering adding more services to meet the needs of its customers. "We actually have customers asking us to grow beyond trucking and into other areas of logistics," she says. "Our customers are asking us to get into not just traditional warehousing, but a velocity center, where we can bring parts in, do less-than-truckload shipments and do some of the inventory control and tracking."