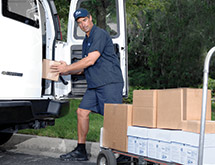 Founded in 1984 as a small courier in Jacksonville, Fla., Blue Streak Couriers has come a long way from its early days of operations mostly in northeast Florida, offering same-day delivery service to local businesses and organizations. In 2005, Harold Boyett, a 20-year UPS employee, became the company's new owner, transforming Blue Streak into a regional last-mile carrier.
Blue Streak currently does business in more than 18 states. Its staff has grown from four to 49 while more than tripling the number of service providers. Blue Streak has an extensive network of warehousing facilities across the Southeast, allowing the company to expand its territory while still remaining flexible.
"Blue Streak's growth can be attributed to the use of innovative technology and a concentrated focus on customer service that engenders loyalty," Vice President and Director of Business Development Barrett Cook says. "But the biggest attribution to our success is a dedicated, hard-working team."
Setting the Tone
Blue Streak works with customers to develop customized solutions to meet their needs. It specializes in routed and scheduled deliveries, offering scheduled services for routine tasks such as mail pick-up and delivery, bank deposits, intra-company correspondence, legal work, medical HIPAA compliance and diagnostic specimens. It also offers on-demand service such as standard service delivered within four hours, rush service delivered within two hours and route coverage, and STAT and long-distance services are also available.
Blue Streak continues to widen the scope of industries it serves. Initially, it worked mostly with banks, moving deposits and documents. Now it serves a greater variety of market segments, including healthcare, small parcel distribution, 3PL and white-glove home delivery in a wider geographical area.
"As for growth in existing or new market segments, our mantra has always been we're only as good as our last delivery," Cook says. "If we continue to focus on delivering excellence, opportunities will present themselves. For tangible evidence of this, look no further than when current customers ask us to grow with them as they expand. This organic growth is especially rewarding."
Staying Current
Chief among investments into the company in recent years has been Blue Streak's commitment to technology. This has been its predominant investment, as technological innovation is essential to its strategic plans.
"We have more ways to meet customer needs by leveraging technology," Cook says. "Additionally, we are always seeking opportunities for improvement and have invested in some key personnel."
As the company analyzes current trends, it has seen shifts in the marketplace between traditional retailers and e-commerce companies. Several e-commerce retailers have been building their own network of distribution centers, changing the future of retail sales.
These players are making it easy for consumers to not have to go to the store and opening a variety of doors for last-mile delivery providers. Traditional retailers are combating this via their omni-channel approach, also providing entry points for last-mile providers.
"Our plan to achieve sales growth is to stay closely connected with both the traditional retailers and e-commerce companies, while continuing to refine our processes and being customer-focused and nimble," Cook says.
The pace of change in the delivery industry makes it challenging to stay abreast of the latest trends. But Blue Streak prides itself on being a member in good standing with state and national associations such as the Florida Messenger Association, Express Carriers Association and the Customized Delivery & Logistics Association. As such, the company has been able to network and remain connected to an ever-changing landscape throughout the industry.
"It will be a priority to stay engaged with these types of organizations moving forward," Cook says. "As we look for new opportunities, we cannot lose sight of our current customer base. We must continue to look after them and care for them with the same enthusiasm as we have for any future opportunities."