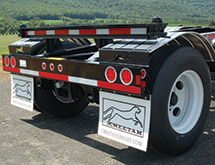 Manufacturing intermodal chassis for more than 40 years, Cheetah Chassis, spun off from Strick Corporation in 2000, has seen a significant shift in the intermodal industry. "We have slowly transitioned from being a manufacturer that relies on large-quantity standard orders to one that relies on orders of five to 25 customized chassis at a time," says Garry Hartman, president of the Berwick, Penn.-based company.
Hartman attributes this shift to steamship lines – which once comprised the bulk of the company's business – no longer providing chassis to drivers. Instead, drivers either lease from a chassis pool or purchase their own chassis.
Because of this change, the company has transitioned from producing large quantity orders of 20-, 40-, and 53-foot intermodal chassis to offering a more diversified product line to meet customers specialized needs. "We now offer more than 50 unique product designs to customers around the world," Hartman says.
The company manufactures container chassis, flatbed trailers, and other transportation products for customers ranging in size from single truck owner-operators to large companies with fleets of 250 trucks or more. In addition to chassis, the company produces specialized trailers capable of carrying items such as generators and gas and oilfield products.
Cheetah Chassis' manufacturing process includes in house metal fabrication welding shop blasting, painting and final assembly into finished products in its 200,000-square-foot factory. "We believe our coating system is the best in the industry," Hartman says, citing the company's marine coating systems and state-of-the-art shop blasting and paint facilities. In addition to standard colors, paints can be customized to the needs of each individual customer.
In order to provide the highest quality products to their customers, Cheetah Chassis ensures that all of its members are committed to the company's mission. It is the company's goal to understand and exceed customer expectations, promote a self and fulfilling work environment and deliver the best transportation equipment and services in the industry.
Meeting Customer Needs
As one example of meeting customer needs, Cheetah Chassis works with an Illinois-based mobile generator manufacturer by producing customized chassis to meet their varying weight distribution requirements. "We've been partnered with them for a number of years and have developed numerous product lines for their specific needs," Hartman says. "It's just one of the ways we strive to exceed customer expectations."
The company's ability to accommodate special requests is one of its greatest strengths. "Our goal is to continue to strengthen our existing customer relationships, and build new partnerships with companies in need of our 40 years of manufacturing, sales, and customer solution experience," he adds.
Cheetah Chassis meets industry needs through use of its customer solutions team, which consists of staff members with decades of engineering and manufacturing experience. "Our team will meet with customers to develop products that will meet their specific needs," Hartman says.
The customer solutions team supports the company's team of 10 regional salespeople, who actively seek leads here and around the world. "Our sales force has proven to be an integral part in securing customers and helping us to provide the excellent services we do today," Hartman says.
Many of Cheetah Chassis' salesforce and other team members have been with the company for more than 20 years, dating back to when it was the intermodal chassis division of the Strick Corp. Cheetah Chassis was spun off from Strick Corp. in 2000, but remains principally owned by a third generation grandson of the founder Frank Strick.
To maintain the highest quality products and services, all team members are provided with training in technical and interpersonal skills regularly. "All team members at Cheetah are trained to maintain the highest quality work possible while working together in a safe and empowered environment," the company notes. "We also believe in giving back to our dedicated team through a comprehensive benefit package – including competitive wages, profit sharing, a 401(k) – and an employee stock ownership plan (ESOP)."
Cheetah Chassis has a long tradition of innovation, dating back to the 1930s when Frank Strick developed the first "frameless" monocoque trailer body. After formally founding the company, he designed and built the Flexi-Van container system for the New York Central Railroad.
"We are constantly seeking ways to improve our products by reengineering designs and chassis manufacturing processes, introducing new products and services, and developing new programs that ensure the safety and well-being of our valued team members," the company explains.
Since its reorganization, Cheetah Chassis continues to developed products and services for its expanding customer base and global market. "The legacy of Frank Strick's pioneering spirit continues today throughout our operations," the company says.