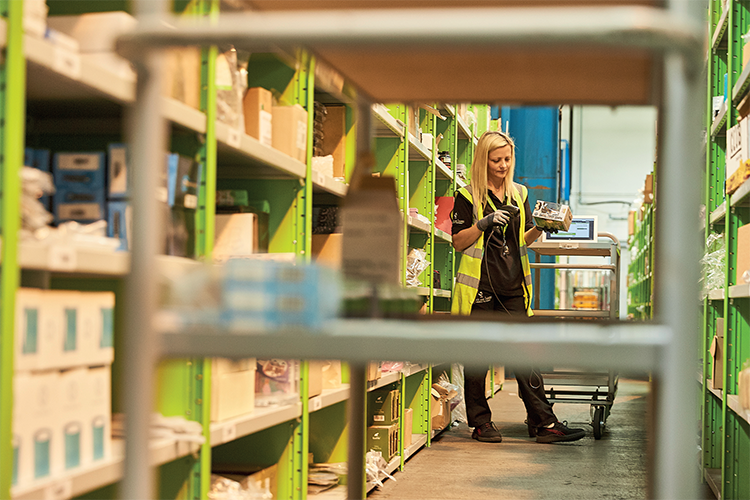 Online demand is soaring but too many retailers are missing out on great opportunities for one simple reason: fulfilment. In an eCommerce retail model, the quality of the fulfilment process – from the timeliness of delivery to the look and feel of the packaging – defines a customer's experience. And that process has to be consistently perfect whether a retailer is shipping one product or one thousand.
If retailers are to maximize the opportunity presented by a captive consumer base, existing fulfilment operations need an overhaul – and fast. James Hyde explores how offering a solution that goes above and beyond the role of a traditional fulfilment provider, and providing a fully integrated value-added service, gives eCommerce retailers the opportunity to scale and succeed in 2021.
First impressions count
Too many retailers underestimate the impact of fulfilment on customer experience. Spending a fortune on carefully curated websites and great delivery promises is a wasted investment if the product turns up late, damaged or swathed in acres of unnecessary packaging. A pretty website is key to enticing someone to buy – but unpacking the product is the customer's first real experience of any retailer, and that impression will last.
Ensuring the right product arrives when promised is just the start – although many retailers are still not getting that right. Good fulfilment is so much more. The way the product is presented, from the neatly folded packing slip to the personalized message to the carefully considered low-impact packaging, should be a reflection of the brand that reinforces the customer experience.
Presentation is just one part of the experience. Communication is another. Can the customer track the product from the moment they press buy, around the warehouse, onto a courier's van and into their hands? Is there a simple returns process, where customers can use a returns portal, select a reason for return and track the product back? And is that customer experience the same every day – whether a retailer is selling 1000 items or 20,000; to the UK or across the world?
Selling the business short
A fulfilment process that doesn't reflect the brand values and customer experience is selling the retail business short. But it is also not a surprise. Direct to Consumer (D2C) fulfilment is challenging – especially for companies looking to compete with the big names in the business, with next day delivery and a range of courier options. Scaling up to cover peak sales – such as Black Friday and Christmas – can be a major headache. The issue is not just recruiting the staff but also ensuring consistent quality – from picking accuracy to packaging.
And that is for expected peak sales. How can a retailer scale up in response to an unexpected plug from an Insta-influencer or a mention in a magazine? This might be a business-changing opportunity to capture new customers, a time when every aspect of that first customer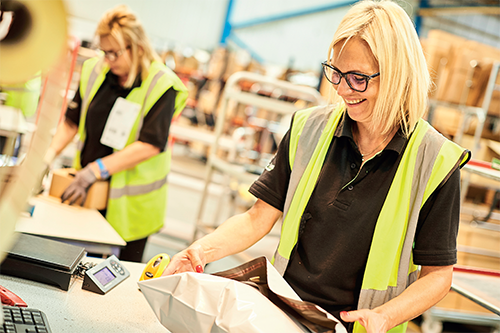 impression should be perfect. But how can that opportunity be grasped without a robust, scalable and repeatable fulfilment model?
The problem is, of course, that few individuals become retailers because they are excited about the fulfilment process – yet great fulfilment skills can make or break an online business. This is an absolutely critical component of the customer experience – and, as such, companies need to put some serious thought into it.
Tap into fulfilment expertise
Outsourced fulfilment is an obvious solution. It offers economies of scale and ensures a retailer can respond to any spikes in demand without affecting the quality of customer experience. But this is not just about efficiently getting a product into a box and onto a van. A tailored service will ensure the retailer's brand is on every box; while the product tracking service is also customized to the retailer's brand, to create a true extension of the customer experience.
If a retailer is to achieve that essential match of fulfilment experience to the core brand value, there are many issues to consider up front. An absolute fundamental is to be realistic about the delivery promise – and that means having a clear understanding of the cost model. What does it cost to ship to the UK and internationally? What is the variance between next day and longer shipping times – and how much do courier prices vary?
This is where the insight collected by a fulfilment partner can make a real difference for a retailer looking to scale up the eCommerce operation. With a deep understanding of the complete cost model, a retailer can match delivery options to the required level of customer experience. Is free shipping essential to reinforce the brand's luxury feel, or does the retailer need to set a minimum spend threshold to make free shipping viable?
Simplifying fulfilment complexity
Such delivery policies will not be set in stone – and for retailers with a diverse product portfolio and customer base are likely to vary. A £250 pair of trainers may justify expensive packaging and free shipping; a £40 pair from the same retailer may come in a boring box with standard shipping costs. Without continuously updated information about fulfilment costs, such decisions can only be based on gut feel – and that is where too many retailers have caught a cold and ended up selling at a loss.
In an eCommerce dominated retail market, fulfilment is now both art and science: it needs to look great and generate profit. A good, outsourced fulfilment partner can help retailers to develop packaging that reflects brand image. They can provide insight into the pros and cons of recycled materials – from the additional weight that has to be taken into account for any air freight to balancing the cost of recycled packaging against the value of customer perception and approval.
More efficient fulfilment processes can recoup significant costs – especially in the area of inventory management. Despite the cost of storage, far too many retailers have dire stock management processes. A fulfilment partner should share continuous insight regarding both stock levels and age of stock. They should be working with retailers to show where costs could be recouped – such as the opportunity costs associated with retaining a warehouse full of unsold items. What else could be in that space that would be delivering revenue? What could be sold at a small discount today to avoid a mass offload in a few months as a product gets closer to its end date? Proactive inventory management can transform the retail cost model.
Conclusion
Fulfilment is about so much more than the cost of getting a product from warehouse to customer. It is an extension of the customer experience and one that will define a customer's brand perception. But it is also about efficient retail operations and proactive management of both inbound stock and outbound product to maximize revenue.
Retailers that fail to embed the perfect fulfilment model within the customer experience are not just missing an important part of the process, they are fundamentally misunderstanding the way consumers and eCommerce fit together.

James Hyde is CEO of James and James Fulfilment, which provides outsourced fulfilment services to online retailers. It stores their products, picks, packs and ships their orders, and handles any returns. Headquartered in Northampton, UK, with additional fulfilment centres in Ohio, USA and Venlo, the Netherlands, the company secured an £11m investment from private equity investor, LDC, in March 2020. It won a second Queen's Award – for International Trade – in April 2020.
www.ecommercefulfilment.com