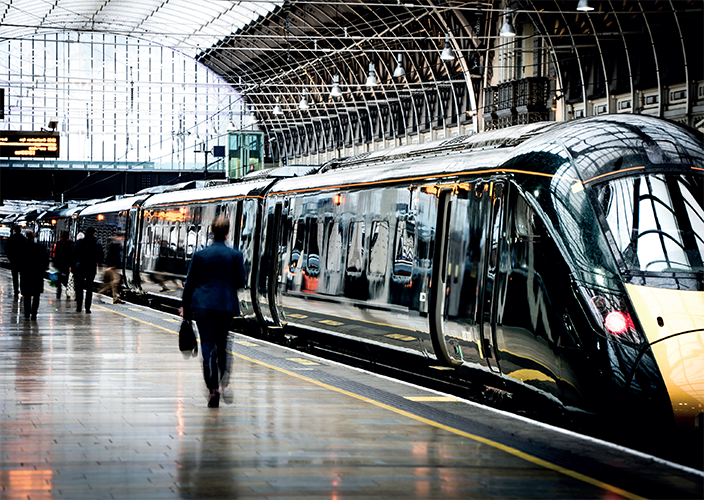 Keeping business travel on track
There has been a gradual shift in the preferred mode of travel for UK business travelers over recent years, and this was accelerated significantly during the pandemic due to government restrictions heavily limiting travel, people becoming wary of flying internationally due to safety concerns and the rapid implementation of changes to border enforcement.
Businesses have also become more climate conscious in this time, with many re-evaluating their stance on sustainability and how their business travel policies fit in line with this. SAP Concur's research found that 59 percent of corporate travelers think sustainability is very important in corporate travel, which has increased demand for such options within the workplace.
This drastic change in business travel preference has created the perfect opportunity for modes of ground travel, like rail, to take center stage. This article will seek to explore the appeal behind rail business travel and how employers can best capitalize on this trend going forward.
The rise of rail
As the world reopens, the rise of rail travel is highly anticipated, and to accommodate demand, in the UK we have witnessed advancements and investments in rail travel infrastructure. Though the government has for years been looking at the future of the railways under its Williams Review, the recently published Great British Railways report has highlighted the need for more accessibility and connectivity for the railways post-Covid. This has resulted in the government handing control of mainland Britain's railways to a new public sector body known as Great British Railways, which will own the infrastructure, be responsible for collecting fare revenues, running and planning the network, and setting the majority of fares and timetables.
These reforms have been actioned alongside a highly anticipated rise in rail travel as restrictions continue to ease nationwide. But where does the appeal in rail travel lie, especially for business travelers? Firstly, the nature of rail travel allows travelers to be more flexible and productive: depending on the destination, door to door, journey times can be similar to air, but with 97 percent of business travelers willing to extend their journey time if it means they can travel more sustainably, journeys that are longer are often calmer and connectivity is more reliable than flying meaning work doesn't have to stop whilst in transit. With 72 percent of business travelers ranking flexibility as the top driver for business travel, the ease and accessibility of rail travel makes the journey easier and less stress inducing, as more than 99 percent of the UK population live within 12 miles of a railway station.
In comparison to this, when travelling by plane, airports tend to be in relatively isolated locations and so longer travel time is required to reach them. Statistics show that 22 percent of European travelers rank riding to and from the airport as the most tiring aspect of business travel whilst, 23 percent of European business travelers would like to spend less time on the way to the airport. This makes rail travel more attractive to business travelers, who will not have to undergo the commute, waiting times or boarding protocols that often contribute to the stress of plane travel.
Sustainability is also a major factor when we consider the appeal of rail travel. The average journey by rail emits 90 per cent less carbon dioxide than a journey by plane. With climate change high in the public consciousness, employees would like to see businesses play more of an active part in the solution to tackle the issue. Over three in five (63 percent) business travelers expect to engage in more sustainable practices, such as prioritizing alternatives to air travel (26 percent) and trips with shorter distances (32 percent). Reassessing company business travel policies is therefore a good initial step to show an employer's commitment to sustainability.
Time for change
As business travel kickstarts, businesses should seize this opportunity to ensure they have the right tools and processes in place to support employees and make their journeys safer, with more than half (53 percent) of business travelers being willing to make changes if their company doesn't provide the necessary policies or measures to protect their health and safety, including 20 percent who would look for a different position.
Many business travelers expect to feel emotions such as worry (39 percent) and anxiety (30 percent) during their next business trip, according to our Global Business Traveler Report from last year. Provision of the right technology and tools will therefore play an important part in curbing the worries business travelers have as well as ensuring businesses fulfil their duty of care towards employees.
Much of the concerns business travelers feel is centered around health and safety, with our data also showing that 65 percent of respondents placed health and safety in their list of top three considerations. With the right tools, business travelers and travel managers can receive real time information on things such as restriction changes, current rules in your destination and even infection rates, during the planning and travelling stage of a business trip. This means planning a safer trip can take place with more certainty.
Similarly, tools and tech will prove helpful in aiding businesses with the implementation of more sustainable business travel policies. A growing number of tools are allowing businesses to monitor their carbon footprints by, for example, providing data on greenhouse gas emissions for certain travel routes or emissions levels produced by certain hotels. Access to such information allows travelers to make more informed choices when assessing their options as they plan trip itineraries.
Ready for the new normal
Overall, the industry is continuing to change rapidly, with a large part of that change being due to shifts in the priorities and preferences of business travelers themselves. They want flexible, greener, and safer travel – this makes embracing rail travel as an option ideal. A crucial part of businesses preparing for the new normal is acknowledging this, understanding changing preferences amongst employees and investing in the technology needed to accommodate them.
For a list of sources for this article, please contact the editor

Ami Taylor is Senior Director, Product Strategy at SAP Concur EMEA. SAP® Concur® is the world's leading brand for integrated travel, expense, and invoice management solutions, driven by a relentless pursuit to simplify and automate these everyday processes. The highly-rated SAP Concur mobile app guides employees through business trips, charges are directly populated into expense reports, and invoice approvals are automated. By integrating near real-time data and using AI to analyze transactions, businesses can see what they're spending, improve compliance, and avoid possible blind spots in the budget.
www.concur.co.uk