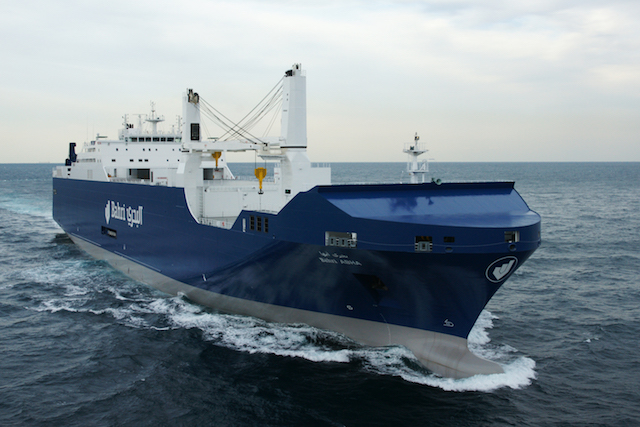 Bahri is working to become a global leader in the shipping and logistics industry.
By Bianca Herron, Senior Editor at Knighthouse Media
Founded in 1978 as the national shipping carrier of Saudi Arabia, Bahri Logistics has since become one of the world's leading transportation and logistics companies. With an unrelenting focus on innovation and delivering technology-driven, value-added onshore and offshore services, Bahri emphasizes six business units – oil, chemicals, logistics, dry bulk, ship management and data – and its service offerings includes transportation of crude oil, oil products, chemical, bulk and general cargo, as well as ship management. Bahri currently owns 91 vessels, including 44 VLCCs, 36 chemical/product tankers, six multipurpose vessels and five dry bulk carriers, with an additional two VLCCs on order.
Over the last five years, Bahri's revenue and fleet have grown at a record pace much quicker than in previous years, according to Senior Country Manager Steve Blowers. He attributes the growth to the company's focus on becoming a global leader in shipping and logistics and developing a strong platform for continued growth. "In 2015, the company set out to strengthen its internal organizational structure throughs its "One Bahri" initiative," he explains. "The initiative included an organizational restructuring and alignment, among other things, which was completed in 2016 preparing the company for its journey ahead."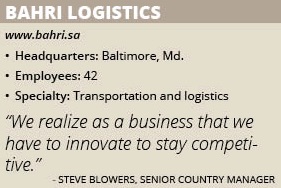 The success of this initiative has allowed Bahri to operate more efficiently, and provides more visibility between its divisions. "Quality, reliability and safety remain our key focuses," Blowers says. "Meeting our customers' requirements is absolutely paramount."
Keys To Success
Bahri's No. 1 goal is to be a global leader in shipping and logistics. The company aims to achieve this in various ways, including with the addition of its sixth business unit, Bahri Data, in 2015. "Bahri Data was created to really drive innovation and take us to the next level," Blowers explains. "We will not only use the data within the business to propel us forward, but also take a leadership position within the shipping and logistics industry."
Bahri is also ensuring it gets ahead of the curve by leveraging cutting-edge technology. "We realize as a business that we have to innovate to stay competitive," Blowers says. "So we have to find new, efficient ways, including the necessary tools, to run the business."
The company also prides itself on being a financially secure organization. "In the current environment, it's a difficult world in the shipping industry," Blowers explains. However, he adds, "Not only do we have shareholders who are 100 percent committed to our development, we also have made very respectable profits over the last few years as compared to our industry peers many of whom have faced challenges."
Ultimately, Bahri acknowledges that it would not be successful without the strength, knowledge and expertise of its employees. "Our people are the core of what we do," Blowers says, noting that the logistics and shipping industry is still very much a "people business." "Relationships matter and our people are focused on managing our customer and partner relationships to the highest level," he says. "On one hand, we aim to deploy the latest innovation and tools, but we don't want to use those tools to keep our customers at arm's length."
Seeing Growth
Bahri Logistics' significant growth started in 2013 after it purchased six new state-of-the-art multipurpose vessels, each 26,000 dead weight tons (DWT). The identical vessels, which the company calls "Bahri Class" vessels, were thought of at a time when it was not clear when the market would rebound.
"Bahri made the decision to purchase its new Bahri Class vessels in 2011 following the financial crisis, which would replace the Abha Class vessels," Blowers explains. "We decided to commit to the long term and gear our focus of business more towards the project and heavy-lift cargo. We saw that as an opportunity to grow our top-line revenue as well as our profitability."
The Bahri Class vessel can handle up to 250 metric tons of roll-on, roll-off or "row-row" cargo via its ramp. "It has one of the highest ramp heights in the industry at 6.8 meters," Blowers notes. "That's particularly helpful when you have high pieces of cargo that need additional height to get into the ship. The vessels are also ideally suited for carrying heavy lift project cargoes using the two ship cranes capable of handling cargo up to 220 metric tons in a tandem lift by hook. The vessels can also handle up to 400 20-foot equivalent units (TEU) of containers.
"When they were designed we actually wanted to maintain the ability to handle containers, whereas some row-row carriers have simply done away with that," he continues. "We found that with many of our engineering procurement company (EPC) and project forwarder customers there was still a need there, particularly with project cargo."
In addition, with Houston being the largest break-bulk and project cargo ports in North America, and one of Bahri's biggest markets, the company decided to open its second office there in early 2017. Bahri was previously working with a third-party agent who handled its affairs in the southern part of the United States, but decided to establish its own presence and represent itself, according to Blowers. "Bahri now has a team of eight dedicated staff based there who oversee sales, customer service, operations and more," he explains. "Its sales effort is lead by Cliff Kuhfeldt as regional sales manager (south) and port operations by Captain Poul Madsen.
"We saw the Houston office as a chance to accelerate our growth strategy, particularly with sales, marketing and operations," Blowers adds. "We took a hard look at our customer base and conversed with them to find out what they wanted from us. Ultimately, we worked to improve the areas they noted and strengthened areas we already knew we were strong in."
Continuous Improvement
Blowers is based in Bahri's Baltimore U.S. headquarters, which has rolled out several new technology initiatives, including a brand-new operating system in 2016. "We're about to introduce salesforce.com, and we have adopted other operational software that we are working to implement," Blowers says.
Training plays a critical role in Bahri's operations, especially with it implementing several new cutting-edge technologies. With a small but mighty team of 42 employees, Bahri is working to tailor its training to each individual, ensuring they remain up-to-date on its latest technological innovations. "We're very lucky to have a seasoned team in terms of tenure and experience," Blowers says proudly. "We even have a number of retirements this year, and are bringing on new staff and ensuring they are properly trained. We ensure this by having our seasoned employees teach other employees."
Bahri not only requires its employees to have certain skills, but also looks to identify how it can help its people continually grow and develop. Its corporate human resources department and its talent management team support the company's training. In addition, Bahri goes through a rigorous vetting process to work with major engineering procurement companies (EPC's) and ports and vessels. "In some cases, you go through it annually," Blowers explains. "They look at your service capabilities, financials and track record of how you've performed, amongst other things. Then they decide to either continue working with you or not."
He notes that Bahri is focused on ensuring it meets the requirements of its EPC's, in addition to its other partnerships. "They're very focused on having transportation and logistics providers who can safely move their cargo from place of origin to final destination," Blowers says. "It's a high level of commitment and expectations are high. However, if you fulfill your commitments you build up credibility within the key segment, which is paramount. The key to success is if you continually perform and fulfill your shipping and logistics commitments. That's our main focus."