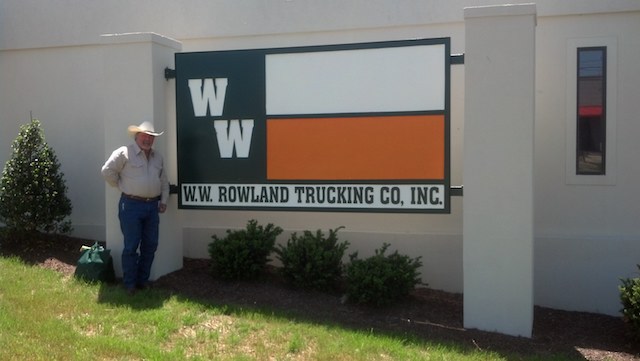 Intermodal and trucking provider W.W. Rowland evaluates customers on six criteria to ensure its partnerships are working.
By Tim O'Connor, Senior Editor at Knighthouse Media
When Hurricane Harvey hit Houston last August it shut down the Port of Houston for several days and made roads impassable. It was a challenging time to be working in logistics around the country's largest port in terms of foreign tonnage, but companies such as W.W. Rowland still had to get goods moving.
W.W. Rowland gathered up enough employees to form a skeleton crew to maintain its operations and some staff worked remotely from other locations to limit transportation delays during and after the destructive storm. "Our business never stops," COO Alex Cessac says. "When our customers go home at 5 o'clock in the afternoon wherever they are, the railroads are still running and the trucks are still running. We have to meet our obligations."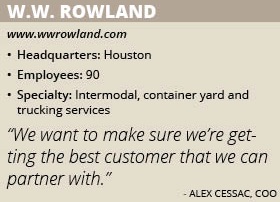 Evaluating Customers
W.W. Rowland started in 1971 as a one-man operation hauling newsprint from Houston printers to major newspapers at night. Within three years, the company grew into a fleet of trucks serving the intermodal business and by 1979 it had moved into the container yard services and repair market. Today, the company has nine locations, mostly in Texas, but also in Nashville and Memphis, Tenn., and its services include local and road drayage, equipment storage, brokerage, secured drop lot facilities and on-site maintenance and repair.
Cessac joined the company in 1990 and has seen tremendous change in the industry over the past 28 years, including the impact of North American Free Trade Agreement, the consolidation of steam ship lines and implementation of chassis pools. Through those shifts, W.W. Rowland has remained a reliable intermodal trucking and container yard services provider. The company's business is about 65 percent international intermodal and 20 percent domestic van freight, with the rest coming from domestic intermodal services.
W.W. Rowland's intermodal footprint covers a 250-mile radius of each of its locations and the full truckload part of the business mainly travels from the Southwest to the Southeast and into the Ohio Valley. However, it is authorized to operate in 48 states and offers service into Mexico as well.
Over the past decade, W.W. Rowland has worked to diversify its customer base to offset some of the consolidation in steam ship lines. As a result, the company transports a wide variety of products, including consumer goods, manufacturer goods and raw materials. In Houston, for example, W.W. Rowland is helping to export larger amounts of resins through its intermodal services.
In becoming more diverse, W.W. Rowland has been more selective about which companies it wants to work with. "We evaluate every piece of new business, but also every existing business," Cessac says. When considering an opportunity, the company evaluates the rates, fuel surcharge, ease of doing business, driver friendliness, payment terms and volume. "It's very important to us that we choose the kind of customer that meets all six of those criteria," Cessac says. "We want to make sure we're getting the best customer that we can partner with, that the partnership is going to work."
For existing customers, W.W. Rowland not only reviews the customers' numbers and internal processes, but it also speaks with the owner-operators who make the deliveries to learn about their experiences with the clients and determine whether any value-added services could improve the relationship. "We want to have customers that value us as much as we value them and understand that if we aren't healthy they aren't healthy," Cessac explains.
Valued Drivers
Like every trucking business, W.W. Rowland has struggled to find and retain drivers in recent years. The company contracts with 240 owner-operators and must maintain its driver pool to continue offering a high level of service. One way to do that is to recruit drivers who live along its lanes of interest, such as the communities off I-10 between Arizona and Georgia, making it easier for drivers to balance work and their home lives.
"It's given us an opportunity to diversify quite a bit with our capacity as well as our business model," Cessac says. "It's really broadened our ability to attract owner-operators from other areas rather than just the metropolitan areas."
In addition to recruiting along its transport lines, W.W. Rowland lures drivers by offering a compensation package that equals or exceeds its competitors. Drivers can earn bonuses for signing on or referring other drivers, or even get as much as $300 for maintaining a clean cab. They also receive extensive safety training, are paid on a weekly basis and are treated to gift cards on their birthdays and Christmas.
But perhaps the most important thing W.W. Rowland does to attract owner-operators is to make them feel valued. In many cases, those drivers are the only regular face-to-face interaction the company has with its clients, so keeping them happy is instrumental to creating a positive customer experience. Cessac points to the philosophy of the company's founder, W.W. Rowland, who often said, "A company is made up of people. When you have the best people, you have the best company."
That concept has exemplified W.W. Rowland – the person and the company – for the past 47 years. "We have nothing to sell but service," Cessac says. "We don't make anything. We don't produce anything.
"There's no right way to do the wrong thing," he continues. "So we always strive to be the best we can be."