NexTraq offers a range of products that help fleet managers turn raw information into actionable solutions.
By Tim O'Connor, Senior Editor at Knighthouse Media
Back when telematics provider NexTraq was founded in 2000, data was a lot simpler. Most customers only wanted to know where to find their truck or equipment asset. But in the nearly two decades since the new millennium began, the prevalence of data and the sensors needed to capture that information have fundamentally changed expectations.
Today, everyone has a mobile device – sometimes several – and companies are clamoring to use the information generated by the connected world to discover ways to become increasingly efficient. Fleet managers not only want to know where their trucks are, but they want to dispatch optimized routes and be alerted if drivers are skirting the rules of the road. NexTraq is continuously evolving to stay ahead of those demands. "The solutions over the years have been tailored to the needs of the customers," Vice President of Product Pankaj Sharma says.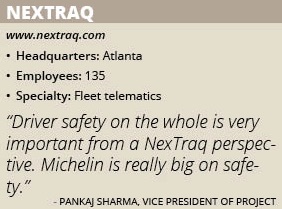 NexTraq's suite of services includes automatic driver assignments, mapping, dispatching, fleet and asset tracking, reporting tools, engine diagnostics, maintenance schedules and logs and fuel management.
For companies that need to access fleet and equipment information, the company offers several mobile apps for tablets and smartphones.NexTraq View, designed for managers, provides real-time tracking information on fleet vehicles and field employees. Additionally, NexTraq Connect allows field employees to record hours, review time entries, manage jobs and navigate to customer locations from a single smartphone application.
NexTraq provides its solutions to a wide range of customers, from small companies with only five trucks, to massive fleets with 10,000 vehicles and even construction firms looking to track the location and usage of equipment on a job site. Not every solution applies to every client, so NexTraq's sales team learns every customer's requirements and then works to develop a solution that fits their specific needs. "Every customer is unique," Sharma says.
More than 6,000 companies utilize NexTraq's solutions in the United States and Canada.
Those solutions are driven by the data NexTraq collects from the real-world usage of its clients' vehicles and equipment, but having those raw numbers and figures isn't enough. A stream of unorganized information isn't much use to a dispatcher sitting in fleet headquarters. NexTraq marries robust information with the ability to understand it. "At the end of the day, it's not all about data," Sharma observes. "It's the insight the data provides. Fleet owners already have a lot on their plate. In order to make their life simpler, one of the key goals is to make our solution easy to use."
NexTraq believes it has achieved that goal. Customers frequently note that NexTraq's telematics solutions are easy to use and simple to understand. The data behind it may be complex and robust, but the company distills it into actionable information that can lead to reduced fuel consumption, faster delivery times and more completed jobs or stops each day.
NexTraq's systems may be easy to learn and use. However, NexTraq provides in-person and online training to teach managers and drivers how to effectively use the technology.
Getting ELD Compliant
Training efforts have become especially important in the wake of the Federal Motor Carrier Safety Administration's (FMCSA) new electronic logging devices (ELDs) mandate, which went into effect at the end of 2017 and requires carriers and fleets to install automatic on-board recording devices to track driver compliance with hours of service requirements. The mandate has met with some resistance from drivers who are unfamiliar with the technology. Some carriers have struggled to get their drivers to adopt ELD; however, NexTraq believes making the devices easier to use will increase compliance.
"What we've found is most of the resistance from drivers is due to a lack of familiarity with the technology," Communications Manager Brian Gray says. "Having a dedicated ELD support team has been a huge help."
NexTraq approaches ELD implementation differently for fleet managers and drivers. Each group goes through separate training sessions geared specifically to help customers become more comfortable with the technology.
Now a Michelin Group Company
NexTraq's reputation as a leading provider of GPS fleet and mobile workforce management solutions made it an attractive target for companies wanting to expand their capabilities in an increasingly data-driven market. In summer 2017, Michelin North America purchased NexTraq, previously a subsidiary of FLEETCOR Technologies. The move was a strategic acquisition to accelerate Michelin's growth in telematics and strengthen its competitiveness in fleet management technology and services.
The technical resources Michelin provides give NexTraq the capability to focus more on developing new solutions for its customers, but the parent company also positively influences the direction of NexTraq's products. Because it interacts with customers on a daily basis, the tire manufacturer can filter user feedback into useful insights that inform NexTraq's solutions.
Driver Safety
The relationship with Michelin will enable NexTraq to promote even more solutions centered on one of the biggest challenges facing fleet managers: driver safety. "Driver safety on the whole is very important from a NexTraq perspective. Michelin is really big on safety," Sharma says.
The same system that reports a vehicle's average fuel consumption or tracks a truck's location along a supply route can also be used to identify positive or problematic driver behaviors. Fleet managers can review that information to reward drivers who demonstrate safe driving techniques or to identify those that need an intervention.
If NexTraq's system identifies that a single driver had multiple hard braking and sudden acceleration events, it can signal that the driver requires additional training to improve their behavior and hopefully avoid a more serious event in the future.
Driver data is compiled to create a Driver Safety Scorecard that can be monitored in real time, allowing fleet managers to compare the performance of drivers against their peers and to more easily identify those who need additional coaching.
Of course, the use of data to change driver behavior is a reactive measure; however, NexTraq also provides more proactive solutions. In 2015, 3,196 fatal crashes involved distracted drivers, according to the National Highway Traffic Safety Administration, equal to about 10 percent of all fatal crashes. Further, according to a 2015 study by AT&T, 70 percent of drivers use their smartphones while behind the wheel.
Because they spend so much time on the road, truck drivers are especially at risk of being involved in a distracted-driving collision. To curb dangerous behavior, NexTraq offers DriveGuard, a solution helps prevent drivers from texting on company-issued mobile devices when they're behind the wheel.
Getting drivers onboard with those monitoring solutions is often the biggest challenge. When they first learn of it, many drivers' reflexive reaction is unease over the idea of being watched. That's why NexTraq engages drivers to help them see how these tools will help them by ensuring their vehicles are maintained properly and teaching them to better protect themselves and those they share the road with.