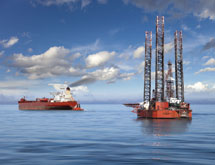 Being a bluewater company means Bordelon Marine not only can resupply offshore oil and natural gas rigs, but also set up tension leg platforms or drilling platforms before the rig is built and provide services underwater with remotely operated vehicles (ROVs). "That's a different set of requirements for the vessel," President and CEO Wes Bordelon points out.
"When you're doing dive work that's project-based, you have divers and they dive from your vessel, and they do a variety of things – make repairs, do inspections, that kind of thing," Bordelon adds. "When you're doing survey work, you're working with a geophysical company. They're looking for oil, mapping the bottom of the ocean or looking into the substrate and trying to find oil. Your vessel is supporting vessels that do this type of work."
Work with ROVs is especially complex. "Our vessel would house the ROV, the launching device and all the communication umbilicals and everything that goes with it, including the people and operators," Bordelon explains. "The ROVs, depending on their size, will go down and either monitor some piece of equipment or pipeline, or turn a valve or install a system in a depth that a diver cannot reach."
All of Bordelon Marine's work is offshore. "We have good charter diversification," Bordelon maintains. "The lion's share of what we do is in the oil and gas industry, but we do have services outside of this market. We do work for various markets or various industries, including the military, environmental and survey. We support the oil industry in a variety of ways, from production to drilling support to construction support, ROV work, dive work, survey work and exploration work. We're pretty much in all of the various niches of the industry."
Bordelon Marine owns and operates a fleet of 12 offshore supply vessels ranging in size from 110 feet to 170 feet, most of which were built after 2001. The company has vessels that work full-time with the U.S. Navy handling a range of testing and qualification projects used for mine warfare or profiling the ocean bottom.
"We're really just a R&D support vessel," Bordelon explains. "Here in the Gulf domestically, there are different devices the Navy tests. If something has just come online for them, they may want to have proving trials or develop a history with it. Maybe they want to do training on the system prior to deployment. We support some of these activities."
Environmental Work
The family owned company was founded in 1979 and is proud of the environmental work it supports. "Environmental work is near and dear to us," Bordelon says. "We've done it for a number of years in different places and different respects. This goes back to the early 2000s. We participated in the charting of reefs and near-shore ecosystems – grasses and different oyster beds. These smaller vessels would go out and document the effects of man on nature, and this is how we got into the business."
That experience became handy after the BP oil spill for organizations that wanted to examine its effects during and after it occurred. "We stayed pretty active in this market for a good 12 or 14 months – even after the spill was contained – looking at plankton levels, charting whales, looking at deep deposits or any coral formations, sampling fish and squid and a whole range of things. The vessels were mobilized as mini-environmental sampling or support labs offshore.
"They would come and go and have a variety of scientists live on them for some time, and that was exciting to us," he continues. "It was a different service to offer with a different clientele, and it was interesting to us and to me, personally. That is only a small part of what we do now. We still on occasion will go back out and work for the universities or do some type of sampling and monitoring of the ecosystem.
"Some of the universities will hire us to do various studies," Bordelon reports. "If a university is tracking a whale population in the Gulf, we may go out and tag whales for a month. Or if you have an environmental company that is trying to provide a new monitoring device, they may be looking at currents or the content of the seawater. They may have a buoy or some type of subsea device that monitors various components of the ocean. We can go and place and service those things."
Bordelon Marine's experience with the oil industry also came in handy in its environmental work. "In the end, the customers are mostly the oil companies," Bordelon concedes. "You have oil companies that do a baseline study and see what's there so they can protect themselves – to be able to show that they're not doing any harm."
Technology is Crucial
Bordelon Marine's fleet is outfitted with the latest technological systems. "Technology plays a huge role in making a vessel perform well, making it efficient and making it safe," Bordelon notes. These include alarm actuation, communication, camera and monitoring systems, stability software and a variety of other data sources that are so numerous they could overload a mariner's senses. "So there has to be a real science to presenting this information in a user-friendly and manageable format for the captain," Bordelon emphasizes.
The company has a competitive advantage because it can design and build its own ships and outfit them appropriately for each industry and function they serve, such as adding a crane or tanks to one of its ship designs. "Having a shipyard allows us to change that design slightly or outfit the vessel in a way that can ideally service these different industries," Bordelon notes.
Bordelon Marine serves the U.S. and Mexican markets, along with Trinidad and South America. "The Mediterranean, West Africa, North Sea – those are other theaters we don't operate in so much," Bordelon says. "We will one day, but for now, we're primarily focused on the Gulf of Mexico."
Safety Success
Bordelon attributes the company's success to the expertise of its employees. "Anyone can buy a boat, anyone can own a boat, but to operate it is a whole different thing, a whole range of disciplines," he says. "Then when you add to that scope building the vessel, it's even that much more significant. So any one of those aspects of the business – if we didn't handle it properly, if we didn't build the boat properly or run it safely – the company would cease to exist very quickly."
He emphasizes the importance of safety in the marine business. "There is so little room for error in our business," he stresses. "Any incident that happens is generally a big one. It can be very expensive and puts more than just a few people at risk. So the margin of error has to be small. Safety programs have to be real ingrained in our company's culture.
"I think we have a culture that supports and promotes excellence," he adds. "I think we have an amazing safety culture. Our people genuinely care about what they're doing and the service we're offering. They do it because they want to be here – they're proud of what they do – and not because of some policy that somebody wrote in an office somewhere. Being small certainly lends to our ability to have a good culture, but I do think across the board it sets us apart, and in the end, it makes what we do at every level more efficient and genuine."