Bozeman Yellowstone International Airport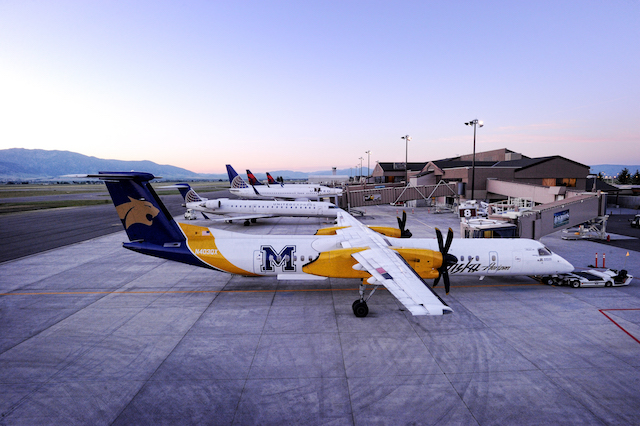 Bozeman Yellowstone International Airport continues to invest in capital improvement projects to keep pace with its growth.
By Janice Hoppe-Spiers, Senior Editor at Knighthouse Media
Bozeman International Airport (BZN) has been named Montana's busiest airport because of its proximity to tourist destinations and Montana State University. The airport continues to see an increase of about 100,000 passengers annually and expects to serve a total of 1.3 million passengers this year.
"We have consistently had strong growth that are challenging all the projections we've had, and we've had some pretty aggressive growth averaging 5 to 6 percent per year compounded," Airport Director Brian Sprenger says. "The last couple of years the compounded annual growth has been 8 to 9 percent, which challenges our ability to handle that growth. Like any entity, when you have that kind of growth it's a fine line of being able to invest in the growth but not get behind it and have it outpace you."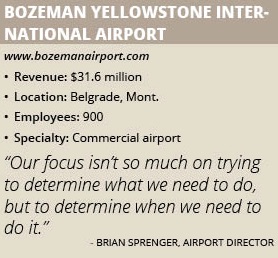 To keep pace with the rapid growth, BZN developed a long-term capital improvement plan that it analyzes every year and modifies as needed. "Some of the projects we are seeing right now have been on our plan for many years and we are seeing that we have to accelerate those plans into earlier years," Sprenger explains. "Our focus isn't so much on trying to determine what we need to do, but to determine when we need to do it."
Capital Investments
Over the past decade, BZN has invested $100 million in capital improvements and expects to spend an additional $150 million over the next 10 years. "We are self-sufficient as an airport authority and don't receive tax dollars from the local taxpayers or the state of Montana," Sprenger notes. "If you don't use the airport you don't pay for it because everything we do here is paid for by the people who use it through ticket taxes or rental car fees, for example."
As a smaller airport, BZN is careful in its planning not to overlap major projects and avoid overtaxing the facility and financing. Last fall, BZN completed the construction of a parallel runway to separate its fast-moving aircrafts from the slower-moving ones. Its parallel runway was one of only eight new runways in the country since 2005. "We have significant flight school activity at the airport, so this allows us to ensure student pilots don't' have a 737 coming up behind them," Sprenger says.
In May, BZN also rehabbed its main runway over a "very intense 20 days," Sprenger remembers. During that time period, BZN closed its runway at 12:30 pm after its last departures for work to be performed until 11 pm to reopen for inbound arrivals. "We milled out a section for the asphalt to be completed that day, laid down Petromat and paved two-and-a-half to three inches of asphalt for 1,000 feet of runway," he says. "We started in the center and worked our way outward so we could restripe the center line and open the runway every night."
During the rehab project, BZN's goal was to maintain airline service every day to reduce the economic impact to the community. "To close the runway in May for an entire day would cost the community $1.5 million versus about $6 million in July or August," Sprenger says. "We tried hard to get it done during our slowest time of the year and were able to accommodate about 95 percent of passengers during the hours our main runway was open."
BZN recently began construction on a 1,100 stall multi-use fully covered parking garage. The $30 million four-story parking garage will be the largest in the state.
After the completion of the parking garage in May 2019, BZN will begin construction on a terminal concourse expansion project that will add three gates for a total of 11. BZN will also upgrade its baggage handling capabilities to accommodate the three additional gates and continued growth.
"In a peak timeframe we will have the ability to handle baggage for up to 16 different destinations within a two-and-a-half to three-hour time frame," Sprenger says. "Right now the capability is designed around the eight gates that we have and during the peak timeframes we are challenging that capability."
Exponential Growth
BZN recently added a 16th non-stop destination to Long Beach Airport via JetBlue Airways. The airport had already provided non-stop service to Seattle, Portland, Ore., San Francisco, Los Angeles, Las Vegas, Phoenix, Salt Lake City, Denver, Dallas/Fort Worth, Houston, Minneapolis, Chicago, Atlanta, New York's LaGuardia Airport and Newark, N.J.
JetBlue Airways is the newest addition to BZN. Alaska Airlines, Allegiant, American Airlines, Delta, Frontier Airlines and United Airlines also provide service to and from BZN. United Airlines recently announced year-round service to Los Angeles and San Francisco.
BZN looks to continue expanding its service to new markets primarily on the East Coast. "We still have quite a few untapped markets because accessibility to Bozeman from those markets is not yet ideal," Sprenger admits. "Markets like Boston, Philadelphia, Charlotte, N.C., and Washington, D.C., prefer non-stop service so we are working with our air service development community to provide that access."
BZN offers 60-day leases to airlines so they can give the airport a try and see if it's a comfortable match without a long-term commitment. "We make it easy for them to operate so they will be successful," Sprenger adds. "Business and general aviation is also a fast-growing segment of the airport. With the development of the Yellowstone Club, a high-end private ski development, it's bringing in a lot of business private jets because we're easy to get in and out of without a lot of restrictions. Flight school activity accounts for almost 20 percent of aircraft operations and we are also focused on that segment of our airport."
To keep pace with growth and expanding to new markets, BZN will continue to focus on infrastructure improvements to ensure it does not have any physical constraints that would restrict air service. "Our goal is to be the cost-effective airport for airlines to operate out of," Sprenger says. "While we can't control the supply and demand, we can control how much we charge the airline to operate and we try to be one of the lowest cost because in our world, they are the golden goose. With the airlines come the revenue from the gift shops, food and beverage and parking lots."