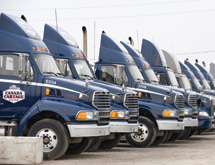 Companies that work with Canada Cartage get all of the benefits of a private fleet but none of the hassle. As the largest dedicated fleet operation in Canada, Canada Cartage is a national company that provides localized service – or rather, customized service. In many ways, the company is an extension of its clients' operations, providing the trucks, technology and personnel to handle final deliveries.
"As a dedicated fleet operation we tend to handle the final miles," President and CEO Jeff Lindsay says. "We have fleets positioned at our customers' distribution centers or manufacturing sites that deliver products from those sites to their end-customers or between their facilities."
Many of these fleets are even branded with customer logos, echoing the seamless service that Canada Cartage provides its clients, which include well-known names such as Home Depot, Safeway, Sobeys and Canadian Tire.
Total Solution
The company owns and maintains a fleet of 4,000 tractors and trailers, which cover an array of needs – from refrigerated trucks to flatbed trailers to tankers. The company makes capital investments in new trucks when it brings on new clients and continues to upgrade its fleet for existing clients. It also maintains an undedicated fleet for transactional clients and to handle peak times for clients with contracts. "Almost every private fleet operator struggles with having trucks available to handle seasonal or monthly volume peaks," Lindsay explains. "With our mix of dedicated and non-dedicated equipment, plus our scale, we can deploy trucks and drivers to meet our customers' volume surge requirements."
Whether dedicated or undedicated, Lindsay explains that each one is fitted with state-of-the-art technology to maximize efficiency.
"Each new relationship starts with our engineers optimizing the routing and delivery schedules to maximize our customer's efficiency and lower costs," he says. "We have on-board GPS units with each truck and a customer portal that gives 24-hour access to track shipments. The final thing is that we electronically collect and monitor data so we have robust key performance indicators to provide back to customers such as pick-up and delivery times, cost-per-delivery, cost-per-mile and other metrics. We are able to constantly improve efficiencies by using the fleet and technology we've invested in."
Canada Cartage also recruits, trains and retains personnel, which, during the current qualified driver shortage, eliminates what would be a time-consuming effort for its customers.
"Everyone struggles with finding labor, especially in western Canada," Lindsay says. "We really cater to having a good environment for drivers. With our model, it's easier to attract and retain drivers because it's less long-haul driving and there's more opportunity for drivers to be home at night. So we have the benefit of attracting high-quality drivers."
Turning to Canada Cartage also means clients don't have to stay abreast of truck fleet compliance and safety regulations. Nor do they have to vet companies and examine costs while choosing the best liability insurance or take on risks associated with possible claims or lawsuits. In essence, by handing over their total fleet operations, companies are free to focus on their core businesses.
"In terms of managing operations and capital budget, we are able to bring predictability to our customers by operating their fleet," Lindsay explains. "It's difficult to predict a budget when you get unexpected costs – such as fleet maintenance or emergency towing. By outsourcing, those unexpected costs go away and it becomes a predictable cost model. When they outsource fleet operations, they outsource all those challenges."