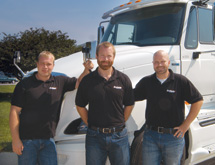 Eli McCormick – the youngest of three sons of Bestway Express Inc. founder Clarence James "Mac" McCormick III – had just joined the family business after graduating from Indiana State University in May 2006 when tragedy struck. His father crashed in the small aircraft he was piloting home from an industry speaking engagement, possibly due to a sudden heart attack.
Eli was working in the operations department as a fleet manager of the regional truck carrier, and his older brother, Will, was selling the company's used trucks at their grandfather's dealership at the time. Fortunately, the founder's brother, Pat, who had started the company with him, moved into the chairman's position, while a cousin who was president of the company at the time of Mac's death, Shepard Dunn, took over as CEO and Eli worked his way up to COO.
Brother Will became vice president of maintenance, and middle brother Ry – who joined the company following his father's death – has moved through various positions to become vice president of safety and human resources.
Just as the founder's sons were settling into their new responsibilities as owners, the recession struck the business in 2009. "For the first time in our history, we were laying employees off," Eli McCormick recalls. "We've rebuilt since then, and have refilled all the positions back to pre-recession levels. That economic downturn made us a lot smarter. We're not doing things like we used to do. We are much more efficient with our drivers and equipment, and this has allowed us to become better partners with our customers."
That means instead of sending a trailer back half-full on a round trip, it stays at a shipper until the next day, when it is completely full. The company uses trailer pools and brokers to locate backhauls for their one-way freight.
Bestway Express Inc. ships automotive seat components such as foam, frames and head liners just-in-time throughout the Midwest. It also transports produce, specifically watermelons, as the harvest season moves north from south Florida and Texas into Indiana.
The company relies exclusively on its employees based around the Midwest to operate its 300 trucks and 650 trailers. Bestway Express's average trip is approximately 500 miles.
Electronic Logs
Bestway Express Inc. recently converted its entire fleet to the use of electronic logs. McCormick estimates the conversion temporarily reduced productivity by 4 to 5 percent for his company.
"Once carriers get it figured out and running smoothly – which doesn't happen overnight – it can increase their productivity," McCormick maintains.
Greater accuracy has brought additional pressures. The changes have necessitated losing some customers who could not accommodate greater accuracy. "Technology has made us so much smarter as truckers," McCormick says.
More Technology
Bestway Express' use of technology has not stopped with electronic logs. The company has installed mobile communication and navigation systems in its tractors' cabs, and its dispatchers use software that works in conjunction with the in-cab technology. Each fleet manager handles between 35 to 50 drivers, and uses the combination of hands-free cellphones and mobile devices to communicate with their drivers. They also use this technology to confirm loads electronically with the drivers.
Besides technology, Bestway Express also uses an instructor to coach drivers on how to drive safer and achieve better fuel mileage. Drivers receive a monthly bonus based on the fuel they save. The company also has started the process of converting several trucks to compressed natural gas. Furthermore, Bestway has taken the initiative to install a local fueling station to service these units. "Our focus is [on] customer service and on-time delivery," McCormick emphasizes. "With added technology, we have been able to improve both of our goals."