Lionel van der Walt takes a look at how air cargo community systems (ACCS) continue to gain traction around the globe and how their number will carry on growing due to the benefits they provide all parts of the supply chain
The supply chain has been dealt a huge shock during the last six weeks [at time of writing] as the Covid-19 pandemic has swept the globe. Collaboration and co-operation between stakeholders at airports is never more important due to the widespread challenges, and will remain as high when the crisis is over, which has further enhanced the value of ACCS'.
The air cargo industry is one of the most fragmented due to the number of different players that are part of the process to move shipments by air – shipper, freight forwarder, cargo handler, carrier and more the other side and to the final mile.
Airports in Europe were the first to establish community systems with key hubs like Frankfurt, Brussels and Amsterdam Schiphol at the forefront of their development. The Asia region then joined the trend when the likes of Mumbai and Singapore Changi set up community systems but remarkably, the USA has lagged behind and only just got its first ACCS at the start of 2020.
America's first
The community trend only took off in the USA in January this year when Hartsfield-Jackson Atlanta International Airport was the first to launch one, while Miami International Airport is looking into the feasibility of starting one and others are set to follow.
Meanwhile, Dallas Fort Worth International Airport has also launched a system and is now working with its cargo community system to digitize cargo and improve the efficiency and speed of its cargo community.
PayCargo are a part of the first system in Atlanta with our payment platform underpinning the community system, as part of a collaboration with IT business Kale Logistics and gives stakeholders an easy and secure way of making freight payments.
The PayCargo platform underpins the ACCS, using application programming interface (API) to facilitate the integration with Kale's community system, giving all stakeholders visibility of the payment status, thereby eliminating delays and unproductive truck trips for shipment pick-up from the hub.
The ACCS allows stakeholders to communicate electronically with each other, including shippers, airlines, trucking companies, customs brokers, freight forwarders and cargo handlers. The ACCS also facilitates and streamlines the transportation of goods and information, to, and from, the Georgia state airport, which is one of the busiest in the USA.
Since it was put into operation, Linda Eshiwani-Nate, Senior Air Service Development Officer at Hartsfield-Jackson Atlanta International Airport reports that the airport has already seen tangible benefits and it has improved its airfreight operations and reduced overall logistics costs,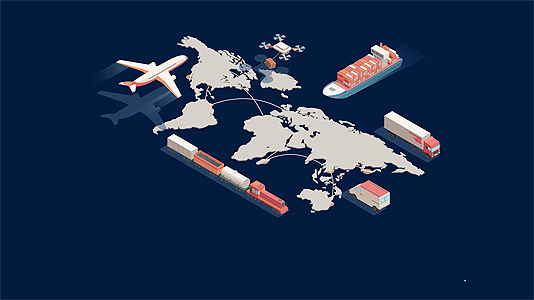 enabling better supply chain planning. It has been used to eliminate duplicate data entry work, and excessive documentation, and addresses truck congestion issues, enabling improved customer focus and expedited processes. In Atlanta, the ACCS involves more than 20 stakeholders, including ground handlers, freight forwarders, airlines and trucking companies.
Community benefits
ACCS' have provided a range of benefits as they have improved co-operation, transparency, and efficiency in the supply chain helping improve air cargo processes for all stakeholders. As digitization slowly takes over processes in the air cargo supply chain, the need and demand for efficient technological solutions is rising and every ACCS uses the latest platforms to boost operational performance.
One of the biggest benefits is that when challenges and problems arise, rather than each stakeholder looking out for their own interests, and pointing at each other, they work jointly and see issues as a common problem. Projects such as digitization also get a boost from the strong community approach with a joined vision and roadmap and this feeds into the digital transformation journey that much of the air cargo supply chain is on.
PayCargo sees itself as a key facilitator within the digital adoption and development of these air cargo communities, as a fast-digital online payment solution is something that benefits everybody. Collaboration between individual communities is also something that is on its way and in recent months, there have already been meetings between different systems.
Next-level community systems
This is the new emerging trend in ACCS', and will take it a step further, as communities are looking at how they can link systems together to maximize synergies and benefits. As individual systems join forces, this can only bring significant advantages to air cargo stakeholders, as it helps to drive and maintain standards across airports that are collaborating and connecting up. The move will also meet the objective of creating more and more standardized global trade lanes by connecting hubs across the world for verticals such as pharmaceuticals, perishables, live animals and dangerous goods.
Last year, Amsterdam Airport Schiphol entered into a renewed collaborative partnership with Atlanta, with the move creating a new trade and logistics corridor between metro Atlanta and the Netherlands. The move has enabled exchange of data between the two hubs to facilitate end-to-end planning and capacity optimization, and extend the benefits of the AMS Cargo Community to ATL.
The flow of air cargo will be enhanced through these hubs, as interlinked systems will make the movement of shipments faster, more efficient, and transparent. One day, I can envision an operating environment where different air cargo communities at key hubs are all inter-connected, ensuring the seamless flow of shipments through trade corridors.
Recent global events such as the current widespread challenges caused by the Covid-19 outbreak, show more than ever, how working as a community can help each and every part of the supply chain.
In order for the air cargo industry to progress and have a successful future, all stakeholders must digitize and transform their processes and operations to digital platforms, which also helps to navigate any crisis that arises.
The cargo community approach has never been so important as collaboration and transparency are vital in the current climate and our partners can gain economy of scale benefits from being part of them.
PayCargo is focused on becoming the payment solution of choice within these air cargo community systems and working with our partners to expedite the seamless flow of cargo and cargo data through the supply chain.
Lionel van der Walt is President and CEO Americas, PayCargo, the number one financial platform for moving money and vital remittance information between payers and vendors. PayCargo's online solution allows you to move cargo quicker and reduce payment costs more than any other platform available. Its patented technology effortlessly registers your company so that you can immediately start making payments to your freight vendors. It has over 4000 vendors in its network including major ocean carriers, air cargo providers, and hundreds of terminals and CFS stations.
www.paycargo.com