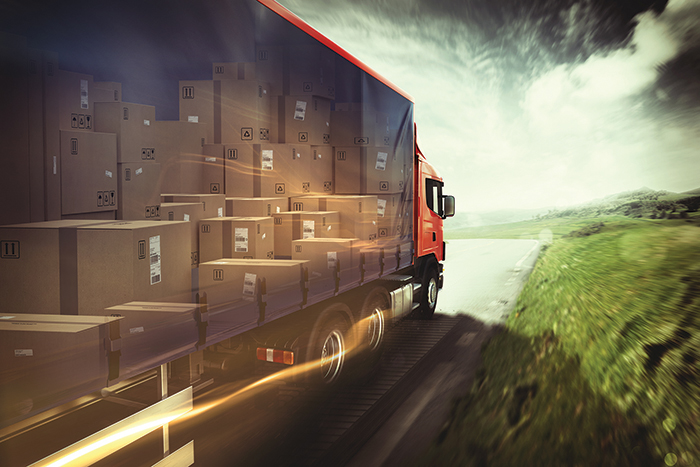 Central States Trucking positions itself for more growth in intermodal drayage and warehousing logistics.
By Kat Zeman, Senior Editor at Knighthouse Media
Already one of the largest intermodal drayage companies in the United States, Central States Trucking (CST) is positioning itself for further growth.
Founded in 1980, the Oak Brook, Ill.-based trucking and logistics company has experienced a steady growth over the years. However, its largest growth spurt started in 2014 when the company became a subsidiary of Forward Air Corporation, a Greeneville, Tenn.-based freight and logistics company that has been a leader in expedited group transportation for more than 25 years.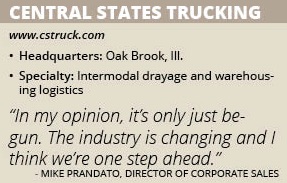 "In my opinion, it's only just begun," says Mike Prandato, director of corporate sales. "The industry is changing and I think we're one step ahead."
Since the acquisition, CST has been growing by leaps and bounds. "We have tripled in the past five years," says Ron Vales, senior VP of operations and sales. "We had eight locations when Forward Air acquired us and we've opened up 15 new ones since then."
Today, CST operates drayage terminals in 23 locations throughout the United States. Due to its relationship with Forward Air, CST also has access to roughly 90 other locations throughout the United States.
"Our future plans are for aggressive growth both through acquisitions and organically," Vales says. "We are looking to grow through the Southeast, Midwest and the Gulf."
Vales and Prandato, along with the rest of CST's senior management team, credit CST's President Matt Jewell for the company's rise to success. "He's one of the biggest reasons for our growth," Vales adds. "His guidance and his leadership is why we've been successful."
On A Mission
CST specializes in providing intermodal drayage and warehousing related logistics services to the domestic and international transportation industry. Its mission is to deliver safe, time-definite, damage-free transportation solutions to container freight stations and the intermodal expedited industry.
"We don't look for business," Vales says. "We look for long-term partners. That's the key to a lot of our success."
The company focuses on creating value for its customers in four primary areas: experience, technology, customer service, capacity. It boasts a highly-trained team with deep industry contacts and diverse transportation backgrounds.
Its customer partners include major cargo owners, steamship lines, IMCs and freight forwarders. To treat its customers as partners, CST takes a steadfast approach to customer service and communication at all levels of its organization in order to establish strong and long-term relationships.
On the technology side, CST strives to remain ahead of the curve within the ever-changing drayage industry. Taking a value-driven approach, the company strives to give its customers superior supply-chain reliability, visibility and cost-efficiency. "We're ahead of the curve in terms of technology and visibility," Prandato says.
The company's proprietary software solutions allow for full customer visibility of shipments. For example, drivers use tablets that allow for immediate proof of delivery and the company offers comprehensive container visibility tools to its customers.
Drivers receive dispatch orders on hand-held units and are trackable via GPS. In addition, customers have access to daily container visibility & per diem management reports. CST also guarantees 24/7 operational coverage, 95 percent plus on-time percentage and weekly on-time performance reviews.
Recruitment And Retention
One of the biggest issues facing the transportation industry is an increase in the shortage of truck drivers. The trucking industry relies heavily on male employees, 45 years of age or older.
According to the Bureau of Labor Statistics, the average age of a commercial truck driver in the United States is 55 years. With an alarming amount of these drivers retiring within the next 10 to 20 years, the industry needs to attract a younger generation in order to flourish.
CST places a high value on its drivers and acknowledges that they are the key to the company's success. One of its top priorities is the recruitment and retention of its fleet.
"Aside from benefits and pay, we found that attracting really good business partners that our drivers like to work with is one of the best solutions," Prandato says.
Warehouse Solutions
Aside from container drayage services, CST has a proven track record of providing cost-effective international warehousing solutions. As an operator of multiple Midwest warehouses and CES exam sites, it offers a full array of international warehousing services including airfreight breakdown, ocean devanning, ULD build-up and cargo security screening.
In addition, it offers its customers full track and trace visibility of air and ocean shipments via its proprietary software.