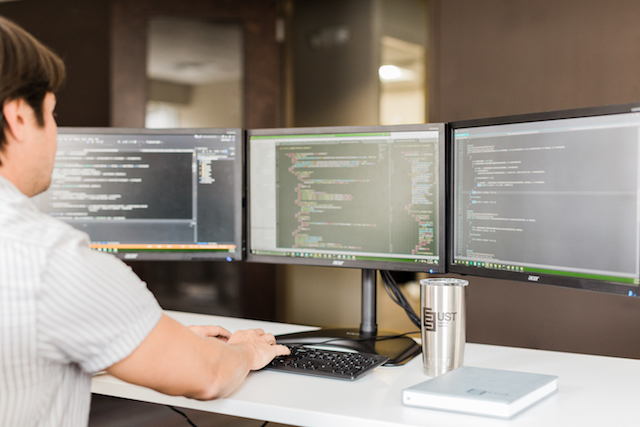 UST never stops looking for ways to improve its services for customers.
By Alan Dorich, Senior Editor at Knighthouse Media
Employees never rest on their laurels at UST, President and CEO Scott Ramsey says. Instead of being content, "We're trying to find the next [innovation] to enhance what we're currently doing," he says. "We're relentless about pursuing those opportunities."
Based in Greenville, S.C., UST is a third-party logistics company that specializes in last-mile deliveries of furniture, electronics and appliances from retailers' warehouses to clients' homes. Ramsey started the company with one truck in 1998, after gaining industry experience from the retailer's perspective.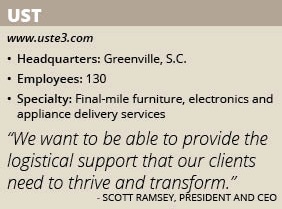 Previously, when he worked for a retailer as a store manager, Ramsey was not satisfied with the way deliveries were being made. When the vice president of delivery told him he wanted to see him to try to do a better job, he took the challenge and became a delivery contractor.
Although Ramsey admits they had some rocky first few days, "We continued to learn and improve. By the time the company-wide performance reports were published, we ended up being No. 1," he recalls, adding that as UST added teams, they continued to dominate the performance report each month.
"We have grown from being a contractor company to a full-service provider," he says, adding that UST operates a fleet of up to 500 trucks. "We're trying to prove a point that delivery can be done better."
Evolving UST
UST has focused on doing things better by evolving its structure. As its industry faces new challenges in capturing customers and fulfilling sales, "We recognized a need to adapt our offering model to reflect the changing demands of the retailers as well as vendors supporting them," Ramsey recalls.
The company has focused on providing more services for clients, which range from retailers to transportation firms. "It's any company that's participating in the final-mile logistics sector," he says, noting that UST previously did business as UST Logistical Systems.
Today, UST Logistical Systems operates as a division of UST that provides a technology platform and administrative services. "What we are doing in the Systems division, is providing the resources and support structure for the delivery process," he says.
Its UST Logistical Services division provides the actual delivery, and its UST Logistical Solutions offers consulting and management services. "We're currently involved in consulting projects with one of the planet's largest retailers," Ramsey adds. "We're looking at everything from merchandising to point-of-sale to distribution and fulfillment. Every process in the life of a sale, impacts the final-mile."
Unique Tools
UST also invested heavily in its equipment and technology. "We made a decision almost three years ago to become more of a technology company," Partner and Chief Administrative Officer Scott Moore says.
"We have some unique tools that no one else has in the industry," Ramsey says, noting that one of his personal favorites is its auto-mapping tool. Thanks to the tool, UST can build a specific zip code service schedule for actual forecasted volume for each week.
Partner and COO Steve O'Brien added that the function is completed using static sales data over traditional zip code maps. "UST's system uses algorithms to calculate dynamic trending sales data paired with historical customer behavior patterns, geospatial data and productivity targets within established customer convenience parameters."
The system, O'Brien says, also allows for continual adjustments to pair with the retailer's marketing schedule. "This feature gives UST a distinct advantage in maximizing carrier productivity which improves contractor carrier earnings and provides our clients cost savings without creating risk to the retailer's ability to compete for sales," he says. "Additionally, we are able to use this technology to allow our clients' customers to choose the day and time of their delivery without compromising productivity and efficiencies."
UST also developed an automated carrier system that applies a financial risk monitoring algorithm to balance planned versus unexpected business expenses generated by its carrier partners. "The net results are communicated to the carriers a week in advance for review," Moore says. "By removing human subjectivity, it has reduced UST employee labor hours and increased carrier relationships/communications all while positively effecting the company's financial goals."
UST built its own proprietary software, USTAPP, an initiative led by eight-year UST veteran Joseph Curet. "This platform allows UST to gather data from numerous vendor partners and clients," Moore says. "Our seamless integration allows us to make this usable data."
For example, USTAPP can provide invoicing to clients, settlements to carriers, KPI reporting and financial reporting. "USTAPP is built on the latest cloud-based solutions, making the information immediately accessible to our team anytime, anywhere and from any device," he says. "Our goal is to free our operation personnel from traditional desks and computers while enabling them to run their business from a mobile device while standing in front of our clients and carriers."
Talent Infusion
UST also benefited from its recent move to its 7,500-square-foot facility in downtown Greenville, S.C. "Our office is on Main Street," Moore says, noting that it opened opportunities for young team members to join the firm. "That provided us with a new talent infusion over the past couple years."
Ramsey agrees. "Greenville's downtown is one of the most exceptional downtown environments in the country," he says, noting that the company's office provides associates with balcony views of the city's central courtyard.
"We do it for our team members," Moore adds, noting that this philosophy helps nurture longevity in its staff. "We've got a lot of success stories."
For example, Ramsey says, one of its vice presidents used to be one of its delivery drivers. "There's a lot of value here that you can't fully put a number on essentially because they understand the company vision and the ground level operations," he states.
An Industry Transformation
Moore is proud of UST and how its staff has developed over the years. "For me, that's by far the things that makes me most proud," he says. "We've created a space that allows people to come in, create a career and a home for a family."
Ramsey also highlights the company's culture of never being satisfied. "Whenever we do some wonderful, amazing accomplishment, we save it and ask what's next," he says. "Everyone is driven by that mindset. [It] makes me proud that we have a company full of people that are as hungry as us."
UST plans to transform its industry going forward. "It's been our mission statement for a few years," Ramsey says. "We want to be able to provide the logistical support our clients need to thrive and transform."
This includes enhancing the reputation of contractors doing the work. "They hold our future in their hands so focusing on them, recognizing and respecting them [is key]," he says.