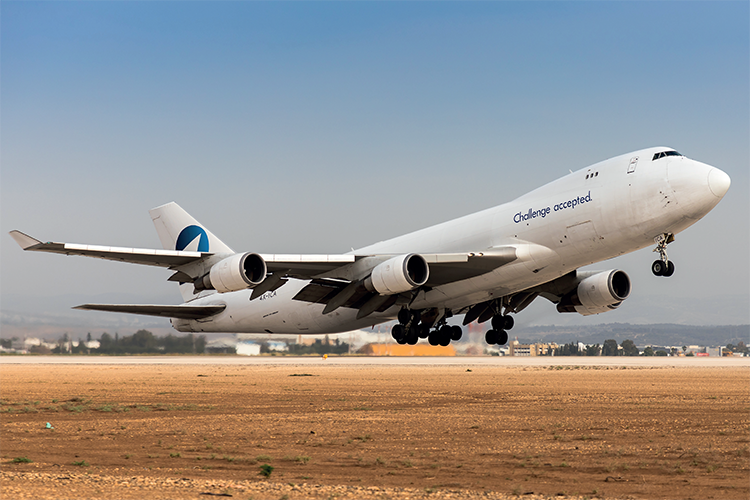 Challenge accepted!
World-leading air-cargo solutions company, Challenge Group, marks the beginning of a new chapter as it undergoes a major rebrand, and expands into six expert divisions
Expert in international cargo solutions, Challenge Group, has recently undergone a major rebrand that has seen the company moving into new territories and specialties. Having operated with the highest level of safety, efficiency and customer care since 2017, the company now offers advanced solutions to customers in the air-cargo, airline, handling, logistics, and aviation sectors.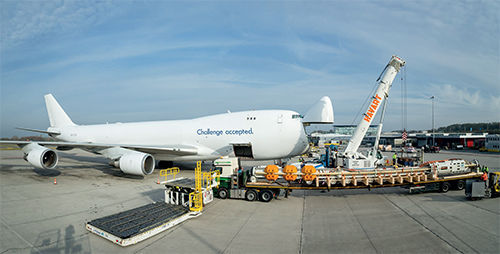 Being comprised of global experts in the cargo and shipping industry has ensured Challenge Group's success from day one. Over the last four years, the company has tripled its capacity, and it currently handles 300,000 tons of cargo per year. With aims to manage half a million tons annually by 2023, Challenge Group now gears up for further expansion, and establishes the unique specialties of its six divisions in niche cargo-handling markets.
For the last 12-to-18 months, Challenge Group's business-wide rebrand has been well underway. The rebrand is headlined by a brand-new slogan: 'Challenge Accepted', and involves the restructuring of each Challenge Group specialty into its own semi-independent division. This new era for Challenge Group is off to a strong start, as the company has already seen considerable development in its first and last mile services across Europe and the US providing an end-to-end solution to its customers. In order to further expand its international reach, the company is in the process of overhauling its online presence, with new websites for each division, and a cohesive branding effort that promotes group-wide synergy.
As each Challenge Group division establishes itself in niche cargo handling and international logistics markets, the company retains a sense of community through its effective use of branding. The different divisions continue working together toward a shared goal: to provide client-centric solutions using the best technology, at the highest possible level of safety and efficiency. This mission remains fundamental to the group's DNA, as it continues to grow and evolve.
Known for its expertise in the air cargo and international haulage sectors, Challenge Airlines B.E. is an important part of the Challenge Group. Established in 2017, the airline went on to receive its Air Operators Certificate (AOC) in April 2019, which allowed the start of operations in July of that year. Once the operation was set in motion, it obtained the USA OPS SPEC from the Federal Aviation Administration (FAA). This enabled Challenge Airlines B.E. to begin operating in the United States. Challenge Airlines B.E. has continued to thrive from there on out; in September 2020, the company was offered the Chinese OPS SPEC, once again allowing expansion into new territories across China.
Now boasting a fleet of Boeing 747-400BCF (OO-ACE) and B747-400ERF (OO-ACF) freighter units, Challenge Airlines B.E. provides essential services in specialized aircraft, crew, maintenance and insurance support. In order to stay at the top of its game, Challenge Airlines B.E. remains dedicated to five core values in all that it does; these values include safety, quality, reliability, sustainability and malleability. The company also recognizes that its people are its core asset and has a strong culture of mutual respect that encourages leadership and a solution-orientated mindset.
Continually meeting, and often exceeding, regulatory standards of quality control and safety has ensured Challenge Airlines B.E. position as a trusted partner for a wide range of customers across the world. Working with non-standard logistics means that the Challenge Group works closely with a diverse range of sectors, including farming, pharmaceuticals and hazardous materials. The airline also specializes in live animal shipping, which involves having a unique set of standards and materials in place. Challenge Airlines makes sure that all live animal stock enjoys the perfect temperature during transit, as well as a superb food and beverage service, advanced ventilation systems, and reduced turbulence.
Alternatively, the company provides facilities for oversized shipping, including large aircraft engines, long drilling pieces, heavy generators, complex chip making machines and oversized emergency equipment. The Group's dedicated team plans meticulously for every journey, and they are known for their attention to detail – making sure to weigh, measure and risk-assess every oversized cargo shipment prior to transit.
With years of success in specialist haulage under its belt, Challenge Group now reaps the rewards of its dedication. As Challenge Group's rebrand journey continues, the airline division expands its fleet to include IAI-Converted 767's and 777's, and another 747 twin-engine freighter. Challenge Air Cargo will also become a freighter operator, having signed an agreement with Israel Aerospace Industries for four 767-300BDSF and four 777-300ERSF conversions, and applied for an independent Maltese AOC.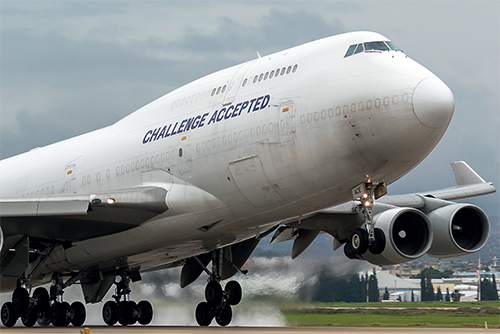 As the Challenge Group's oldest division, CAL Cargo Airlines was founded in 1976 under the name CAL Cargo. Since then, the company has worked in three specialty areas: all-cargo flights, ground handling and road feeder services. The operation runs out of a European office network, with bases in Germany, France, Belgium and the Netherlands. With over 65 percent of its airfreight services requiring special handling, CAL Cargo Air Line has built a reputation for having an industry-leading level of non-standard shipping expertise. The group holds the highest possible industry accreditations, including IOSA (CAL) and ISO9000 for ground-handling agent Challenge Handling (ex LACHS), and the IATA CEIV Pharma certification for both entities. The division is also a qualified Envirotainer and C-Safe provider, with QEP and EQUIPS accreditations.
CAL Cargo Airlines' dedication to quality is just one component of its success, as the group is also supported by an open-minded community of people. Challenge Group's culture is described on the company website as 'can-do-ism' – a flexible approach that keeps teams involved in 24/7 communication, availability and community spirit. As well as helping one another, the CAL Cargo Airlines' Team support customers every step of the way, by offering detailed information and transparency in terms of booking, storage, shipment and land transport.
The group's geography also provides it with a unique selling point: Challenge Handling (ex LACHS) advantage. CAL Cargo Airlines' airfreight and cargo handling hub is located in Liege airport, in Belgium. The site has an intimate cargo-focused 'flexport', with all-hours accessibility and no curfew. As it is located at the heart of the golden triangle, between major cities such as Paris, Frankfurt and Amsterdam, Liege is able to support CAL Cargo Airlines' non-standard, non-stop cargo needs.
As a wholly-owned ground handling agent, Challenge Handling (ex LACHS) supports CAL Cargo Airlines with state-of-the-art equipment and highly automated amenities for all varieties of cargo, including temperature-controlled warehouses, high security clearance, Europe's largest 52-ton high-loader, and a bespoke infrastructure that enables incredibly fast unloading and transport, from airplane to market. The Challenge Group more broadly also provides support in this area, with high-tech trucking facilities that allow for door-to-door delivery all across Europe.
Challenge Handling (ex LACHS) operates under the Challenge Group umbrella, and has continued to expand its business footprint at Liege Airport by opening a 10,000-sqm 'Second Line' bonded warehouse in the Liege Logistics Park area. The facility has been operational since December 2020, and complements the existing, 15,000-sqm online warehouse, which is primarily used for exports. The new facility is modelled in parallel to serve as a contingency, synchronizing between locations, and is equipped with temperature-controlled rooms for sensitive i.e. perishable and pharmaceutical material. Both warehouse facilities are linked by means of a purpose-built fast pass system enabling air freight to be transferred as BUP/Thru units directly from the aircraft by dedicated trucks to the offline facility for further breakdown or handling.
On top of this, the group has since added a third, 11,500-sqm 'online' warehouse in January of 2022, located on the North Apron, which will house the two Challenge Group airlines. Furthermore, Challenge Handling is also responsible for the management of the state-of-the-art horse inn facility in Liege, one of the best of this kind in Europe.
Similarly, in the US, Challenge Group has locations in six major cities, including Atlanta and New York. Across the region, Challenge Group representatives handle air cargo and ground transportation both domestically and internationally. The division also organizes charter services for non-standard cargo. Never afraid of difficult or one-of-a-kind jobs, Challenge Air Freight uses its flexibility and imagination to overcome material challenges, and ensure the safe arrival of all chartered flights.
As a core component of the Challenge Group's rebrand, CAL Cargo Airlines has undergone major transformations. Not only has the division made investments in new aircrafts, but it has also added additional handling capacity to its operation. The group has even made an acquisition in recent months, taking on Challenge Technique, a maintenance and quality control operation that will function as a sub-division of CAL Cargo Airlines.
Challenge Group's network of specialist divisions also includes Challenge Aviation, Challenge Logistics, and Challenge Group Assets. With overlap between each of the divisions, Challenge Group plays to the strengths and facilities of each, in order to provide the best and most comprehensive cargo services. Reliably delivering cargo on-time, and in great shape, remains the core mission of Challenge Group. As the company continues to rebrand itself, and allow each individual division to flourish, it becomes clear that this new structure, in many ways, brings the group closer together.
Since last being featured in Transport & Logistics International in January 2021, the company has certainly achieved what it set out to do. Just one year ago, Owner and Chairman of the company, Offer Gilboa, outlined plans to promote growth within Challenge Group and in order to realize the company's full potential appointed Yossi Shoukroun as Group CEO. Despite the difficulties that have arisen in the transport and logistic sector throughout the last year, Challenge Group has persevered, managed its projected growth and continued to thrive; as the company's name suggests, it is most certainly capable of rising to the challenge, wherever it may be.
Challenge Group
www.challenge-group.com
Services: Non-standard cargo solutions