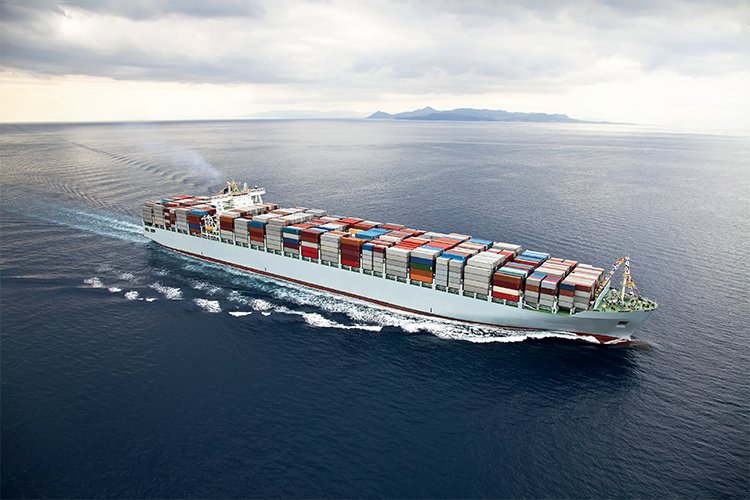 Security for Seafarers
As a leading provision and stores management partner to the global shipping community, Garrets International serves more than 1400 ships around the world
Offering a 24/7 helping hand to seafarers across the globe has helped Garrets International (Garrets) become an international industry leader in the shipping and chartering sectors. With a truly global reach, extending all the way from Denmark, to numerous branches across the UK, Singapore, and Manila, Garrets offers expert budget support services alongside a plethora of additional products and services, aimed at providing a comprehensive experience for each and every client. Having made major investments in information technology and software, Garrets now gears up for the much-anticipated launch of its front-end customer-interfacing digital platform, 'Generate'.
"Garretts is a specialized budget management company. Our core focus is in the catering management sector, which involves managing the provision budgets onboard vessels. We manage provision budgets for quite a high number of fleets across the entire globe," introduces Lars Bomholt, Managing Director at Garrets International. "Day to day, our work requires us to communicate effectively with ship managers, ship owners and sea farers in order to organize deliveries, check stock, and keep track of the budget. We have an ongoing, daily dialogue with the captains and cooks onboard these vessels, and we plan and prepare the provisions for them to store when they hit different ports around the world.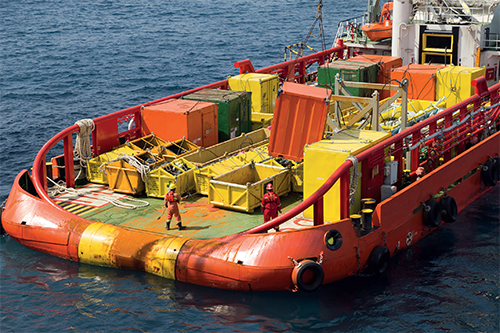 "We also engage with international ship handlers, including our key vendors such as Wrist Ship Supply, on a regular basis. Because of our strong relationships with suppliers, we can offer this service in more or less any port in the world. We are the middle man between the ship chandlers and the ship owners and ship managers, and we keep things running smoothly by managing their budgets onboard the vessels. Along with that we offer a lot of training and services to chefs; we offer cooking support, access to recipes, and nutritious support on the food side.
"That is our core business; it's called budget management but we work specifically in the catering field. We are amongst the biggest in the world, and we operate out of sites across the UK, Denmark, Singapore, Manila, Germany and Holland. We look to be a one-stop-shop for vessel supplies, stores and other services," he continues.
The last few years have not been plain sailing for the shipping industry, as complications have arisen as the result of the global pandemic. Despite these challenges, Garrets has stayed afloat, thanks to its established position in the market, and reputation for high-quality provision services, as Lars details: "I think what makes us special is our long history, and the sense of tradition that comes along with that. Garretts International was originally formed through a merger between Garretts International and SeaStar Management, which was Wrist Ship Supply's own budget management company.
"The merger took place in 2016, and overnight two of the biggest names in the industry became one, so that put us in avery strong position to become market leaders. The ownership from the Wrist Group allows us to tap into a global 24/7 supply chain, so that puts us in a unique position compared to some of our other competitors, who have different owners. Our global presence is definitely part of Garretts International's USP, but so is our exceptional team, who have been recognized with high-quality service labels.
"In addition, all of our vendors are certified and audited by NSF, which offers our services a guarantee of reliability. It's one of our strongest assets as a business, so we actually have a partnership with NSF that ensures all of our vendors get audited before they supply clients."
As it steps into 2022, Garrets International marks the beginning of a new chapter, with Lars at the helm. Having worked at Wrist for nine years as Chief Procurement Officer, and Vice President of the company he has a solid foundation to lead the Garrets. He worked primarily in building up global and regional procurement and sourcing functions, until recently, when he was made Managing
Director of Garrets, and put in charge of a business-wide digital overhaul. "The new company strategy very much involves digitizing the business, so we are launching a new tooling system that we are going to introduce shortly. This new digital platform will enhance the way we interact with the ships, and it will make up the new ordering and customer service platform," reveals Lars.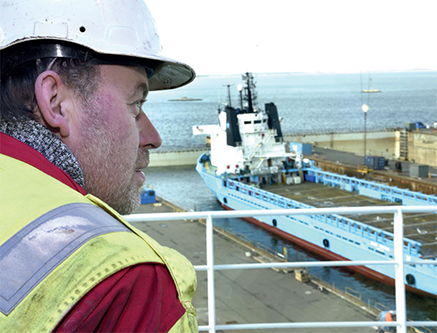 "The new front-end digital solution basically provides our customers with a higher level of transparency than before; they can get more information on products, stock levels, recipes, cook books etc., and whatever they select is what they will receive, including pricing.
"That sort of direct interface is new to the business, and it actually allows captains and cooks to make faster, more transparent decisions, as well as removing going back and forth on emails with Garrets. It also eliminates some admin being done in-house, which is good for us. We expect the solution will be up and running in 2022," he elaborates.
Alongside this new digital front-end solution, Garrets has invested a lot of money into IT, Business Systems, BI/Analytics etc. throughout recent years. "Being one of the biggest Budget Management brands in the world has helped us make these investments, and we benefit massively from the additional information and analytics we receive from our investments," Lars asserts.
Investing time and money into the digital world has clearly paid off for Garrets. As the pandemic has resulted in restrictions and lockdowns, having an advanced IT network, and remotely organized support system, has been central to the company's success. "One of the key reasons for our success throughout the pandemic is the heavy investments we have made into IT solutions and systems, as well as the necessary equipment for remote working," Lars confirms.
"Having the right tools on hand has made the uncertainty a lot easier to navigate. The Wrist Group had around app. 700 people working from home overnight, all across different locations, and thanks to our solid IT systems it worked out very well. Thanks to our size, we were able to access support for a global customer portfolio remotely, so that was quite amazing. Smaller competitors don't have the same kind of scale and scope in their offering, so they weren't able to diversify the same way we could at Garrets and the Wrist Group in general.
"Another thing that kept us going was the staff. We have known all along how important our dedicated team is, but this pandemic really made it clear that they are number one, and without them the last few years would have been much more difficult. We have the right team in place, and they are able to deliver in different difficult locations and circumstances on a daily basis. On top of that we have a solid business model; our name recognition is strong within the industry, and that has really helped build trust with customers," he continues.
It is clear that Garret's has effectively embraced remote working, and rather than seeing it as a restriction, has used it as a tool to open up new possibilities, such as online training and support. "We have had trainers supporting our staff not only in Manila but also in the UK, Singapore, and Denmark. Remote training and coaching has been invaluable for our employees throughout the pandemic, especially at the very beginning, about a year and a half ago, when there was a major, and sudden, shift toward working from home. It was a big change for a lot of our office staff, and we offered the coaching and support to everyone who needed it. We sought to answer questions like 'how do I manage my tasks from home?' and 'how do I transition smoothly to the new environment?' This was another area in which we made a lot of significant investments, and still do."
As the company continues to invest in people, it also makes considerable strides in the effective use of analytics and cutting-edge IT solutions. Looking back on the year ahead, and turning his attention to the future of Garrets, Lars ruminates: "Throughout 2021, we have remained focused on maintaining strong engagement with clients, and we have also been keeping our team informed on a global level. We made investments into digital front-end solutions for clients, and this is something that will come to the fore over the next few months.
"We had a good year. Of course, it was a difficult year to maneuver in terms of Covid-19 and the restrictions bought on by a pandemic, but we were prepared for those challenges, and overcame them with the help of our team. We are now set for a large investment in terms of digital customer interfacing, and we also plan on tailoring our services in a broader perspective. Overall, I think we will be in for an exciting year in 2022."
As restrictions begin to ease, and the seafaring community adapts to the new post-pandemic world, Garrets International prepares for one of its biggest years yet. "We are strongly optimistic about the year ahead. We have the foundations in place to bring on even more business, so we see a bright future ahead of us. By offering additional services around our provision and budget management service we have become a one-stop-shop, capable of offering comprehensive services across the board.
"In 2022, we will be using even better business analytics toolings and software to provide further insight into the company, and offer even more information to clients. We will also continuously be working on developing our Garrets Marine Procurement services, which offers an ad-hoc ordering service to customers who want to leverage the advantages of our supply chain without the long-term commitment of entering into a budget management relationship. Our team is full of experts in the field, and as a result, we have been beating records in 2021, something which we hope to continue this year. We believe that by adding these services to our core offering, we bring value to our clients in a new and unique way," Lars concludes.

Garrets International
www.garrets.com
Services: Budget management services