City of Chesapeake Central Fleet Management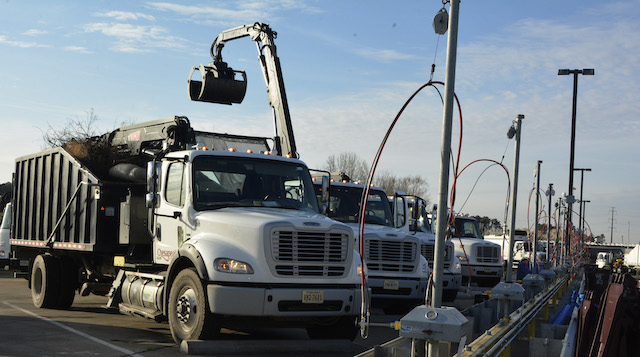 The city of Chesapeake, Va., fleet department believes in being environmentally and operationally sound.
By Jim Harris
The Chesapeake, Va., Central Fleet Management department constantly seeks new ways to be efficient. "We're always looking for opportunities to use alternate fuels from an economic as well as an environmental standpoint," Fleet Manager George Hrichak says.
The city's fleet is the only municipal fleet in Virginia to include compressed natural gas (CNG), propane, E85 and electric vehicles in addition to gas and diesel fuel vehicles. The fleet also includes hybrid diesel/hydraulic and hybrid gasoline/electric vehicles.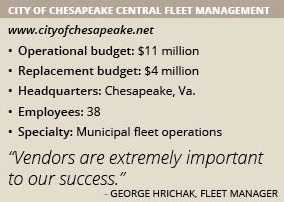 Since 2005, the fleet's main facility has been designated an "Environmental Enterprise (E2)" by the Virginia Environmental Excellence Program. Facilities in the program have a fully implemented and verified environment management system and a strong environmental compliance record, the program says.
The fleet since 2015 also has been designated a sustainable fleet by the NAFA Fleet Management Association. It is a member of the EPA's WasteWise program, which promotes the reduction and recycling of municipal solid waste. In addition, Hrichak serves on the board of the Virginia Clean Cities Coalition, which works to reduce petroleum use in transportation.
The fleet's alternative fuel efforts have earned it honors including the Virginia Governor's Green Fleet Award in 2017. Chesapeake's fleet department has also been recognized as a "star business" by the Elizabeth River Project, which is leading an effort to clean and restore the Elizabeth River running though the city.
The city's future alternative fuel-related goals include converting maintenance bays in its garage to CNG-ready standards. With the exception of repairs it can make outside its maintenance bays, its CNG vehicles are currently maintained off-site, Hrichak notes.
Important Partners
In addition to using alternative fuel vehicles, Chesapeake maintains operational efficiencies throughout its fleet services department. Several of the department's vendors play important roles in helping it save money and time.
"Vendors are extremely important to our success," Hrichak says. "One of the major areas we look at when we purchase equipment is what kind of support we will get from the vendor."
The city 15 years ago privatized its parts operation to Tidewater Fleet Supply, a Chesapeake-based parts distributor. "They've saved us millions of dollars by working with manufacturers to get us the best price possible," he adds.
The fleet is also working with Chesapeake Public Schools on a satellite facility that would perform preventive maintenance on city vehicles and equipment as well as school buses. The city and school district could potentially consolidate other operations in the future, Hrichak notes.
By the Numbers
Chesapeake operates a vehicle fleet that includes 1,495 on-road vehicles, 115 off-road vehicles and 1,100 pieces of construction and lawn and turf equipment. The fleet includes police cars, fire apparatus, ambulances, sheriff vehicles and public works vehicles as well as heavy equipment including cement mixers, vacuum excavation trucks, sewer cleaners, backhoes and excavators, and is valued at $100 million. The fleet regularly replaces equipment as its budget allows, Hrichak says.
A staff of 30 technicians helps maintain the on-road vehicles in the fleet, which travel a combined one million miles a month, he adds.
The department works hard to recruit and retain technicians. "The biggest challenge we've been experiencing the past few years is trying to find qualified technicians that meet our standards and can work with the city," Hrichak says. "What we've had to do is bring in inexperienced technicians and train them to our standards. Once they get in here, most stay because they like working in our environment."