Steelman Transportation Inc.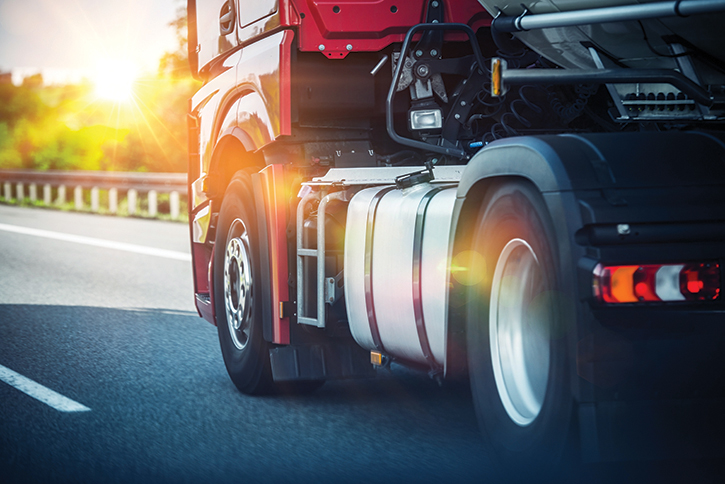 Steelman Transportation expects growth as a result of its recent merger.
By Kat Zeman
Delivering freight on time and within budget are top priorities for Steelman Transportation. The Springfield, Mo.-based company prides itself on customer service and the long-term relationships it has built with its clientele.
"We don't try to do business with everybody," Vice President Brett Sheets says. "We try to specialize so we can maintain our service levels, the shipping needs of our customers and to meet time requirements. Service is a big deal for us. We don't chase volume shippers. We look for partner carrier relationships."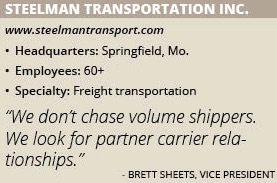 Steelman operates a fleet of aluminum flatbed trailers, step deck or single drop trailers, stretch trailers, removable gooseneck trailers for roll-on service and multiple axle units for heavy shipments of up to 120,000 pounds. From light truckloads to complicated 13-axle super loads, Steelman is equipped to serve small facilities, national companies and global organizations.
Steelman's client list includes a variety of top manufacturers that produce pipe, tubing, metal coils and plate, roofing, vinyl siding, lumber, equipment, manufactured steel products, fiberglass tanks, stainless tanks, and commercial and specialized air conditioning systems.
The company handles standard flatbed freight, over-dimensional loads and specialized equipment. It operates more than 110 power units and 180 trailers. In addition, Steelman offers brokerage and logistics services.
Organic Growth
Since its inception in 1991, Steelman has grown organically and through mergers, allowing it to develop into a diversified and specialized transportation company. In 2017, it merged with Daseke, a leading consolidator and the largest owner of flatbed and specialized transportation and logistics solutions in North America. Daseke consists of 12 operating companies with more than 3,600 trucks and 7,500 flatbed and specialized trailers.
"The ability to work with the rest of the fantastic companies in the Daseke family, share customers and develop synergies and efficiencies were all major attractions to joining Daseke," President and CEO Jim Towery stated at the time. "To move forward, you must have pride in what you're doing, and we're definitely proud to be moving forward as a member of the Daseke family."
For three years prior to the merger, Steelman did not experience much growth but that's about to change. The company plans to add more trucks and hire drivers to accommodate new customers that Daseke brings to the table, Sheets says. "We have a 10 percent growth plan for 2018," he adds. "The merger gives us a vehicle to grow and offers financial stability."
Previous to joining Daseke, Steelman had acquired other companies during its 27-year history. In 1999, it acquired the assets of Cornerstone Transportation of Mountain Grove, Mo., adding eight tractors and 13 flatbeds to its fleet.
In 2004, the company's growth continued with the acquisition of assets from Jack Warren Trucking of Springfield, Mo., which added an additional seven tractors and 31 trailers to its fleet. Trailers acquired from this purchase included specialized RGNs, double drop stretches and step deck stretches.
The merger with Daseke allowed Steelman to enter the open deck specialized freight market. Daseke is the largest owner and operator of open deck specialized transportation capacity in North America. It serves industrial customers in the United States, Canada and Mexico.
Steelman's own fleet consists of more than 110 late-model tractors and 180 trailers that carry a diverse mix of freight. That includes pipe and tubing in side kits, stainless steel flat sheets and coils, steel shapes and beams, manufactured steel products, fiberglass and stainless steel tanks, large air conditioning systems, roofing shingles, vinyl siding and lumber.
Giving Back
In its hometown of Springfield, Steelman is known for giving back to its community. The company hosts a number of local events including the Ozarks Food Harvest, Tournament of Hope and a Rock n' Ribs that benefits multiple charities. It also hosts an annual Bowl for Kids' Sake Truckers' Challenge benefitting Big Brothers Big Sisters of the Ozarks and educational programs for Springfield Public Schools.
Steelman is a member of many local, state and national trucking associations including the Springfield Area Motor Carrier Club, and the Machinery Haulers, Truckload Carriers and American Trucking associations.
In 2012 and 2013, the company was named one of the Best Fleets to Drive For by CarriersEdge in partnership with the Truckload Carriers Association. In 2014, it was named as one of the Fleets to Watch. The company was founded by Jerry Steelman.