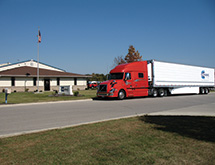 A full-service asset-based logistics provider, Classic Carriers is a refrigerated carrier that strives for excellence in the transportation industry. Working to adapt its resources to suit customers' needs, Classic Carriers offers full service logistics and provides customers with the greatest value possible.
Started in 1985 with two trucks, Classic Carriers today has about 125 trucks in its arsenal and is a 48-state carrier that mainly runs from the Midwest to the eastern seaboard. The company has grown slowly over time. Although Classic Carriers reduced its size from around 180 trucks in the wake of the Great Recession, the company is comfortable with its current size.
Heading East
Today, Classic Carriers' main terminal is in Versailles, Ohio, with additional offices in Pennsylvania and West Virginia. The company can provide drop trailers, multi-stop shipments, and dedicated and local cartage service.
"Most of our large customers are based within a 75-mile radius of our main terminal," President Jim Subler says. "We mostly work with processed food organizations, as well as a medical equipment manufacturer. Our goal is to keep our current customers satisfied, working with them to improve our service and maintain our quality and rates. Our customers have stuck with us, as most have been with us for 20 years or more."
Prior to the recession, Classic Carriers made acquisitions in 2004 and 2006 that helped its growth. Those acquisitions changed the direction of the company, as it used to run more to the western part of the country.
"The acquisitions allowed us to do more business in the east, changing the areas of the country where we concentrated," Subler says. "The rate structure and competitive situation was better going east than west. We also used to do many more job site deliveries of medical and household furniture, but we have gotten away from that as it is very labor intensive."
From a management standpoint, Classic Carriers recognizes the need to understand its markets and the needs of the shipper. It is also finding that modern drivers want to focus on driving, not loading and unloading.
"Today's drivers want to focus on driving trucks," Subler says. "We need drivers that are dependable and do jobs the right way. They need to be presentable and put safety first, as well as leaving and delivering on time."
Investments in equipment are another focus for the company, as it has upgraded its fleet substantially in the last two years. Classic Carriers has brought in new fuel-efficient equipment because it helps to control fuel costs.
"We also have trailer tracking and two-way communication technology with our trailers for refrigerated loads," Subler explains. "That technology is on half of our trailers now to help collect tracking data. Automated transmission in trucks has also improved our average fuel mileage."
Although it is a 48-state carrier, Classic Carriers is focused on concentrating its business within its primary Midwest-to-East service area. The company understands enhancing its lane density and having more trucks in a given area improves its opportunity for back hauls and quicker response in the event of breakdowns.
"We need to concentrate our lanes so we can make money on both ways of a trip," Subler says. "Growth will come through small acquisition opportunities and bringing in quality drivers."
The Right Resources
One of the areas where Classic Carriers excels is with driver recruitment and retention. Whereas many in the industry are dealing with a driver shortage, Classic Carriers is not challenged with that. It can focus on bringing in new trucks and drivers as needed.
"Our turnover rates have been low, and we work hard to keep our drivers," Subler says. "We put money into recruiting and we are active on social media. We are concentrating on bringing in younger drivers through these methods. Our name is out there and we are involved in sponsorships and advertising. Getting in front of people as a smaller fleet and investing in the best equipment helps to differentiate us."
Vendor relationships are also critical. Classic Carriers works closely with vendors such as Scott's Commercial Truck Services, a provider of truck and fleet repair, brake service, tires, transmission and oil changes.
"We get to know each other to ensure dedication on both sides," Subler explains. "We have known these people for years and can depend on and support each other. We also have a dedicated staff that is key to our success."
Looking forward, Classic Carriers will continue to invest in electronic logs and working closely with shippers to help each other integrate operations. The company will also look for ways to reduce idle time to ensure that its trucks are maximizing their time on the road.
"We must serve the market and utilize drivers as best we can," Subler says. "We will stay involved in our industry to understand market needs. Myself and our vice president of operations serve on various boards, as understanding the industry is crucial to continued success."