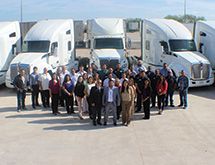 It's been said often that the world is getting smaller, thanks to the proliferation of communications technology that makes it possible for business operations in different parts of the world to connect, plan and share information instantaneously. However, despite the advances in communication, the world remains the same size, and businesses need to cross the vast distances between them to remain competitive and successful. Codysur Group is dedicated to helping its customers cross those distances no matter how large they are, and COO Victor Mendez says it does so in a manner unlike most other transportation and logistics firms.
"We respect the competition but we feel we offer something different to our customers," Mendez says. "We know we give the customer something they're not used to seeing in the market."
The company has been delivering that difference to customers since 2003, when it started with five tractor-trailer units and a few employees. Codysur added logistics services in 2007, connecting its clients with a greater variety of carriers and equipment. To better serve the air and rail cargo markets, the company launched its global freight division, and soon after it added brokerage services. More recently, Codysur Group added service between the United States and Mexico for a customer base that mainly consists of automakers. With offices in Texas, Detroit, and Matamoros and Queretaro, Mexico, Codysur Group has established itself as a very knowledgeable group for its clients for international shipping through North America and a key contact for many clients looking for cross-border moves. "We found our specialty and we studied and work on mastering it more and more everyday," Contreras says.
Today, Codysur Group's diversified services serve a fittingly diverse customer base. Along with the automotive industry, the company also serves customers in the paper product, electronics and office supply sectors. Mendez says the company diversified its customer base about five years ago in an effort to protect it against the cyclical nature of the marketplace. That includes serving more customers based in Mexico.
"We pretty much do everything for them, whatever they need we can put in place," CEO Fabian Contreras says.
Good People
The reason for Codysur Group's success over the years can be traced back to one simple but difficult-to-duplicate element, Mendez says. "Our biggest strength is our team," he says.
Nearly 95 percent of the company's staff are homegrown, meaning they have started their careers with the company and stayed there as they have gained experience and expertise. "Everybody who works here has worked here for years," Mendez explains.
Because Codysur Group has a strong base of long-term employees who fully understand the industry and their customer base, the company can offer its customers peace of mind that other transportation and logistics firms can't match. "We believe very strongly in communication," Mendez says.
Technological Advantages
Another significant area of strength for the company is its technological edge. As the transportation and logistics sector ups its game across the board in the use of advanced technology, Codysur Group has been right at the leading-edge of the industry. Through the use of advanced software platforms, Codysur Group ensures that its drivers have all the information they need to perform their jobs safely and efficiently, and the company has the data to verify that in real-time.
One of the most important platforms utilized by Codysur Group is the LoadMaster Enterprise platform from McLeod Software. According to the company, the LoadMaster system provides a complete and fully integrated trucking dispatch management system as well as complete accounting software solutions in a single package. In addition, the company says it has the option to add any of up to 30 functional modules for added capabilities. The DocumentPower platform, also from McLeod, provides for business process automation and management through digital documentation.
Inside the cabs of its trucks, Codysur Group utilizes the PeopleNet BLU.2 system. Among the features PeopleNet BLU.2 provides are navigation integrated with dispatch, video training sessions and text-to-speech capabilities. With this system in place, the company says, drivers can be more efficient and keep their focus on the road.
Remaining Strong
Competition in the transportation and logistics sector is always fierce, but Mendez says recently Codysur Group has seen an increase in the number of smaller companies that try to undercut the company on price. Even though many of these competitors offer attractive rates, it's not long before customers come back to Codysur Group because of the difference in quality. "We stay strong on what we offer the customer – our prices are very aggressive but we don't give away the house," Mendez says. "They see the difference in our service and they come back."
The company is working to deliver that service to a larger portion of the marketplace right now, expanding many of its terminals in Mexico and expanding its service across the border. Contreras says the company has its sights set on expanding throughout North America.
"We challenge ourselves quite a bit here," Mendez adds.