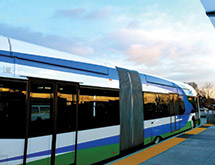 It used to take only 20 minutes to travel the 25 miles from Everett, Wash., south to Seattle. But the area's population growth in recent decades has increased the number of cars on public roads. A bus trip into the Emerald City now takes as long as 80 minutes during peak traffic times, which is why Snohomish County's public bus agency, Community Transit, is making congestion mitigation one of its top long-term priorities.
"The biggest challenge we face is the adverse affect of congestion on our ability to operate," Community Transit CEO Emmett Heath says. Heavy traffic slows down buses, increases traffic time and frustrates riders by interrupting the schedule. Constructing new highways and roads is expensive and outside Community Transit's purview, so the best way the agency can offset the growing congestion problem is to add bus trips, increase the number of seats on vehicles and expand service hours.
Decisions made during the past several years have allowed the agency to emerge from the cutbacks of the recession and restore many routes, including full service on Sundays. Community Transit expects to tap out its revenues this fall and expanding service to further combat congestion will require approval – and additional funding – from the very people the agency serves.
Modest Beginnings
Snohomish County citizens voted to create Community Transit in 1976 and the agency's early years resembled a grass roots bus program. There were no set stops; instead, buses roamed the region as drivers surveyed the roadside for anyone who looked like they needed a ride. Within a few years, Community Transit created proper bus stops and developed a fixed route network, which led to further expansion.
Snohomish County has become more suburban in the past four decades, but still retains rural areas. Heath says the agency has maintained a balance between the needs of rural and suburban riders, while connecting both groups to Seattle's urban networks. The total service area is about 1,300 square miles and is covered by 25 local routes, 19 commuter routes to Seattle, 230 buses and 54 para-transit vehicles. Today, Community Transit is considered a mid-sized urban community transit provider and is behind only King County Metro Transit, which serves Seattle, in terms of the largest transportation operators in the state of Washington.
Recession Recovery
Prior to the recession, Community Transit had nearly 12 million riders annually. But like many public agencies, Community Transit had to reduce its budget and scale back service during the economic downturn. During the recession, the organization cut 37 percent of its service, but retained 96 percent of its ridership, Heath says. As the economy recovered, ridership has grown and some service has been restored, but Community Transit still has not returned to the same buying power it had in 2007. "[The growth] is just overcrowding our system, creating demand we can't meet with our current resources," Heath says.
The question has become how Community Transit can find the revenue needed to further expand its service to meet demand and reduce the impact of congestion. Local sales tax makes up 70 percent of the agency's budget, with passenger fares contributing another 20 percent. Community Transit has control over its rates, but Heath says it can only charge so much before ridership drops off. To solve the revenue issue, Community Transit has worked with the state legislature to craft a measure that will ask voters to raise the sales tax to provide more funding for the bus system. The ballot measure will go before voters this November.
Heath stresses that Community Transit can sustain the current level of service without a tax increase, but the new revenues would allow the agency to grow with the region. "We think our customers want more of our services and we're going to ask if they want to tax themselves to support transit improvements," he says.
New Routes
If the referendum is approved, the additional funding will allow Community Transit to develop a second bus rapid transit (BRT) line. The first BRT route, Swift, was introduced in 2009 and has exceeded expectations, Heath says. BRT seeks to emulate the service of light rail at a far lower cost. Where a light rail project could take a decade or more to design, construct and commission, BRT can be implemented in two to four years without the need to expand infrastructure.
BRT provides fast service by operating in dedicated lanes or on the shoulder of a roadway to avoid the traffic snarls that tie up traditional buses. Stations are more spread out, similar to light rail, and transit signal priority allows approaching buses to extend green lights and glide through intersections. Off-board fare payments create quick loading at stations to keep the buses moving.
A second BRT route would connect to the 2009 line and provide customers with more choices for origins and destinations, Heath explains. Further, it would terminate near the Boeing manufacturing plant in Everett and run through the corridor where many Boeing employees live, serving a large population in need of reliable transportation. "The first one was so successful," Heath says. "The second one will be hopefully more successful."
The creation of a second BRT route was part of a long-range plan Community Transit developed in 2011. The agency worked closely with every jurisdiction in the county to integrate its 20-year vision with other planned transportation projects and community proposals. Heath says the long-range plan includes creating even more BRT routes, if the referendum is a success and can guarantee Community Transit's ability to grow. "We can't be so myopic that we're only focused on congestion today," Heath adds.