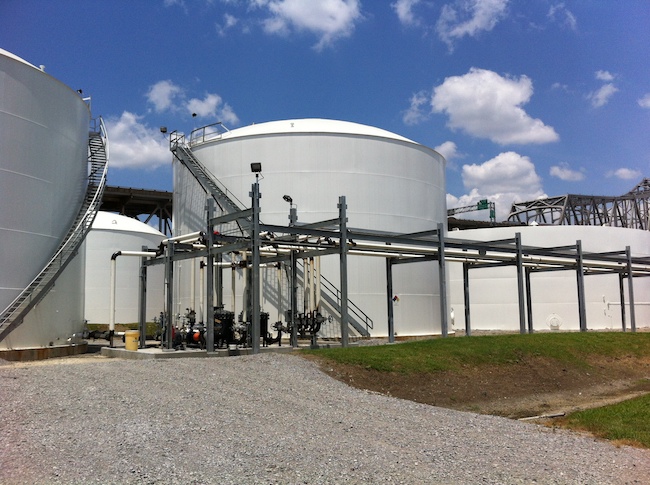 Westway Terminals rebrands itself as Contanda to move forward with its own identity and platforms that will allow it to double in size over the next five years.
By Janice Hoppe-Spiers
As a leader in bulk liquid storage solutions for more than 60 years, Contanda Terminals LLC (formally Westway Terminal Co.) continues to evolve and focus on what CEO Jerry Cardillo calls a transformation and growth journey that he expects will more than double its size in five years. To emphasize this change, the company has rebranded to have its own identity and platform. "It's a new step forward and Contanda will be a leader in bulk liquid storage services around North America," he says.
Originating in the 1940s, Westway Trading Corp. started as Industrial Molasses Co., a family owned molasses trading business. The company has expanded over the years to include liquid animal feed under Westway Feed Products and bulk liquid storage under Westway Terminals in collaboration with ED&F Man. In 2009, the terminal division spun off and the company went public. "Westway Feed is part of ED&F Man and Westway Terminal was not," Cardillo explains.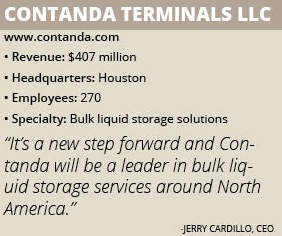 Today, Contanda Terminals operates 15 strategically located terminals with direct access to major population centers and ports across North America. Its growth is built on three pillars: uncompromising values, an experienced management team and a motivated workforce committed to safety and customer service. "As we grow with our new name, we will offer a wider range of products and services," Cardillo adds. "I'd like to see Contanda twice the size it is today in five years and when we go in that direction I want to have our own identity and platform."
Making a Difference
Cardillo became president and CEO of Contanda Terminals in April with a goal of making a difference. He is focused on broadening the company's commodity and service base, and taking the company to the next level under Contanda. "Contanda has been an excellent terminal provider for over 60 years and is entering an exciting period of projected growth and change as we begin to invoke a growth strategy within our existing terminal infrastructure, as well as development of new terminal facilities," he adds.
Known as "Mr. Logistics," Cardillo worked at Chevron USA for 15 years and an asset portfolio that was acquired by Enterprise Products in 2002 from Diamond-Koch LLC. "With Enterprise I had a variety of assignments over 14 years, but the last assignment I had was overseeing their marine, trucking and scheduling of their pipelines," he remembers. "I oversaw rail, truck, terminal operations; scheduling for all the pipelines and dealt with our sister divisions that stored, received and delivered product."
To achieve Cardillo's vision to broaden Contanda's commodity and service base and double the company's size in five years, its headquarters was relocated from New Orleans to Houston in mid-October. The next step was to change processes and its employee base to accelerate from an agriculture and food based storage company to a petrochemical and energy based storage and terminal company, as well. "It is two different divisions," Cardillo explains. "We are not getting out of agriculture and food, but expanding our commodity base to new lines."
Each of Contanda's 15 terminals in 11 states are somewhat unique, Cardillo says. The company is exploring expansion at its east and west coast terminals, is in the midst of a permitted project in Grays Harbor, Wash., and will begin a big expansion project in the Gulf of Mexico. "In addition to ship and barge access, these projects would allow for deep-water ship access and rail unit trains," he explains.
Contanda also recently expanded its railcar storage in Sioux City, Iowa, and plans for both Houston terminals. To improve productivity, the company implemented automated loading systems for third-party trucks that expedites loading, scaling and ticketing for drivers, as well as increased access into inventory on a daily basis. For the past three years, the company has been focused on customizing optimization plays.
"Customers want to buy in bulk around the world," Cardillo says. "For example, the product that they sell is 35 percent contained with a particular component, but it ships from overseas at 70 percent and is blended when it gets here. We move 1,000 tons and inject water into it and double that capacity. Those are the types of optimization and automations that we didn't do before, but technology is allowing us to do specialized blending systems. We have been focused on that and have that in place in at least five of our terminals. We are very comfortable we are good at it. You are always skeptical when starting something new, but it's provided a platform for further growth and expansions."
Building Relationships
Contanda has two marketing teams with one dedicated to the core agriculture-related business and the other to the petrochemical and energy product platform. The teams separate customers into a preferred customer group or customer group. "It's not that anyone is more important than the other, but the preferred customers are larger and involved in our blending program," Cardillo explains. "There are six people in our marketing group and that is intentionally large because I want to maintain and driver customer satisfaction and customer focus."
The company differentiates itself through its customer service. "We are a smaller company so we get closer to our customers than others," Cardillo says. "I don't want to lose that focus as we grow in energy commodities. We will work extensively to make sure our customers are optimized – if they aren't optimized and efficient we don't add value."
Because of its headquarters move to Houston, Contanda is now able to better recruit employees because it has an established presence and improved the work environment. "I am doing a thorough review of all of our benefits and compensation packages, and we hope to have that accomplished by the end of the first quarter," Cardillo says.
Portfolio Expansion
In November, Contanda Steel, a wholly owned subsidiary of Contanda, acquired Inbesa America Inc., a leading private steel terminal in Houston. "It was part of our diversification strategy in that we are trying to broaden our commodity portfolio and the products we are handling," Cardillo says. "We are doing the same thing at Contanda Steel that we are doing at every other Contanda terminal, but instead of bulk liquid products it's bulk steel."
Inbesa fit well into Contanda's portfolio because of its strong customer focus. "We are combining best practices to take the company from good to great," Cardillo adds. "We are optimizing hours of operation, staffing, equipment and processes to provide our customers the best possible service. It's a bi-directional opportunity to learn."
Contanda Steel is located on 65 acres in and around the protected Jacinto Port Slip off the main Port of Houston's deep water ship channel, about 25 miles from the Gulf of Mexico. "Contanda Steel will continue to offer the same turnkey operations offered to customers in the past that they have come to rely on," Cardillo says. "Carmen Geiger and Armando Waterland have done a wonderful job with the business. They joined our team and we are excited to have them. We are working closely to continue to optimize the division's performance."