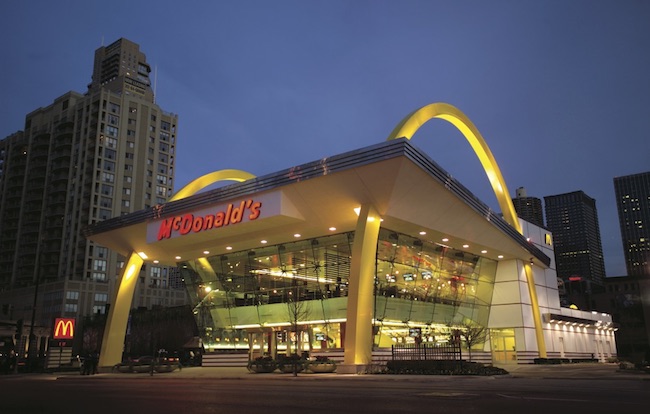 Logistics partnerships and tracking technologies allow McDonald's to take the burden off its franchisees and assure reliable supply.
By Tim O'Connor
Customers may have long wanted to enjoy an Egg McMuffin at lunch, but it wasn't until April 2015 that McDonald's began seriously considering ending the tyranny of the 10:30 a.m. breakfast menu cutoff. When the company announced to cheers that it would begin around-the-clock service of its most popular breakfast items later in 2015, the company's supply chain team had to figure out how to make the sudden expansion of its menu possible.
The logistical challenge of the all-day breakfast menu was further complicated by an outbreak of avian influenza that led to an egg shortage across the United States. The egg is kind of a key ingredient of the Egg McMuffin and a lot more people were going to be ordering them if they were available at any time, so McDonald's worked with its trusted suppliers to secure a sufficient quality and quantity of eggs. Meanwhile, the company needed to procure and deliver breakfast equipment such as toasters to prepare restaurants for the looming menu change.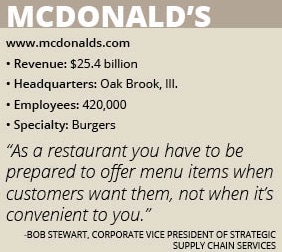 Rolling out all-day breakfast to all of McDonald's 14,000 U.S. restaurants with only seven months of lead time was a daunting task. But rather than viewing its size as a barrier, the company used it to leverage supply chain agreements and enable it to scale up the production of breakfast items and equipment from suppliers.
Despite those hurdles, the smooth launch on Oct. 6, 2015 was a testament to McDonald's efficient supply chain and its customer-obsessed philosophy. "At the end of the day, as a restaurant you have to be prepared to offer menu items when customers want them, not when it's convenient to you," says Bob Stewart, corporate vice president of strategic supply chain services.
McDonald's was rewarded with a reversal of its lagging sales in the United States. The fast-food giant reported a 1.3 percent increase in same-store sales for American locations in third-quarter of 2016. "We think that was fairly significant in compelling the U.S. in supporting our turnaround strategy," Stewart adds.
Supporting Supply
Stewart's career at McDonald's began 22 years ago in the logistics area. He was one of the founders of the company's global ocean freight strategy to use third-party logistics providers (3PL) to procure and manage carrier operations.
More than 80 percent of McDonald's 36,000 worldwide locations are owned by independent franchisees in more than 100 countries. McDonald's corporate focuses on big-picture issues including the supply chain so those franchisees can dedicate themselves to their restaurants.
"Our team is providing services to support those 36,000 restaurants mostly in the area of strategy," Stewart says. "They're independent so we have to work closely with them and make sure whatever services we're providing are aligned with what their needs are."
The way McDonald's approaches its supply chain follows the company's three-legged stool philosophy. If one leg becomes wobbly, the entire seat topples over. Stewart says the three legs of McDonald's are suppliers, company leadership and employees, and franchisees. Each leg must be financially sound and follow good strategies to support the weight of the entire system. "Working together we can develop strategies that are customer-centric," Stewart says.
Between its corporate-owned stores, and regional and corporate offices worldwide, McDonald's has approximately 420,000 employees. In addition, it is estimated that McDonald's franchise-owned locations employ 1.5 million people around the world.
But that still doesn't reveal the entire reach of McDonald's. The company's supply chain is driven by 3PLs such as Martin Brower, which has 8,000 employees itself. 3PLs are the backbone of McDonald's supply chain. The company has only a limited number of its own dedicated logistics personnel, most of whom are focused on strategy development. Each market has a person responsible for deploying those supply chain strategies, but actual execution comes down to the 3PLs.
For each region where it has restaurants, McDonald's has a supply chain strategy and logistics partners in place to best support its franchisees. The needs of the local supply chain can change depending on the maturity of the market. The United States, for example, is a market all of its own, but other countries are segmented into the international lead market, high-growth market and foundational market.
The international lead market includes nations such as Canada, Australia, France, the United Kingdom and Germany where the McDonald's brand is established. Revenue from those countries is strong, but the opportunity for sales growth is not as significant as in younger markets.
The high-growth markets are areas where the McDonald's brand is known but still expanding, such as China, the Netherlands, Switzerland and Poland. The largest opportunity for growth lies in the last segment. The foundational markets consist of 80 countries primarily in Asia, the Middle East, Africa and Latin America, which are home to 60 percent of the world's population.
McDonald's can't create a strategy for each of those markets and regions all on its own, so the company engages its logistics providers and suppliers to help determine the most efficient way to build a supply chain. Take the company's ocean freight strategy. McDonald's formed a global ocean freight council made up of suppliers and logistics companies to provide insight into McDonald's supply chain strategy and help the burger chain optimize its network while sharing best practices among the council members.
Teamwork is necessary even among competing logistics providers. McDonald's moves the equivalent of 70,000 twenty-foot shipping containers annually. If  there are delays at a port or another issue arises, the company can't just wait for a resolution. McDonald's logistics councils develop contingency plans to account for those situations and create sharing agreements so that products can continue to flow to restaurants. "The team [the ocean freight council] works on contingencies to make sure we have a strategy in place that's executable so we don't get caught in a solution where we don't have an assured supply," Stewart explains.
Assured Supply
What would McDonald's be without a burger patty or its classic French fries? Every region may have its own supply chain challenges, but ultimately, Stewart's job is to make sure no restaurant ever runs out of a food item. The central strategy of the logistics division is to not only deliver value, but also ensure the supply pipeline is linked to consumer demand.
Shorter supply chains create better consistency. Which is why McDonald's typically sources as much product as possible within each market. Its 3PL partners then manage the freight to leverage McDonald's scale from suppliers inbound to its 200 worldwide distribution centers. From there, fresh and frozen products are consolidated into shipments and delivered to restaurants an average of 2.5 times per week.
Restaurants risk having a shortage of a food item if the truck is late or a product is under-ordered, so each delivery must contain everything it needs. At the same time, McDonald's wants to avoid excess stocking and wasted products. To balance those requirements, the company and its 3PL providers implemented traceability and visibility into its supply chain. McDonald's can track the location of every shipment, view what products restaurants have in stock and measure demand for food items.
The integrated system then produces proposed order amounts for each restaurant, which the operator can review and adjust. "That order proposal is meant to ease the burden on the restaurant manager so the restaurant manager can focus on the customer," Stewart says.
The usefulness of that visibility extends throughout the entire supply chain. Just as a restaurant manager can make more efficient ordering decisions, a supplier can look at demand and adjust its production schedule accordingly. The end-result is a transparent supply chain made more efficient by linking shipping and production to real customer purchases.
Contemporary Customers
Those kinds of insights into the supply chain are an example of how McDonald's is incorporating cutting-edge technologies to improve its operations behind the scenes, but the company is also finding ways to upgrade the guest experience. "Our customers have changed," Stewart says. "What they want today is different than what they wanted 20 years ago."
An example of that change is in how guests define convenience. In the past, McDonald's thought of convenience as being in the right location for the customer. But today, the word encompasses everything from the ease of ordering to having accessible information on where the company sources its food.
As part of that contemporary strategy, McDonald's is now testing self-order kiosks, digital menu boards, phone apps and table service at restaurants. "Our goal and our vision is really to become a modern and progressive burger restaurant that delivers a contemporary consumer experience for fresh food that's delivered fast," Stewart says.
He believes the supply chain is an enabler of the company's contemporary strategy. Setting up a system to anticipate demand more effectively enables the supply chain to be more efficient by reducing the miles traveled and the number of deliveries that must be made.
Stewart calls the concept an "efficient, assured supply" – a promise that McDonald's will help ensure the products its franchisees need are available in the most cost-effective way possible so that franchisees can focus on their end of the business. "Our ideal vision would be everything is there when they need it and they don't have to worry about it," Stewart says.
Stewart says the integration of the supply chain will never be complete, but the next evolution of the strategy will be to take that digital information and build upon it to create more demand. McDonald's is already piloting programs with that goal in mind, such as an ordering system that allows for more customization of menu items.
Increased visibility will also enable the company to react more quickly to opportunities. It used to take 30 days to create and execute a marketing plan, such as a buy-one/get-one offer, around a local event. But the integrated supply chain has made it possible for McDonald's to increase orders or even direct inventories to implement promotions sooner.
Eventually, Stewart believes the technology will allow for complete transparency into McDonald's inventories and supply chain. "That's the future I think is going to be a challenge for us," he says. "But we'll meet it."