Contract Transport Services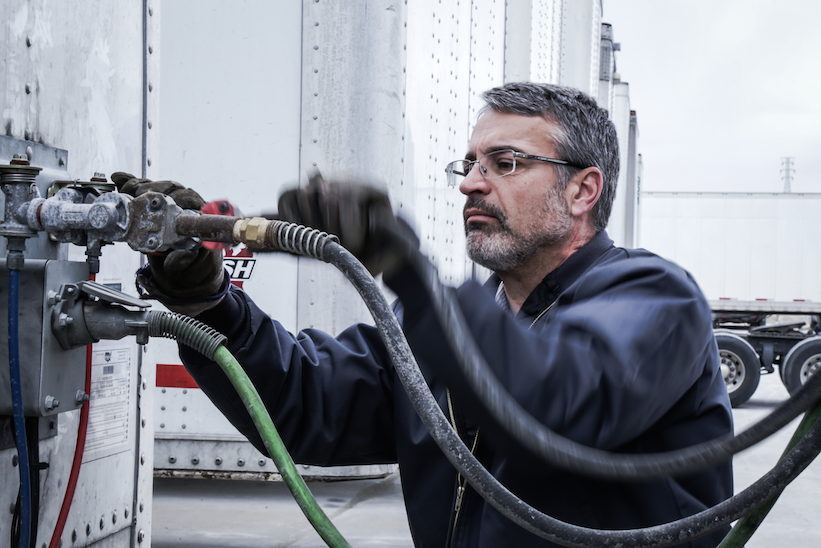 Strong values and ultimate professionalism drive Contract Transport Services.
Great business often begins with change, and that's exactly what has been happening at one Wisconsin transportation services company. The "employee-first" business model of Contract Transport Services (CTS) is one that company president Curt Reitz has worked hard to put in place and implement since joining CTS in late 2012. For Reitz, there is no other way to run a company.
"As the proud son of a truck driver, I know how vital it is for a driver to feel important and like their contributions matter," Reitz says. "That's why I make it known that I – and others in management – treat our drivers with the same respect I extend to our customers."
CTS, which is headquartered in Green Bay, Wis., serves the entire state of Wisconsin, the Upper Peninsula of Michigan, Chicago, eastern Iowa, and the Twin Cities of Minneapolis and St. Paul. Up to 98 percent of its drivers go home at the end of their shift, which is a unique model for a trucking company. Drivers can travel up to 300 miles one way and still make it home in a 12-hour shift.
"What's sold to the marketplace is if you want to make more, you have to be away more," Reitz says. "To be home more often, you have to be willing to make less. Our model doesn't support either one of those. Our model says, 'If you do the job right, we'll get you home every day and you can make a good living.'"
This, says Reitz, is just one of many benefits the company provides to its employees. Because family and home time is a high priority for most CTS drivers, the company has an uncommon-to-the-industry rewards structure for its hardworking drivers.
"We are up about 16 percent from last year in driver numbers," Reitz calculates. "We are a driver-first company. I think too often in the past, people have made the mistake that they'll do whatever it takes for the customer at the expense of the driver, and that's why companies are not keeping drivers and drivers are leaving the industry.
"We are very fortunate that many of our customers value our drivers' time and treat them with respect," Reitz continues. "If we acquire a new customer and they don't value our drivers' time and treat them with respect, then we will quickly target that capacity to customers who do. The driver shortage is tough, but it's only going to get worse in the years to come, and we target customers who have a more long-term view of the problem. We can be one of the more competitively-priced companies customers will work with, but they can't handle our capacity and drivers the same way they do other companies, who price customer inefficiencies into their total cost."
Driver Benefits
To address the issue of turnover, which is all too common in the industry, Reitz says CTS provides unprecedented benefits to its drivers, who are stationed out of the company's four yards located in Green Bay, Milwaukee, Appleton and Wausau, Wis.
The company's pay-for-performance program is designed to reward drivers who continually meet or exceed performance or job expectations in areas such as safety, attendance, inspections, aggressive driving reports and general policy compliance. Based on individual performance, drivers can earn points each month and then, based on points earned, add to their base mileage rate from 1 cent to 5 cents each quarter.
Reitz says it is his goal for the company's truck drivers to make a career at CTS, and he wants them to be able to provide well for their families. He also wants them to be able to retire someday, so the company donates a guaranteed 3 percent of an employee's income to a 401(k) regardless of whether the employee has chosen to participate in the program, with full vesting immediately. To reward employees for a job well-done, the company's profit-sharing program gives them the opportunity to earn above and beyond that 3 percent.
CTS also emphasizes safety and purchases all equipment with front-end collision avoidance systems and Lytx DriveCams. "All these things are our way of showing these hardworking people that we care about them and their families," Reitz says.
In a nod to the location of company headquarters, CTS gives all employees with a year or more of service the opportunity to watch the Green Bay Packers play from the company-owned suite above Lambeau Field. Last year, every employee who qualified was able to attend a game with a guest and enjoy all the amenities that come with it, such as catered food and drink. Unlike so many business suites at sporting events, Reitz says, the CTS suite is reserved for company employees, not customers and clients.
The Fleet
All these benefits, Reitz says, are offered to employees without taking away from the customers' needs. In fact, he says, the respect his drivers are shown has a trickle-down effect that is passed on to the customer. It also plays directly into how hard CTS drivers work to complete tasks in a timely, efficient manner.
"We act very much like an expediting company without expediter pricing," Reitz says. Orders received in the Green Bay area by 4 p.m. can be delivered the next day, but with drivers on the road 24 hours a day, CTS also has the ability to make same-day deliveries.
The company – which has 143 tractors and 1,042 trailers, and uses the services of 16 owner-operators – relies on slip seating, which means drivers rotate through trucks as they are available, rather than being assigned to drive a specific unit. CTS started this practice in 2013 when it began using tractors fueled by compressed natural gas (CNG), which currently make up 25 percent of the CTS fleet.
"With the cost of CNG trucks, we had to figure out how to get more revenue-generating miles on the truck, and that's what prompted us to go to slip seating," Reitz recalls. "Most companies operate a 3-to-1 trailer to tractor ratio. We operate a 7-to-1, so we do a lot of drop-and-hook business."
Because there is an alternative fuel tax credit and it's a domestic supply, Reitz says it's important for his company to use the resource, even though maintenance costs are slightly higher because CNG tractors require more expensive motor oil. His goal is to have 100 percent of the fleet running on CNG in the next few years.
Giving Back and Going Forward
Charitable giving is an important part of CTS operations, and Reitz says one cause that stands out is supporting veterans. Late last year, CTS had five tractors wrapped with graphics to honor different branches of the military. The company plans to donate two cents for each loaded mile these trucks drive to charities that benefit local veterans.
"This is one of the best ways we can think of to support our local veterans," Reitz said. "Many trucking companies look to hire veterans, and CTS is taking the initiative to help them. For that, we are very proud."
When Reitz joined CTS, he was concerned that the company's only offering was trucking. But since then, CTS has been purchased by Indiana-based Warehouse Services Inc., and its business in warehousing, third-party logistics, manufacturing, information technology services and dedicated transportation have allowed CTS to offer a whole suite of services to its customers.
"We don't try to be everything to everybody," Reitz summarizes. "We know what we do well. We don't have a lot of road expenses. We can be a competitive-priced trucking company for our customers. We just believe it's about treating our drivers like people. That's an old expression a lot of companies say, but we have the ability to talk to and see them every day, which allows us to live out our values and vision."
Headquarters: Green Bay, Wis.
Specialty: Full truckload transportation