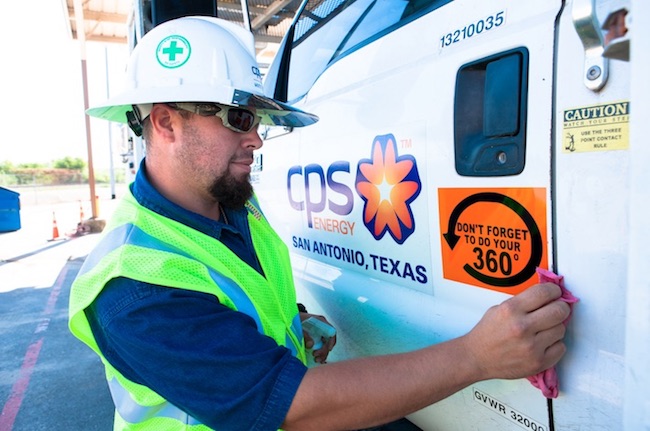 CPS Energy optimizes its fleet operations to support San Antonio's rapid growth.
By Chris Kelsch
The city of San Antonio has been on a roll in recent years. Thanks to strong growth in healthcare, education, military and tourism, the city is one of the fastest growing in the United States.
To continue to feed that expansion, everything else must expand as well, including San Antonio's power infrastructure. That's where CPS Energy comes in. Founded as City Public Service, the utility is celebrating its 75th anniversary in 2017. It serves 786,000 electricity and 339,000 natural gas customers.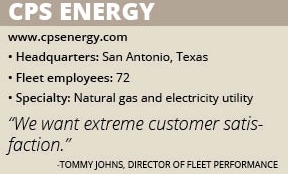 Tommy Johns, director of fleet performance, oversees a diverse fleet of 2,500 pieces of equipment. "We have several facets to the fleet," Johns notes. "Our population is growing so there is construction equipment that works on substation construction and maintenance."
There is also a power generation division to serve CPS Energy's diverse mix of energy sources, including coal, nuclear, natural gas and renewables.
Overseeing 72 mechanics and support staff, Johns and his team manage to maintain a 98 percent equipment availability rate. For Johns, that number represents a badge of honor because he views the CPS Energy workers who use the vehicles as his customers. "We want extreme customer satisfaction," Johns says. "We want them to have confidence in us."
To ensure that satisfaction, CPS Energy's team of mechanics undergoes rigorous training, as they must be able to service a wide variety of vehicles and equipment. In fact, 52 percent of the mechanics hold ASE (National Institute for Automotive Service Excellence) certifications in one or more mechanical areas such as brake systems or fueling systems.
Because many municipalities have suffered budget constraints throughout the last decade, CPS Energy's high equipment availability rate is even more noteworthy. "We've always had budget limitations," Johns notes. "But we have also been very fortunate in that we have been able to focus on keeping vehicles beyond their natural lifecycle."
CPS Energy has relied on computer analysis of its vehicles to extend their useful lives. "Essentially, we take a look at the acquisition cost of a new vehicle versus the repair cost of the current vehicle," Johns says. "We have been able to identify a true lifecycle cost of a vehicle."
Johns employs a number of other strategies, including benchmarking. To keep the fleet performing at an optimal level, Johns isn't afraid to compare his team to some other strong performers in the field. Johns himself has visited with the top fleets in California, generally recognized for their leadership in green technologies. In fact, CPS Energy's fleet has consistently been ranked as one of the greenest within the government sector.
Johns also recently returned from visiting with one of the top municipal fleets, the fleet of the New York City Police Department. "It was reaffirming to hear that they were doing some of the things we were doing," Johns notes, "especially when you consider we're a third to a fifth of the size of some of these fleets."
The size of a municipal fleet is no indicator of its innovation, and CPS Energy continues to lead in that area as well. CPS Energy is working with Watson, a drill rig manufacturer (used for drilling for power lines), to develop a prototype that performs much better than current models. "We recognized that with old pressure diggers, there was an excretion leak of hydraulic fluid," Johns notes. "With this model, we now have the ability to stop that flow."
CPS Energy also works closely with its vendor partners to ensure its workers have the right tools for the job. For instance, CPS Energy is collaborating with bucket truck manufacturer Terex on a pilot design of a new bucket truck. And the input doesn't just come from Johns. The specifications of the vehicle are constantly reviewed by CPS Energy's mechanics as as well as the ultimate end-users of the product.
Seeking input from its end-users is a valuable part of CPS Energy's culture. Brian Weatherly, senior fleet manager, notes that CPS Energy sponsors leadership and mentorship programs within its fleet. "We have really worked to develop our leadership program," Weatherly says. "Our motto is 'We power dreams.'"
The fleet has started a local internship program with Alamo Academies to develop technicians. "To see our mentors in shops is an amazing thing," Weatherly continues. "They have really taken ownership of this program and they love to do this."
Safety
For Johns, one of the most important parts of his position entails preaching the importance of safety. In fact, CPS Energy has mandated a "Zero Harm Through Safety" program. "Everyday we have a safety message," Johns explains. "Our leadership really tries to engage the employees, and make sure the message is heard as a way of eliminating risk."
The results of constantly preaching this message continue to pay off, as the fleet just surpassed 365 days without any safety related injuries.
Managing Growth
As San Antonio continues to expand, it is necessary for CPS Energy to keep up as well. To that end, CPS Energy has begun investing in a new hub for its fleet. According to Johns, property has been purchased and the design process has begun.
As is typical of CPS Energy, everything being built involves the input of its mechanics and technical staff. "We want to let the mechanics design it," Johns says. "We're going to use their talents and their skills to design and shape the way we work on vehicles."
Seeking input from its workers has proven to be a valuable way to engage them. In fact, Johns says the fleet's employee engagement scores are higher than any other operational area within CPS Energy.