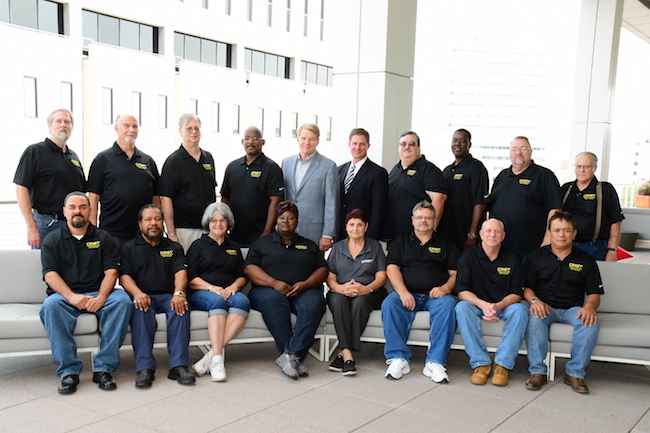 CRST Expedited provides superior service to customers needing their products quickly.
By Alan Dorich
CRST Expedited Inc. strives for perfection in its work. "We're always challenging each other as a management team to be better," President Cameron Holzer says. "Ingenuity and creativity are encouraged."
Based in Cedar Rapids, Iowa, CRST Expedited handles freight for firms that need products urgently. "We do a lot of business with LTL carriers, retailers and manufacturers," he says, noting that the company – one of the eight CRST International family of companies – has operated for more than 60 years.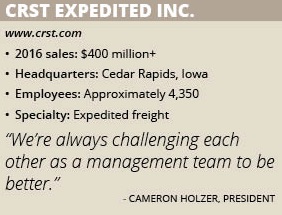 Today, CRST Expedited has approximately 4,000 drivers and a fleet of approximately 1,700 trucks. "We are a leading player in [our] market of the transportation industry," Holzer says. "We focus heavily on our customers to make sure their needs are being met."
The company also benefits from the ability to work with seven sister companies under CRST International's umbrella. "We cover the majority of the transportation industry and many of the niches within," he says. "The beauty in the relationships is that I have insight into what is driving business and operating efficiencies in those entities and how it relates to [ours]. It gives all of us the opportunity to be more efficient, and more importantly, offer a full suite of transportation services to our customers."
Ups and Downs
Holzer joined CRST Expedited 10 years ago. "I've seen many economic ups and downs in the industry," he says. "Our customers needs' have recently increased and we are challenged to meet all the needs that exist at this time.
"Today, we have plenty of freight opportunities, but, like everyone in our industry, we are working through the challenge of recruiting drivers. There are not enough drivers in the marketplace right now to meet our customers' needs," he admits.
CRST Expedited has invested its resources in attracting and retaining drivers, including expanding its recruiting staff. Today, "I have roughly 70 individuals that focus on hiring new drivers," Holzer says.
The company also has its own school for new drivers, which trains them on techniques and obtaining their CDL. "We help them get from the starting point all the way through to becoming a professional truck driver," he says.
The company also weathers the harsh economic conditions of its industry by staying cost conscious. "We're always trying to look internally at CRST and get as lean as we possibly can and get rid of any excess waste or costs associated with that," he says. "Our strategy going forward is to continue with that focus."
Ready for Growth
Holzer is proud of his team at CRST Expedited. "I spend a lot of time and effort focused on emerging leaders," he says, adding that he makes sure they are given new challenges and opportunities to develop their skills.
That leadership will be critical for CRST Expedited going forward. "Customer demand is increasing right now," he says. "We need to provide additional capacity, which is extremely difficult with the current labor shortage of qualified drivers."
CRST Expedited's efforts to find new drivers will help, but those people will need to be willing to spend weeks away from home as a long haul driver. "With the current unemployment rate and a robust economy, it's challenging to find those types of individuals," he admits. "CRST provides a tremendous opportunity and support system for those entering the driving force for the first time, and we are proud to share those opportunities for future men and women to drive for us!"