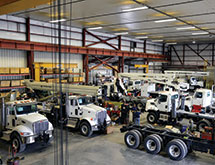 "To our knowledge, there's no other company just like us," Custom Truck & Equipment CEO Fred Ross says. When it comes to vocational trucks, cranes and heavy equipment, the Kansas City, Mo.-based company does everything: sells, fabricates, modifies, services and finances.
"This industry is very fragmented," Ross explains. "You buy from one company, another installs it. There's finger-pointing if there's an issue. With us, we take responsibility for everything."
According to Ross, there aren't many one-stop shops like his because of the large investment and breadth of specialization required.
Growth in Leasing
Custom Truck & Equipment leases, too, if a customer needs something the budget doesn't allow. "Because of the downturn in the economy, a lot of companies can't afford to grow their fleets, but they need equipment," Ross says.
Additionally, new government engine emission standards have caused price increases in recent years, making new purchases cost-prohibitive for some. About 40 percent of the company's revenue is now generated from its leasing operation, which it has been expanding with new locations.
In 2008, the company opened a store in Fort Worth, Texas, followed by two more in the state — in Houston and Midland-Odessa. It also has a store in suburban Milwaukee and is in the process of opening one in suburban Denver.
"Our outlying stores are mini-versions of our main location," says Fred's brother and Sales and Marketing Director Vince Ross. "They sell and modify as well as rent."
Core Operations
Custom Truck is not a franchised truck dealer, but an authorized body builder for most of the big truck names: Peterbilt, Kenworth, Mack, Dodge, Ford and Freightliner. It is a crane dealer for National Crane, Elliott, Terex, IMT and Tadano, an aerial device dealer for Versalift and a utility equipment dealer for Terex.
The main markets it serves include construction, oil and natural gas, mining, power line and railroad. It sells and rents to customers throughout the country.
With the construction industry still weak, "no one is buying dump trucks or cement mixers," Fred Ross says, which was once its core business. "It'll turn around, but we don't know when. Whatever happens, we are diversified and can adapt." For example, its railroad business — primarily specialized service vehicles for maintaining rail — has been on an upswing.
Family Business
Fred Ross, who has been in the truck equipment and crane industry for more than 30 years, started his career at his grandfather's fuel and service station. He worked on smaller trucks and cars, before going out on his own in the 1980s to work on bigger trucks and equipment, eventually starting Custom Truck & Equipment in 1996.
His brother Joe Ross is vice president of sales. Another brother, Chris Ross, is vice president of operations. Yet another brother, Jim Ross, is CFO. A total of 12 family members — including five other siblings as well as nieces and nephews — work for the company in a variety of capacities.
"All of us come from a background of building trucks from the ground up," Joe Ross says. "We're not just salesmen. We know trucks and how they work." And it wasn't overnight, he says, that the family developed its knowledge of equipment and expertise in equipment customization and service.
Custom Truck's Kansas City headquarters consists of six buildings totaling 230,000 square feet of space on 50 acres of land in a once-blighted area of the city. It is the former site of a long-closed steel plant. "We grew up in the inner city," Chris Ross says. "We've invested millions in this location to help revitalize the community."