Dicom Transportation Group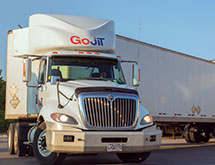 After more than four decades, Dicom Transportation Group is not resting on its laurels, CEO Scott Dobak says. Instead, the Dorval, Quebec-based transportation and logistics services company is looking at how it can provide a "higher value to our customers going forward," he says.
Peter Overing founded Dicom with his business partner, President Pierre Poliquin, in the late 1960s as a messenger service along with focusing on the banking industry. Today, "We deliver to over 3,850 bank locations between Quebec and Ontario," Dobak says.
Dicom also has grown to provide overnight, priority package and less-than-truckload (LTL) services to other clients, including John Deere and L'Oréal. "It was a natural progression," Dobak says. "The company evolved from doing small pack to LTL, TL and third-party solutions."
Dicom is undergoing another evolution, Dobak says. This February, Chicago-based private equity firm Wind Point Partners acquired Dicom, which gives it access to additional capital and equity that will help it reach "the next level," he says.
Already, the company has invested in expanding its sales force and its footprint. "We're looking at acquisition opportunities that will complement existing services, and stay true to our current business model." Dobak says.
Dicom Pride
Dobak has nearly 30 years' experience in transportation and logistics. After graduating from college, he spent 20 years in various roles, including vice president of corporate sales at YRC Worldwide Inc. and seven years at Roadrunner Transportation Services as the president of its LTL and TMS divisions.
He later partnered Wind Point before becoming Dicom's CEO this February. "[Dicom is] a very high-quality service provider," he says. "I believe we're the only carrier in Canada that combines LTL and small package networks into one."
The company also shows extensive care with a client's cargo, Dobak says. For instance, operational procedures do not allow double-stacking of pallets on one another. "We very rarely damage a customer's product," he states.
Branching Out
Dicom feels good about its current position under Wind Point's ownership, Dobak says. "We've got a tremendous value proposition," he says. "Our ability to go out and differentiate ourselves [will] … allow us to grow."
Its recent additions to the salesforce include a new vice president of sales and marketing, a sales manager for Ontario and a corporate account executive for the United States. "We're focusing on having a presence in the United States," he says.
Although Dicom is still looking at "cross-border initiatives and potential acquisitions in the United States," it can take on some U.S. business through its collaborative partnerships, Dobak says. "We think there are real opportunities to expand and complement these services we have today in Ontario and Quebec," he says.
"There is a lot of trade that involves the U.S.-Canada border," he says. "It's something we see a lot of potential growth in, going forward."
Valuable Parts
A common challenge in Dicom's industry is retaining drivers, but the company is coping with it well, Dobak says. Currently, it has a stable force of 750 independent and company drivers.
Dicom keeps drivers by maintaining a competitive compensation package, treating them well and keeping a clear channel of communication so they know about company initiatives. "[We] are working to make sure our drivers fully understand what our strategy is to improve the overall work environment, along with the value we provide to our customers," Dobak says.
This strongly boosts morale, he says. "People feel like they have a voice and can be heard," he says. "Our drivers are such a valuable part of our company and in many cases have the closest relationship with the customer."
Aiming Higher
Dicom plans for growth through acquisitions "that will allow us to get into new services, along with new geographic regions," Dobak says. The company also plans to continue improving its technology and employee training.
"There is no doubt in my mind we're going to provide a greater level [of service]," he says. "I'm just very confident and adamant that we're going to provide a higher value proposition to our customers going forward."