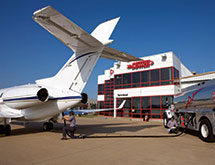 Cutter Aviation has been serving customers for 85 years. President William Cutter says one of the company's biggest sources of pride is the fact that it has served multiple generations of the same families, which speaks to its consistently high level of quality service over its long history. As Cutter Aviation wraps up its 85th anniversary celebrations at this year's National Business Aircraft Association meeting in Las Vegas, the company looks back on its more than eight decades of success and prepares for continued accomplishments in the future.
The company was founded in 1928 by William P. Cutter to serve the Southwest with aviation service that linked many of the ranches and towns that dotted the still relatively isolated region. Today, Cutter Aviation is a fixed-base operator (FBO) that serves corporate customers with regional flights from seven airports in California, Arizona, New Mexico, Colorado and Texas. The company also is one of the most successful dealers of aircraft in the Southwest, representing airplanes from Piper, HondaJet, Quest and Socata as well as pre-owned airplanes. Cutter Aviation also operates a sales office in Carlsbad, Calif., and a sales and service location in San Antonio, Texas.
Cutter says the company's long history has been one of its most important selling points, but it's far from the only advantage that makes Cutter Aviation a leader in aviation. He says the network of airports the company operates from, the quality of its employees and its service and avionics capabilities all play important roles in its sustained success.
Long-Term Relationships
Cutter Aviation's long history and the long-standing relationships it has with many of its customers are clear indicators of the company's health, but Cutter says they wouldn't be possible without the people behind the company. "I believe our history has a lot to do with our success; however, at the end of the day, what has made the difference throughout all these years has been our employees," Cutter says.
As befitting a company with a long history, many of Cutter Aviation's employees have long tenures with the company. Cutter says more than a handful have spent more than 30 years with the company, and many more have at least 20 years of service. One of the company's service managers, he adds, has been with Cutter Aviation for more than 40 years. Not only does having a large number of long-tenured employees ensure a consistent level of quality service, but it also means that Cutter Aviation can trust its employees to make key decisions when it comes to customer service. "It's nice when you come in wherever it is and see the same people," Cutter says. "It means you're going to get the same service over and over."
Cutter says the network of airports the company operates out of also plays an important role in the company's success. Recently, the company added Van Nuys, Calif., to its network of airports. Cutter explains that the company began managing the operations of Bob Hoover, a well-known aviator in the industry, in July 2013. Having operations in so many busy airports gives Cutter Aviation an advantage because of the exposure it receives. "When people are traveling through our airports, we're always advertising the other spots we have," Cutter says. "We kind of leverage off each of the other facilities."
Sales Leader
Cutter Aviation holds the same kind of leadership position on the sales side of its business, as well. Cutter says the company holds the top positions for Piper aircraft in Texas and southern California, as well as leading sales for Socata planes in Texas and the surrounding states.
Recently, the company started upgrading older planes with newer avionics and/or engines. Cutter says many customers would rather spend $300,000 to upgrade an existing plane than spend nearly $2 million on a brand-new plane, and Cutter Aviation has experienced good success with this new service.
Rising Above
Cutter says the biggest challenges facing the company today are mainly connected to government regulation. "Anything that touches any type of regulation, it seems like aviation's involved in," Cutter says. "It truly takes well over half our time to deal with those groups. I'd rather spend more time servicing our customers."
Aside from government red tape, Cutter says the price of fuel has been another challenge for the aviation industry, especially for piston-powered planes. The increasing cost of fuel and equipment has been a significant barrier to entry for new operators for many years, but Cutter says the company has seen a break in that over the last few years. A few years ago, a now-defunct company in New Mexico marketed a private jet that cost only $850,000, which prompted Cessna to build its own lower-priced private jet. Cutter says these lower-priced planes have created more interest in flying.
As a result of that renewed interest, flight schools have started buying up large blocks of planes to keep up with the demand, and Cutter Aviation has been one of the main beneficiaries of that. "That's been a big positive," Cutter says.