Downtime Fleet Management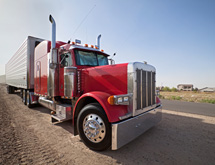 The road can be a lonely place, especially when you're in need of help. Giving trucking companies peace of mind has been Downtime Fleet Management's goal since its inception, and co-owner and General Manager Bill Dorsey says the company delivers on that promise through high-quality service and a lifetime of commercial truck and trailer experience.
Based in Pooler, Ga., Downtime Fleet Management is an offshoot of Dorsey Tire, which was founded by Dorsey's father and has been serving the south Atlantic region of the country since 1979. As Dorsey explains, the company had been doing a lot of retreading work for New Jersey-based Consolidated Chassis Management, and in 2005 that customer asked if Dorsey Tire could provide roadside assistance services for its chassis pool. Eventually more customers joined, and Downtime Fleet Management was off and running.
Downtime Fleet Management offers customers 24/7 emergency roadside assistance, with services including tire replacement, mechanical repairs, fueling and towing. The company says its network of more than 500 vendors throughout the Southeast means it can assist customers quickly, efficiently and with high quality. Dorsey says the majority of the company's customers are intermodal trucking firms, although it is working to expand its reach into new customer bases and geographically.
"When we started the company, we were focused on the south-Atlantic region, but since the beginning of 2012, we have had a concerted effort to be a national over-the-road service provider," he says.
Setting Itself Apart
Dorsey says Downtime Fleet Management expects to achieve its goals because of the significant advantages it brings to the marketplace. Although there are only a few other companies that provide the same type of services as Downtime Fleet Management, Dorsey says the emergency roadside services market is highly competitive. However, Downtime Fleet Management can offer more than its competitors do, he adds.
"I would say the biggest thing that sets Downtime apart is our people," Dorsey continues. The fact that Downtime Fleet Management has a strong core of people means it creates strong, long-lasting relationships with customers by being honest with them. Dorsey says the company has a level of trust with its customers that other service providers can't match.
Also playing a big part in the company's success is its connection to Dorsey Tire, which Dorsey says provides name recognition as well as an established knowledge base that Downtime Fleet Management draws from. "The biggest strength that Downtime has vs. our competitors is our family has spent a lifetime in the commercial truck tire and trailer repair industry," Dorsey says.
The Road Ahead
These advantages put Downtime Fleet Management in a good position to grow into new markets, but Dorsey says the process has come with its own difficulties. First and foremost among these is establishing good relationships with vendors in new areas of the country. For example, Dorsey says, working in the New York-New Jersey market is different from working with vendors in the south-Atlantic region because service is more expensive and vendors often are limited to relatively small service areas because of traffic concerns. "We are learning as a company that other parts of the country have different rate structures," he says.
Expectations are changing throughout the industry, as well. Dorsey says that in the past chassis pools managed the truck chassis for shipping, but today that responsibility falls on the shipping companies. As more trucking companies purchase the chassis themselves, they are put in the position of needing to maintain that equipment themselves, meaning they need to seek out service partners such as Downtime Fleet Management.
This change also has had an impact on the regulation side, as the Department of Transportation has implemented its Compliance Safety and Accountability (CSA) initiative. With its stringent requirements for safety, the CSA has moved many shipper to become much more proactive in their efforts to maintain their fleets. "The significance of it is the CSA through the DOT is holding the fleet owners very accountable for how well they maintain the equipment," Dorsey says.
These changes have benefited Downtime Fleet Management because trucking companies used to select the least expensive options for maintenance, but now that they are being held directly responsible for safety they are seeking out higher-quality services. "We've been able to forge more relationships through the high-quality vendor network that we've built," Dorsey says.
It's thanks to that high-quality vendor network that Dorsey sees good things in the future for Downtime Fleet Management. "I see a company that will have national presence," he says. "We strive here to always provide first-class, quality service. That being said, the vendors that we have partnered with have always been of the highest quality in the industry."