Flower Transfer Logistics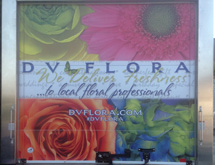 Roses are red. Violets are blue. To get them to their destinations on time, you have to be on cue. Flower Transfer Logistics (FTL), a subsidiary of the Delaware Valley Floral Group, knows the importance of getting product in and out on time. Shipping fresh bulk flowers before the wilting begins or transporting potted plants prior to their blossoming is a time-sensitive business. FTL has designed its operation to handle the particular challenges associated with wholesale floral delivery.
"All of our drivers understand that when they leave Sewell, N.J., they are going to meet an airplane that's landing in Miami that just came from Ecuador or Colombia. As soon as they get there, the plane needs to be emptied and their truck needs to be loaded and back here the very next day or we screw everything up," explains Vice President Randy Schenauer. "We could have 1,000 customers impacted by one truck being late."
FTL's parent company, Delaware Valley Floral Group, operates five distribution centers: Cromwell, Conn., Edison, N.J., Halethorpe, Md., Shrewsbury Mass., and Sewell, which also serves as its processing and packaging plant.
As the trucking and logistics arm of Delaware Valley Floral Group, FTL runs a seven-days-a-week operation that picks up inbound product from four areas. Three quarters of its inbound product comes from Latin America. Some is shipped air-freight via third-party carriers into Miami, while other products are trucked by partner companies from Mexico into Laredo, Texas. Domestic product grown on the West Coast makes its way from California while European products are shipped into New York. The company also picks up inbound from all over the Northeast, Canada, North Carolina, Ohio and Virginia
"Seventy to 75 percent of the product that consumers buy comes from Latin America through the Port of Miami, so we have anywhere between 12 to 15 truckloads coming from Miami to Sewell," Schenauer explains. "We have two loads that come out of Mexico each week that we pick up in Laredo, Texas, and bring to New Jersey. Then we bring four to five loads from the West Coast, which is where most domestic flowers in the U.S. are grown. The European flowers fly to New York City and we have two pickups a week that come back to Sewell where all of our flowers are processed."
Getting There on Time
Once in Sewell, the flowers are picked, packed, arranged and readied for delivery to their respective distribution centers. FTL's short haul operations make same-day and overnight deliveries to Northeast and Mid-Atlantic states. It also optimizes its resources for long-haul pickups. Trucks traveling to Florida, Texas and California to pick up inbound product also deliver outbound product to service retail florists along the same route. It also handles key accounts that take it outside of its normal route reaching south into Tennessee.
"A rose that gets cut today, flies to Miami on Saturday, will be in our building on Sunday and will be in retail Monday morning," Schenauer explains. "The whole logistics – from selecting the right air cargo to ensuring the plane leaves on time, lands on time, gets cleared, loaded onto trucks, brought to Sewell in 24 hours, processed and loaded on 105 smaller refrigerated distribution trucks to go to the retail flower shop – you have to plan it accordingly."
FTL has arranged its operations to keep the process flowing. The company has access to Delaware Valley Floral Group's order system so it knows what product is coming in and what product is going out. Also, instead of single drivers, FTL has opted for team drivers. Two drivers in one truck means that deliveries traveling coast to coast can be back in 24 hours versus 36 or 48. The 105 company has 16-foot refrigerated delivery trucks on the road each day, which Schenauer says gives FTL a flexibility that many other flower wholesalers lack.
"Typically the cutoff time for floral carriers in Miami is 2 p.m.," Schenauer explains. "If the freight is late and misses that 2 p.m. window, it won't ship until the next schedule. Most wholesalers only have two or three shipping days from Miami so if you miss Friday, the product won't get picked up until Monday. We have more flexibility. It's our equipment so we can wait until after 2 p.m. and our trucks are coming from Miami seven days a week. We can continue to source after 2 p.m. It's one of the strategic strengths of Delaware Valley Floral group and FTL is the one that provides them that flexibility."