Harbour Link Container Services Inc.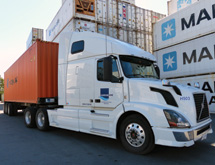 Getting a table at a crowded restaurant without a reservation is no fun, and picking up a container at the Port of Vancouver is equally challenging. The port uses a truck reservation system, and the goal is to obtain reservations from the scarcity available to match the customers' supply chain requirements.
Harbour Link Container Services Inc. functions as a valet service, transporting containers directly between the port and the customer's premises or via Harbour Link's off-dock container depot for relay to the customer in step with their supply chain requirements. The company primarily serves Canada's four western provinces and the northwestern United States.
"Port of Vancouver's marine terminals are generally open to truck traffic from 7 a.m. to 4 p.m., which means we can only pick up or deliver containers when the port has a reservation available during this period, regardless of whether the reservation fits the time window of our customer's requirements," Harbour Link's President David Payne explains. "To overcome this challenge, we pull many containers from the port to our container depot, and then redeliver them to the customer's facility to fit their delivery requirements. We provide a seamless solution to keep the customer's supply chain whole and their costs in check.
"For example, if a customer wants a container delivered at 6:30 a.m. and the only port reservation available is 11 a.m., we will pick up the container to match the port's reservation window of 11 a.m. the day before, hold it overnight in our bonded container depot and deliver it to the customer by 6:30 a.m. the next day," Payne says. "This avoids the need for the customer's staff to stand by waiting for the container from 6:30 a.m. to approximately noon, which otherwise would be the case."
Payne considers the Port of Vancouver's reservation system to be the biggest challenge for his company. "More port reservations must be made available to satisfy customer requirements," he insists. "Today, it's a crap shoot, and it is taking an average of three days of forward planning to secure most port reservations. Upon receiving a pick-up order for a container, the search commences to find a suitable reservation, and if there isn't one, well, we just keep on trying day-by-day, hour-by-hour and each minute and second until we secure the port reservations we need.
"Our computer systems include the provision of pinging script to aid in securing reservations, but we are prohibited by the port from using it," Payne laments. "Hence, securing reservations is a demanding manual process that requires extensive human resources. The current reservation system at the Port of Vancouver has been in use since 2005, but traffic at the port has increased substantially since then. The system needs to be revisited."
Technology First
A technological edge that Harbour Link Container Services has over its competitors is the use of a GPS container dispatch and tracking system. Harbour Link adapted the system from one used extensively by the courier industry in Europe. This was done jointly with PLUS Systems and Alamein, which are systems developers based in the United Kingdom.
"Our systems have been designed to fit the requirements of North America's container drayage sector and integrates dispatch and all back-room tasks – such as wage capture and billing functions – with the real-time tracking of all trucks, chassis and containers in Harbour Link's care using personal data assistants, GPS, geo-fencing and bar coding technology," Payne explains. "Drivers carry a PDA with the GPS and geo-fencing features to receive their assignments and to communicate with the dispatchers using text messaging."
The system manages container flows, captures truck turn times and provides automatic proof of delivery to Harbour Link's customers using signature capture. "It also tracks port turn times and alerts us to delays, such as cargo that may not be cleared by customs," Payne notes. "It provides real-time transparency for our customers, and enables our dispatchers to monitor the progress of each job. They no longer have to phone the truck to find out where it is."
Harbour Link Container Services uses a mixed fleet of owned and independent owner/operators totaling 112 trucks. Additionally, the company has a fleet of 360 chassis to transport containers. The containers are owned by steamship lines, leasing companies or Harbour Link's customers.
The Right Attitude
Payne emphasizes that one of the major competitive advantages Harbour Link offers customers is its employees. "Our company is very strong on people and employing the right people with the right attitude and right experience to assist customers with their transportation requirements," he stresses. "That is the key to our success."
Employees are sought through networking functions, job fairs for drivers, participation with the transportation faculties of universities, colleges and transportation associations, and by word of mouth. "Lots of drivers are coming in the door to chat with us," Payne says. "We take our time with them and go through the benefits of working with the company."
Payne, his father and a family friend own the company. Payne's son is a gate supervisor at the company's container depot. The family business offers "superior customer service, on-time service reliability, and seamless solutions for the transportation requirements of the container sector," Payne concludes.