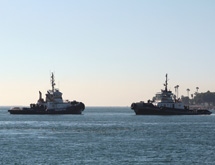 Harley Marine Services Inc. began as a company that looked ahead to the future to determine where the marine transportation industry was headed and took action before the competition. It is no different today as the family owned business prepares its fleet to comply with new and upcoming regulations.
"When [founder] Harley Franco started the company in 1987, the mission at that time was to provide a safe, responsible carrier that would service the oil companies with a safe and environmentally friendly attitude," says Keith Barnes, director of petroleum barge operations.
Harley Franco launched Olympic Tug and Barge Inc. in Washington's Puget Sound with just one leased tug and barge to serve a need for customer-oriented marine transportation. By 1992, Olympic Tug expanded its fleet to four tugs and three barges operating in the sound, and the company decided it would operate the most modernized fleet possible by relying on barges built after 1980. Harley Marine Services now operates the largest fleet of double-hull tank barges that exceed OPA 90 regulations on the West Coast.
Olympic Tug expanded again in 1994 to provide bunkering and lube oil services in the Columbia and Willamette rivers outside of Portland, Ore. Once the company acquired a deck barge in 1995, Olympic Tug expanded into dry bulk transportation and deck barge services, as well. The company also received the Excellence in Customer Service award from Texaco and small business of the year award from the office of the mayor of Seattle.
In 1997, Olympic Tug landed a petroleum transportation contract with British Petroleum, which made the company the largest supplier of petroleum transportation services in the Pacific Northwest, the company says.
Due to the family business' continuous growth, Harley Marine Services was formed as a holding company in the marine services field in 1998. The company acquired Pacific Coast Maritime to provide tug and barge services in Alaska, Washington and California. Also in 1998, Harley Marine purchased the assets of Links Marine, the marine transportation division of Chemoil Corp., and renamed it Westoil Marine Services Inc. to provide the transportation of marine fuels in Los Angeles and Long Beach Harbor.
Today, Harley Marine and its subsidiaries offer bunkering to Los Angeles, Seattle and San Francisco, Houston and New York harbors, also moving heavy oil products up and down the West Coast and the Mississippi River. The company has expanded to include tug and barge operations in southeast Alaska. Internationally, Harley Marine has two joint ventures that primarily conduct ship bunkering – one in Singapore, and the other based in Korea.
New Fuel Standards
Aside from the booming oil business, the biggest change in the market for Harley Marine Service is making the move to supply LNG in the near future. "A lot of the ships are going to start burning LNG to meet new federal air regulations coming about," Barnes says. "Our transition into LNG transport and bunkering is one of the biggest changes in the industry right now."
Despite having worked in the bunkering business for almost 35 years, transporting liquefied natural gas (LNG) that must be refrigerated and kept under pressure requires a learning curve. "The idea is new to everyone in the barge business," Barnes admits.
Thus far, the company is using single fuel tugs, but the future may see tugs that burn LNG or a combination of both diesel and LNG.
"What we're learning is you're going into an area that's new to the marine industry in this part of the world," Barnes says. "We have tremendous expertise within our companies on what we do, and now we're going into an arena where we have to get the expertise in doing this in bunkering ships and moving LNG. It changes our training, the way we build barges – it's a new endeavor, but we're taking it on head-on."
Built for Growth
Along with staying open to more acquisitions, Barnes says Harley Marine is growing organically by adding to its fleet. The company just completed its third new tanker escort tractor tug – the 6,800-horsepower Robert Franco – and its sister ship, the Abra Franco.
Barnes says these new vessels are "green-endeavored tugs," meaning they maintain high horsepower while aligning with new federal regulations on air quality.
"We'll have those in the San Francisco and Los Angeles markets for tanker escort and assistance," he says. "You really need high-capacity tugs for the larger box ships and tankers heading into those ports."
Harley Marine also built another tug named Bob Franco, which is a 5,000-horsepower, ice-class strengthened tug – which is completely new technology, according to Barnes – that will operate primarily for the Alaskan market.
Still Family
The sky is the limit for the marine industry, according to Barnes, and Harley Marine Services is ready to grow alongside it. "The marine industry is going to keep getting stronger," he says.
"We're going to have to diversify a little bit more, but looking at our outlook for the coming years, I think we see a lot of progress being made and expanding in the marine industry."
Even as Harley Marine Services grows much larger than the one-tug outfit it originally was, the family atmosphere is still present. Barnes wouldn't have it any other way. "We have gotten very big, but it is still run like a family owned company," he says. "[The Francos] take care of employees. As an employee, this is a great company to work for."