Dreisbach Enterprises Inc.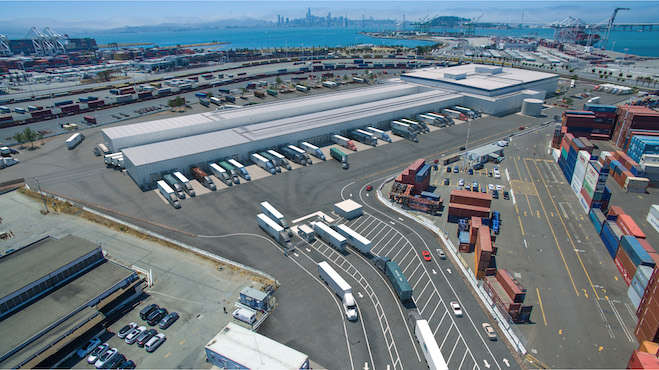 (Images courtesy of Newmediasoup LLC)
Dreisbach Enterprises aims to facilitate perishable food imports and exports with Cool Port Oakland.
By Bianca Herron
Dreisbach Enterprises Inc. is a third-generation family business with more than a half-century of experience managing fresh, chilled and frozen food warehousing and distribution. The Oakland, Calif.-based company prides itself on offering a flexible menu of services to meet its customers' individual needs, including blast freezing, cross-docking and transloading, as well as import and export services.
President Jason Dreisbach attributes the company's success to remaining nimble and responsive as the logistics industry has evolved. Dreisbach Enterprises was founded in the 1950s as a cooler support service for Gerber, storing locally grown peaches and pears for the baby food manufacturer.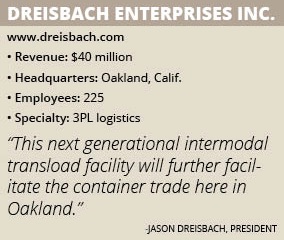 As the area's population grew and the frozen commodity market developed, the company also grew and expanded its supply chain offerings to include distribution and transportation, Dreisbach notes. Today, the company is more port-focused to serve the import and export needs of customers that ship their commodities overseas.
"We're really here to be the support system for our customers in whatever capacity they need," Dreisbach says. "Our team prides itself on developing and implementing future-oriented logistics strategies and processes so as our customers change, we can seamlessly change the support services we offer, this is what sets us apart."
He adds that both the company's employees and vendors play a critical role in Dreisbach Enterprises' success. "Our employees are the backbone of the company," he says. "Without them we could not service our customers, and could not be successful. Our employees are paramount to our ability to fulfill our mission of providing top-tier service to our customer base."
Dreisbach Enterprises relies on its vendors for a number of support services from refrigeration maintenance and repair to quality assurance and fleet maintenance. "We like to work with our vendors to drive value," Dreisbach explains. "We really work with them to create a reliable service platform for our customers."
Just like with its customers, Dreisbach Enterprises aims to meet its vendors' needs by constantly communicating. "We want to know what they need from us in order to be successful," Dreisbach says. "If they are successful then we, in turn, can be successful."
Staying Cool
Dreisbach Enterprises recently formed a joint venture with Lineage Logistics to develop Cool Port Oakland, a state-of-the-art intermodal transload and consolidation facility for perishable commodities at the Port of Oakland.
The goal is to maximize use of the port's road, rail and shipping network to increase the import and export of perishable food products.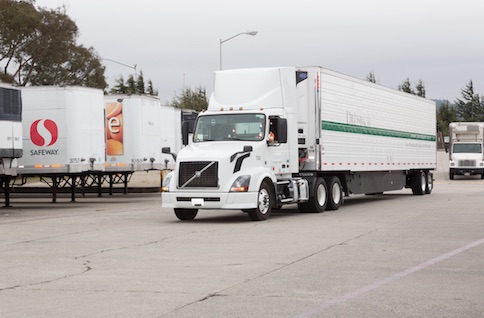 The joint venture partners recently broke ground on the 275,000-square-foot, temperature-controlled logistics and distribution facility, which is slated for completion in July 2018.
The facility is designed to accommodate 36 refrigerated rail cars for the loading and unloading of perishables and is expected to service 9,000 railcars and 50,000-plus TEUs annually. It will be equipped with rooms capable of providing cooling or freezing conditions, including ancillary holding capacity for up to 20,000 pallets of perishable food products.
"It's exciting for us to be able to partner with a national company like Lineage, and then be able to manage the site on behalf of our joint venture," Dreisbach says. "This transload facility will further facilitate the container trade here in Oakland."
Another goal of Cool Port is to become more competitive in the West Coast shipping market, Dreisbach notes. "We want to drive more cargo containers through the Port of Oakland," he says. "Most exporters prefer to send their cargo here since it's the last port before products are shipped to Asia. However, Oakland has lacked the infrastructure to be able to handle a high volume of perishable commodities."
He adds Cool Port will provide the necessary infrastructure as well as the opportunity to drive value to Dreisbach Enterprises' customers by accommodating containers weighing up to 65,000 pounds.
"That's something that really has not been done on the West Coast," Dreisbach says. "But with our innovative transportation designs, we're going to be able to accommodate those weights. It will also translate into additional savings on both rail and ocean freight because customers will be able to send more products.
"We are very enthusiastic about this project as well as the cutting edge end-to-end logistical solutions our customers will enjoy," he concludes.