Driving growth up by 250 percent – Youngs Transportation and Logistics knows the way
Old but young
Freddie Young founded Youngs Transportation and Logistics (Youngs) in 1967, and remains both the chairman and major shareholder of the company to this day. The tale of Youngs' earlier days encompasses the traditional value of self-made, organic growth. Freddie started out with a single truck and a simple coal delivery business. That one truck soon became five, however, as Freddie gave up the physical wheel for the metaphorical one, driving the business towards further growth. His continued involvement at the head of the enterprise is a unique selling point in itself, as he continues to drive the values of reliability, commitment, and trust.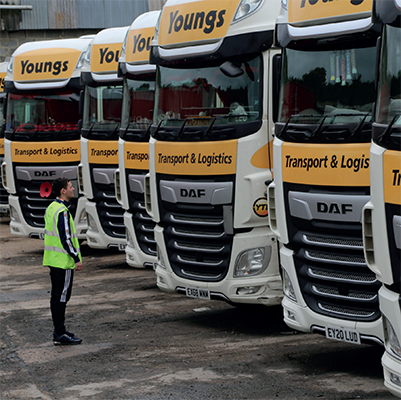 The coal business carried Youngs through the 1970s, until Freddie a fresh opportunity presented itself in an unlikely way. As Paul Pavitt, Managing Director, recalls: "Freddie was standing in the pub one night and he overheard a lady saying how she urgently needed to move some cargo from Dagenham Storage's warehouses. He interjected, offered his trucks, and it was a deal. He moved the cargo for her, she paid him – a lot more than he'd earn in a day shifting coal – and that was that. From there, Youngs moved into freight forwarding, and what has become a vital pillar of our business."
Youngs continued to develop through the following decades, transitioning across to haulage, and by the 1980s, extending its reach into Europe. Rob Hollyman, Managing Director, joined Youngs in 1985. It wasn't long before the company was at its peak of international output.
"Under Rob and Freddie's leadership, Youngs became a huge player within the industry," Paul continues. "At its height, the company was sending between 45 and 55 trailers to Italy every week. Rob had worked for another company called International Express and when it ceased to trade, he took the business that he had previously controlled, being the Italian contracts, and brought them directly to Youngs, having always used us for his deliveries and collections. The service grew greatly in a short space of time, particularly in Rome and Milan."
The European arm remained a core market for Youngs until the millennium when, facing increased competition and undercutting from European competitors, the company started to look elsewhere. When Paul joined the business in 2010, he somewhat changed the direction: "By 2016 we had regressed from the European market all together. It was nothing to do with Brexit, the European arm just wasn't giving us the return we had once enjoyed – at this point we were only sending two trailers to Italy and two to Spain per week. We were covering some of the haulages internally for our European department, which meant the warehouse and transport sides were both subsidising them. When I applied the real costs, the margin completely eroded, and I decided to shut the department down.
"I pivoted towards getting more involved in warehousing and distribution, focusing our attention on imports and exports from China and the US," he elaborates. "We just carried on doing what we do best and have grown on that basis to now house locations all over the country."
Now into 2022, and Youngs with depots and warehouses within ten miles of every strategic port in UK, along with sites at Purfleet and West Thurrock in Essex, Southampton, Warrington, and Felixstowe. The Purfleet base services its export consolidation business, loading up to 100 containers per week, whilst West Thurrock houses all of the London distribution and imports. The others have been acquired over the years, as Paul details: "We obtained Felixstowe recently through our acquisition of Imorex Shipping Solutions Ltd. We also made the strategic purchase of North West Cargo, which operates between the Port of Liverpool and some of the ports in the South. We moved to our current site in Southampton in 2018, which is just four miles from the dock.
"What we have been able to do is create a one-stop solution for our customers' Less than Container Load (LCL) products," he emphasises. "Whether they have cargo in demand at our depot in Essex, or in Felixstowe, we can cover the haulage for them within a 72-hour window. It's the quickest and most effective way to move cargo around without traversing the pallet networks. Because we're happy to take one pallet, we're happy to take ten tons of hazardous waste. We are a general hauler; no job is too big or small."
Separate to Youngs' LCL services, the company also offers a Full Container Loads (FCL) sector. Initially launched as a value-added service for customers who wanted to use Youngs for transport and warehousing, high demand heading into 2021 prompted Youngs to invest in the business, placing more trucks on the road.
"Although we only had a small customer base at the time, that base consisted of regulars who relied upon us for all their haulage," Paul explains. "We didn't want them shopping around because we didn't have the resources to cover meet their needs. As a result, we moved to acquire Eldapoint's transport division, doubling the size our FCL fleet overnight. It was what needed to be done to cope with the sheer volume of work we had to get through and to protect the best interests of our loyal customers."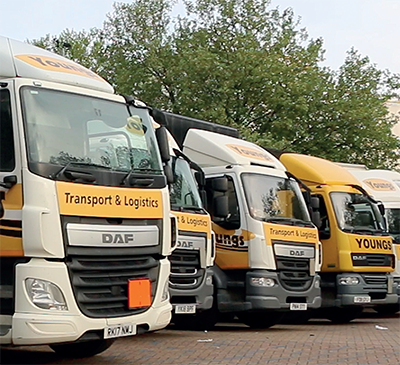 With its broad list of services, commitment to supporting its customers, immense industry knowledge and the company's traditional, trustworthy nature, Youngs has found a recipe for success. The company has achieved growth of 250 percent over the last five years, despite the impact of the Covid-19 pandemic. "We turned over £10.5 million in 2017, then have increased this by £4 million every year since. That figure wasn't part of a strategic plan, it's just by sheer coincidence," Paul exclaims. "When the pandemic hit in March 2020, we were still really busy until May, then it all stopped. We kept working through, and we're proud to say that we did so without resorting to furlough. Then June arrived, and everything started straight back up again. Between then and 2021, we had to employ an additional 47 people in six months."
Despite an increase in size, when it comes to employees, Paul hopes to preserve Youngs' familiar approach. "I don't sit in an ivory tower," he insists. "Just two years ago, I was still conducting every interview for any new hires. I'm immensely proud of the 330 people we employ nationally, at least 300 of them by face and name. As a company, we host annual meetings with our driving and warehouse staff, for which we hire out a venue and provide drinks and refreshments. It's a platform for an open and frank conversation: anyone can bring grievances, positives, or new ideas to the meeting, and we'll discuss it as a team."
It's an ethos that's set to continue. Youngs remains committed to investing in the best possible fleet, and a partnership with DAF is set to bring in an additional 45 new trucks for 2023. But the company is also putting its money towards in its people. As Paul puts it: "We are reinvesting in training, we are reinvesting in equipment, we are reinvesting in staff."
www.ytgroup.com