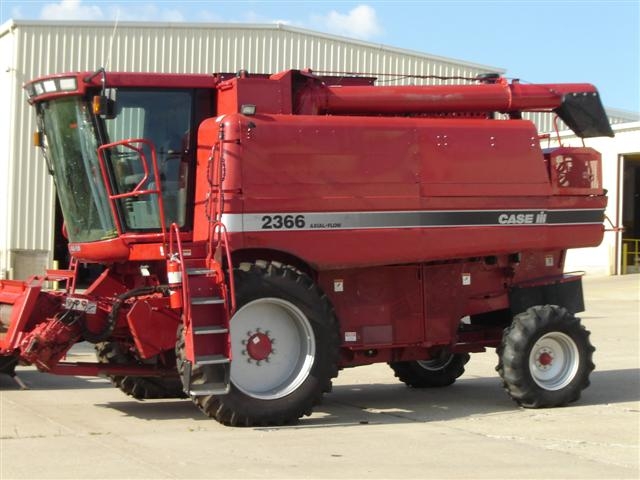 DuPont Pioneer strives for efficiency and safety within its fleet.
By Alan Dorich
DuPont Pioneer puts the customer first in everything it does, Fleet Manager Bob Eggerss says. "That's what we hang our hat on," he states. "We make sure the products and services we provide help growers be more productive and profitable."
Based in Johnston, Iowa, DuPont Pioneer is an industry leader in providing seeds and services to growers in more than 90 countries. The company began operations as the Hi-Bred Corn Co. in 1926, and changed its name to the Pioneer Hi-Bred Corn Co. nine years later.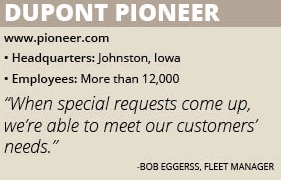 In 1999, DuPont purchased Pioneer, where Eggerss has worked for 20 years. Today, he manages a 2,300-vehicle agricultural fleet that serves the R&D, production and sales sides of Pioneer's business.
Eggerss also manages 2,500 additional assets that include but not limited to tractors, combines, all-terrain vehicles and forklifts. "Anything that is leasable and is wheeled, we manage the leases on," he states.
Ready for the Season
Pioneer's focus on the agricultural business requires it to be very seasonal, Eggerss says. "Our busy time of the year usually starts around the March time frame and runs thru October," he says. "But Mother Nature has a lot to say on when our growing season is!"
This usually results in an increase in staff during peak summer season, when employee numbers explode.
Eggerss and his fleet prepare for this boost by asking the production and research departments what their needs are, including the types of vehicles are needed, for how long they are needed and how many miles the vehicles will be driven. "We'll proactively look at our existing fleet of vehicles, we will hold on to vehicles that are coming off lease to meet low mileage needs and replace vehicle early so that the vehicle being replaced can be used to meet out high mileage needs," he says.
"The goal is that when the growing season over for the year, the vehicles being used to meet the seasonal needs can be sold, so we're not holding onto more vehicles than we really need in the off season."
Safe and Sustainable
Eggerss strives to keep his fleet safe. "We evaluate every safety option we have," he says, noting that his team partners with Pioneer's Safety, Health and Environment (SHE) group to implement new measures.
For example, "We implemented reverse aid sensing systems and backup cameras well before they were required and air bags when they became available," he recalls, noting that the company is currently looking at forward-collision systems and lane changing warning technologies. "If it's available, we definitely look at it, and if it makes sense to the company and the safety of our drivers, we'll add new safety measures."
Pioneer also provides annual driver training. "We cover how the vehicle is going to be used and make sure drivers have the right vehicle for the job," Eggerss says. "We assure they're not exceeding the manufacturer's gross vehicle weight ratings."
These efforts have paid off. "I've seen a reduction in accidents," he says. "We're also getting better reporting on [incidents]."
Sustainability also is a large focus. "We're trying to green up every chance we get," Eggerss says. "We're working with the OEMs and we continue to look at the technologies they provide."
The company promotes the use of ethanol and biodiesel fuels. It has added technologies such as Multiple Displacement Systems (MDS), which shuts down cylinders and the power is not needed and multi-speed transmissions. The company also is constantly reviewing its policies and making changes that help promote fuel efficiencies such implementing a no idling policy.
The company also strives to utilize the most efficient vehicles it can. "We're working to get our NAFA Accreditation for sustainability," he adds.
Pioneer Pride
Eggerss is proud of how Pioneer's fleet has evolved under his tenure. "When I started 20 years ago, the fleet was very decentralized," he says. "It was a big animal to get everything centralized and help manage the fleet."
Today, "We're doing everything it takes to provide the most safe and efficient vehicles that we can," he says. "When special requests come up, we're able to meet our customers' needs."
After all these years, Eggerss still enjoys working at Pioneer. "I love it," he says. "It's easy to come into work every day. There's [always] plenty of work to do."