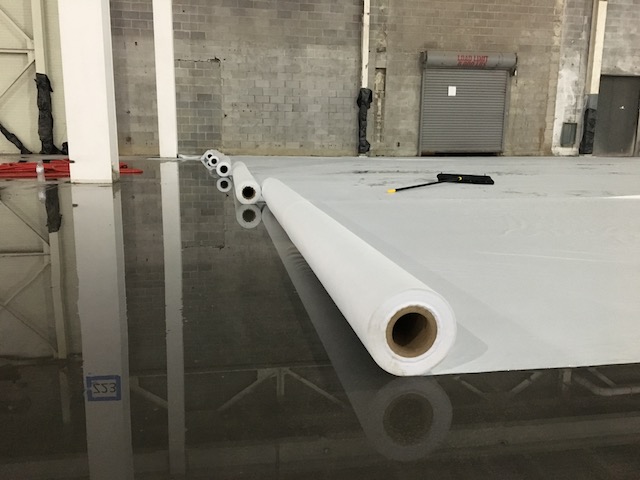 Transhield enters the construction industry this year with the launch of TopCure.
By Janice Hoppe-Spiers, Senior Editor at Knighthouse Media
Known for advanced protective cover technology, Transhield ™ is making its foray into the construction industry with TopCure ™, a state-of-the-art concrete curing cover that reduces the rate of evaporation and retains moisture, resulting in greater top length strength. "Construction is a completely new market for us, but our founder, Greg Todt, pursued the opportunity because he knew he could make a better concrete curing blanket," Marketing Director and TopCure Sales Representative Mindy Kruggel says.
Todt founded the Elkhart, Ind.-based company in 1994 with a revolutionary Shrinkable Fabric® that is custom-fit to protect products against damage during transportation and storage. Originally targeting the automotive and RV industry, Transhield has grown to offer seven varieties of fabric for use in any industry.
"Our patented anti-corrosion technology is widely used in the fabrics we make, both shrinkable and non-shrinkable, to keep valuable assets protected from the harsh elements that cause corrosion and degradation," Kruggel says. "With more than two decades of growth and innovation, Transhield now serves to protect valuables in every industry."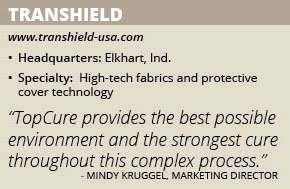 Boasting 12 international patents, Transhield has long been known as the leader in protective cover technology. The company's highly-skilled engineers are constantly evaluating and testing new ways to make its material better in its state-of-the-art lab. "We continue to research corrosion and engineer more advanced protection solutions to say closely connected to our customers," Kruggel says. "While industries and equipment change, nature will remain a constant force and Transhield will be there to fight back against it every step of the way."
Breaking New Ground
In the spirit of continuous innovation, Transhield debuted TopCure, a concrete curing cover engineered to provide a stronger cure at the top surface, at World of Concrete in January and began mass producing in April. "We had some capacity on our lamination line, so using the principles and technology of our base material, Greg and Seckin Ozol, vice president of E, R&D, spent two years developing a material specifically intended for concrete curing," Kruggel says.
Because one of the most important factors to concrete strength and durability is the top surface, TopCure's unique hydrating pods provide controlled moisture during the seven-day curing period. Controlling moisture loss and slowing down the water evaporation rate helps concrete cure evenly and aids in developing a strong top surface. "TopCure provides the best possible environment and the strongest cure throughout this complex process," Kruggel says.
The laminate in the premium version of the material contains a pH modifier, which improves paste properties, especially in the near-surface region. TopCure's exterior is highly reflective, white color repels UV rays, reducing the rate of evaporation to retain moisture and has an anti-slip texture to help prevent slips and falls. "We put the grit or anti-slip surface on the exterior to add a safety element to the cover," Kruggel adds. "Some of the other options in the market are slippery, which is a safety concern to the construction industry."
TopCure material's strength and durability eliminate the possibility of tearing or falling apart when removing. In addition, TopCure meets the rigorous standards of ASTM C171 and was tested for use by CTLGroup, an AASHTO accredited laboratory.
TopCure is available in 10-foot by 250-foot rolls, each weighing 71 pounds, with 25 rolls per pallet. Based on feedback from early adopters, Transhield added 500 square feet to its rolls, now offering 2,500 square feet. "We have the ability to be nimble because we make our own material and can modify based on the feedback we receive," Kruggel notes. "We constantly test every roll to make sure our materials meet our high-quality standards and we have the ability to tweak some formulas if needed."
Impressive Results
Transhield may be new to the construction industry, but not new to large projects. In January of this year, TopCure was provided an opportunity to be a part of a huge endeavor: what would be called Mega Slab, a 256,100-square-foot continuously poured concrete slab. General contracting firm Barton Malow and subcontractor Lloyd Concrete Services agreed to evaluate TopCure on a 10,000-square-foot area that had a likelihood of seeing a little foot traffic. The durability of the TopCure's non-slip surface proved to be valuable and TopCure did what it was supposed to do – control moisture loss.
TopCure has also been used as a floor protection cover, Kruggel says. "I visited someone using it to cure his garage, and he left it down for 21 days. During that time, construction tools were set on top, there was mud and foot traffic galore," she remembers. "There were no holes in the cover and it was withstanding all that traffic."
"I've developed a real appreciation for the concrete industry as well as construction in general," Kruggel notes, "especially their emphasis on safety. I'm glad we're able to offer a concrete curing cover designed with safety in mind."
Moving forward, Transhield will continue to develop its distribution network for TopCure and has begun offering custom printing for companies to add their logo to the cover. "We have the capacity to meet the demand," Kruggel says, "and we'll work with contractors to offer the safest and most efficient curing cover in the market."